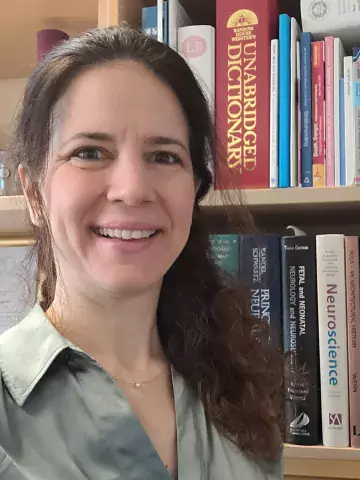 Adamantia Fragkopoulou
Assistant professor
About me
Adamantia Fragkopoulou is a Neuroscientist with focus on Brain Injury, Radiation Biology, and Behaviour. During her PhD at Athens University (Greece), she studied the effects of non-ionizing electromagnetic radiation on the mouse brain and behavior. In 2015, she moved to the Department of Neuroscience at Karolinska Institutet, where she performed postdoctoral studies on perinatal Hypoxic-Ischemic Encephalopathy (HIE) and neurodevelopmental disorders. In 2019, she was appointed Assistant Professor at the Department of Women's and Children's Health at KI, and her current research addresses how ionizing radiation (radiotherapy, RT) affects the young brain. She is using novel technologies, including antisense oligonucleotides, to ameliorate the neuroinflammation and the so-called late complications of RT, such as cognitive decline, in childhood cancer survivors.  She is also studying the T-cell activation after HIE and how the modulation of the immune response could be beneficial in terms of neurological outcomes. Adamantia is also manager of the X-ray core facility at KI.
Research description
Radiotherapy
Hypoxia-ischemia
Neuroinflammation
Microglia
Behavior
Teaching portfolio
Adamantia has 16-years teaching and supervising experience, and she is currently the main supervisor of one PhD student (Efthalia Preka) and two Master students. She is also the coordinator of the doctoral course "Radiotherapy: our invisible ally against cancer".
Education
PhD in Electromagnetic Biology and Neurobiology, Dept of Cell Biology and Biophysics, Faculty of Biology, National & Kapodistrian University of Athens
MSc in Applications of Biology in Medical Sciences, Faculty of Biology and Faculty of Medicine, National & Kapodistrian University of Athens 
BSc in Biology, Faculty of Biology, National & Kapodistrian University of Athens 
Academic honours, awards and prizes
PhD scholarship from the Greek State Scholarships Foundation (IKY) 
Seal of excellence from EU for a proposal submitted under the call "H2020-MSCA-IF-2016 Marie Skłodowska-Curie actions
Awards from FENS, IBRO, ERRS, FELASA, AGU, KI Fonder