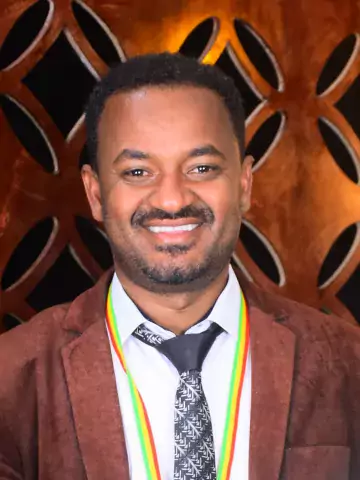 Amare Tariku Woldemariam
Postdoctoral studies
Affiliated researcher (staff)
About me
Since 2013, I have been working as an Associate Professor of Nutrition and Public Health at the University of Gondar. I earned my master's degree in Human Nutrition (2013), and PhD in Public Health (2022) at the University of Gondar in collaboration with Addis Continental Institute of Public Health, Ethiopia. I was co-supervised by professors from London School of Hygiene and Tropical Medicine.  I am affiliated staff (researcher) at Karolinska Institutet, Sweden and an Adjunct Associate Professor at Addis Continental Institute of Public Health. I have been providing technical supports in design and implementation of the National Food and Nutrition Strategy. I am working as a secretary for the national Scale-Up-Nutrition academia network and member for the national nutrition Monitoring, Evaluation and Research String Committee. As a consultant, I have been working with governmental and non-governmental organizations in project evaluation, designing research training materials and providing capacity building supports to Ethiopia's nutrition and health workforce. I supervised the research work of about 50 master's students at the University of Gondar and as a guest at different national universities. I am currently mentoring PhD fellows. I have two years' experience in leading academic programs as head of Department of Human Nutrition.
Research description
I have 10 years of research experience, mainly focusing on maternal and child nutrition, infectious diseases and  primary health care. I Received the 2020 Ethiopian Public Health Association Young Researcher Gold Medal Award for the outstanding performance in public health research in Ethiopia. My postdoctoral research focuses on infant nutrition, while my PhD dissertation was on prevention and treatment of childhood pneumonia and readiness of the primary health facilities for the service. My doctoral dissertation was part of the national evaluation project which examined the effectiveness of the Optimizing Health Extension Program on child health service utilization in Ethiopia. I published more than 60 articles as a principal and co-author at international peer-reviewed journals. I received national and international grants and doctoral and postdoctoral fellowship awards. I was a principal investigator of a five-year research project which prospectively examined the role of prenatal nutrition on physical and motor development of infants. I am co-investigator of the Dabat Research Center and was an Associate Editor of the BMC Public Health.
Teaching portfolio
I have been teaching nutrition, public health and research courses to postgraduate students. Among others, I am teaching Public Health Nutrition; Maternal and Child Nutrition; and Nutritional Assessment and Surveillance; and Nutrition Policy and Food Economics courses.
Academic honours, awards and prizes
Received the 2020 Ethiopian Public Health Association Young Researcher Gold Medal Award for the outstanding performance in public health research in Ethiopia
Adjunct Associate Professor, Addis Continental Institute of Public Health, Ethiopia, 2021 to date
Secretary, National committee for Scale Up Nutrition (SUN) academia network, Ethiopia, July 2022 to present
Member, National Nutrition Monitoring, Evaluation and Research String Committee, July to present