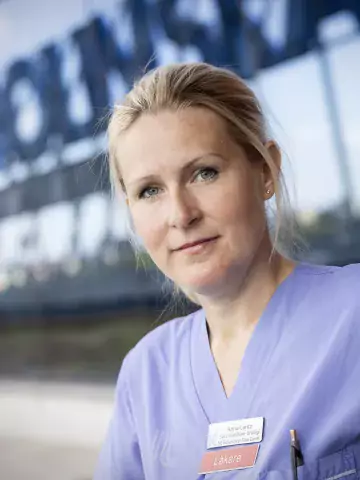 Anna Lantz
Affiliated to research
Organisation:
as Affiliated to research
as Affiliated to research
About me
Anna Lantz (former Wallerstedt)
Associate Professor in Urology at Karolinska Institutet and Consultant Urologist at Karolinska University Hospital Solna, focusing on detection and treatment of prostate cancer, combining clinical work with independent research at Karolinska Institutet. 
Anna Lantz defended her thesis "Outcomes after surgical treatment of localized prostate cancer with focus on urinary incontinence and short term complications" in March 2015 at Karolinska Institutet. In 2016 to 2018 she undertook postdoctoral studies at Department of Medical Epidemiology and Biostatistics within the STHLM-studies with focus on improved detection of prostate cancer, setting up the STHLM3AS trial as Principal Investigator. During 2019-2020 Anna Lantz undertook international postdoctoral studies at Icahn School of Medicine, Mount Sinai Hospital in New York. 
Research description
Principal Investigator for Prostate Cancer IRE Study (PRIS) – A randomized controlled trial comparing focal to radical treatment in localized prostate cancer
Radical treatments of localized prostate cancer are associated with a significant risk for morbidity in terms of incontinence and impotence, while providing only small survival benefits compared to active surveillance. Advances in the field of prostate cancer MRI together with the effort to reduce treatment morbidity has led to development methods for focal treatment of prostate cancer during the latest decade. Irreversible Electroporation (IRE) is a novel image-guided tissue ablation technology that induces cell death through short pulsed electric fields. In comparison to thermal therapies IRE has the advantage of being non-thermal with elements of tissue selectivity which significantly reduces toxicity on anatomical structures surrounding the tumour. The aim of the planned study is to evaluate the feasibility to treat localized prostate cancer with IRE in comparison with conventional radical treatments (surgery or radiation) through a randomized controlled trial with the primary objective to locally control the tumour with a minimum of side effects. The ethical review board has approved the study and inclusion started in 2022. The study is now in its randomised phase. 
Medically responsible for Organised prostate cancer testing (OPT) in Region Stockholm Gotland
Prostate cancer is the cancer form with highest mortality rates among men in Sweden. Research has shown that screening with PSA reduces mortality from the disease. This has led to widespread unorganized PSA testing that has proven to be inefficient, unequal and resource intensive. Therefore, in 2018, the National Board of Health and Welfare (Socialstyrelsen) commissioned Sweden's municipalities and county councils (SKR) to develop and implement programs for organized prostate cancer testing (OPT) to improve efficiency and equality, reduce resource usage, and test supplementary diagnostic tests to prostate specific antigen (PSA). Region Stockholm Gotland initiated OPT in 2022 by inviting all men 50 y of age to undergo testing (around 17 000 men/year). The OPT program include all steps from invitation to biopsy result notification. We are currently evaluating the results of the first year of OPT.
Principal Investigator site 723 EMBARK - MDV3100-13
EMBARK is a Phase III study investigating the drug XTANDI™ (enzalutamide) in combination with leuprorelin, placebo in combination with leuprorelin, and enzalutamide as monotherapy in high-risk patients after biochemical relapse in non-metastatic hormone-sensitive prostate cancer. The results have shown a 57.6 percent improvement in metastasis-free survival for patients treated with enzalutamide in combination with leuprorelin compared to placebo in combination with leuprorelin. These findings have a significant impact on how we treat men with relapse after surgery and may improve the prognosis for these patients in the future.
LAPPRO-trial evaluating functional and oncological outcomes after prostate cancer surgery
The overarching aim with my research has been to improve patient care for men with prostate cancer. The LAPPRO-trial is a multicentre, prospective controlled trial of men who underwent radical prostatectomy between 2008 and 2011 (n=4003). In this national collaborative study, comprising men from 14 hospitals in Sweden, I have evaluated functional outcomes, such as incontinence, erectile dysfunction and quality of life after radical prostatectomy. I defended my thesis presenting data from the LAPPRO trial in 2015 and have continued my collaboration with the group since then. In 2021 the 8-year follow-up of the trial was published in European Urology. We are currently working on the 12-year follow-up.
Principal Investigator for STHLM3AS and STHLM3AS-NorDCaP
The latest years, I have focused on evaluating diagnostics and follow up in men with low-risk prostate cancer. Specifically, I analyzed men with low-risk prostate cancer on active surveillance in the STHLM0 database and found that the guidelines for monitoring are not followed. We identified the need for improved active surveillance protocols and thus started the STHLM3-AS with the aim to improve monitoring of men with low-risk prostate cancer, including the Stockholm3-test and MRI. The study included over 300 men and the results, published in JNCI, show that our new proposed protocol leads to higher detection rate of significant prostate cancer including less invasive monitoring. To validate our results, we initiated STHLM3AS NorDCaP including men from Norway, Denmark, Finland and Sweden with the aim to recruit 400 men on active surveillance within 2021. The objective of the study is to validate our results from STHLM3AS and improve surveillance for low risk prostate cancer.
Studies within the STHLM0 database
Using the population-based cohort STHLM0, I have been involved in several studies evaluating the effect of drugs and diseases on the risk of being diagnosed with prostate cancer. In 2018 we performed a large population-based historical prospective study using data from STHLM0 and found a reduced risk of prostate cancer among 5-ARI users. In 2022 we investigated the effect of 5-ARI on prostate cancer specific mortality in a population-based cohort study including 349 152 men. The results suggest that there was no association between treatment with 5-ARI and increased prostate cancer specific mortality. 
Mount Sinai Prostate Cancer Cohort, New York
In 2019-2020 I was offered a research position at Mount Sinai Hospital in New York City, USA. During my postdoc at Mount Sinai I evaluated diagnostics in prostate cancer using MRI and biomarkers, specifically for men with low risk prostate cancer. In my main publication we created a nomogram for including men into active surveillance rather than curative treatment, in an attempt to increase quality of life and decrease overtreatment of men with clinically insignificant prostate cancer. Our results emphasize that a greater proportion of men with localized prostate cancer can be treated conservatively with active surveillance in a safe way if the selection is optimized. Furthermore, through the collaboration I have been involved in creating a multicenter MRI-database with data from 5 countries, containing 3700 men with prostate cancer that has underwent MRI and targeted biopsies. After my postdoc period I have continued to have close contact with my collegues at Mount Sinai, collaborating in different projects.
Funding
My research is funded by the Swedish Cancer Foundation, the Swedish Prostate Cancer Association, the Åke Wiberg Foundation, the Ahrén Foundation, and Stockholm Region."
Teaching portfolio
Leadership and pedagogical training
2019 Teaching and Learning in Higher Education Distance (GHPD) Course
2018-19 Head of urological education, Karolinska University Hospital
2017- Teacher for medical students at the Department of Urology in Karolinska Hospital
2016-17 Teacher in Research School for clinicians in Epidemiology, Karolinska Institutet
Teaching experience
Around 140 teaching hours at Karolinska University Hospital and Karolinska Institutet. The teaching has involved lectures, seminars and bed side /OR teaching.
Education
2021 Associate Professor (Karolinska Institutet)
2019-2020 Postdoc (Icahn School of Medicine, Mount Sinai Hospital, New York)
2016-2018 Postdoc (Department of Medical Epidemiology and Biostatistics, Karolinska Institutet)
2015 Ph.D. (Department of Molecular Medicine and Surgery, Karolinska Institutet)
2008 M.D. (Karolinska Institutet)