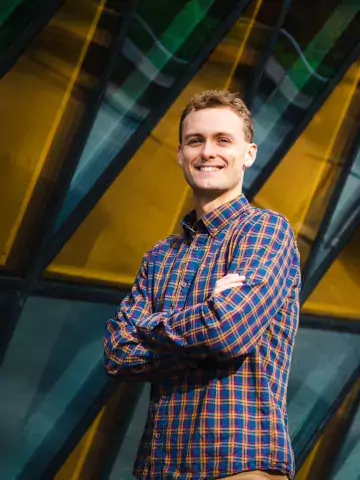 About me
Hi! Callum here from Scotland!
In my previous work I was employed as a project assistant at The Swedish School of Sport and Health Sciences and carried out research and data collection in various studies within the brain health in school group. The work of these studies included investigating the effect of increased physical activity time and extra home work time on adolescents' fitness levels and cognitive functionality. My masters thesis on the other hand investigated the association between diet quality (healthy eating and diet diversity) and health-related quality of life in adolescents.
Whilst studying the Nutrition Science MSc I was also a digital ambassador for Karolinska Institutet and wrote blogs about student life at Karolinska Institutet and life in Stockholm whilst helping prospective students with their questions and queries.
I am passionate about physical activity and eating a healthy diet. I thoroughly enjoy playing squash, running and training in the gym. I also like to eat a well-balanced diet but am a foodie at heart and love to eat food from all around the world.   
Research description
The first part of my research will be investigating the associations between time spent in physical activity, sleep and sedentary behaviour and various non-communicable diseases. The second part of my research will investigate the feasibility of a soon-to-be commercially made mHEALTH digital service that aims to promote healthy lifestyle behaviours in the general population. 
I am passionate about promoting physical activity and healthy lifestyle behaviours in those that struggle to achieve a healthy lifestyle. 
Education
BSc in Cell Biology; University of Stirling
Erasmus exchange; University of Tübingen
MSc in Nutrition Science; Karolinksa Institutet 
Academic honours, awards and prizes
Publications: 
Regan C, Heiland EG, Ekblom Ö, Tarassova O, Kjellenberg K, Larsen FJ, et al. Acute effects of nitrate and breakfast on working memory, cerebral blood flow, arterial stiffness, and psychological factors in adolescents: Study protocol for a randomised crossover trial. PloS One. 2023;18(5):e0285581.
Regan C, Walltott H, Kjellenberg K, Nyberg G, Helgadóttir B. Investigation of the Associations between Diet Quality and Health-Related Quality of Life in a Sample of Swedish Adolescents. Nutrients. 2022 Jun 15;14(12):2489.
Matallana-Surget S, Werner J, Wattiez R, Lebaron K, Intertaglia L, Regan C, et al. Proteogenomic Analysis of Epibacterium Mobile BBCC367, a Relevant Marine Bacterium Isolated From the South Pacific Ocean. Front Microbiol. 2018; 9:3125.