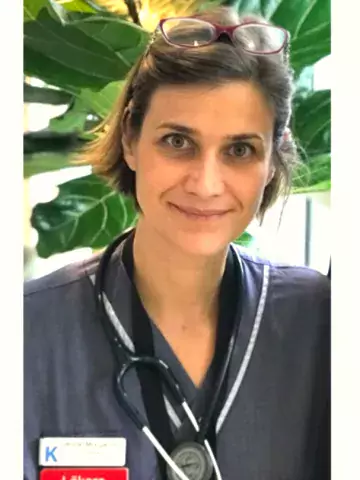 Cecilia Morgantini
Affiliated to research
About me
After the medical doctor degree, I started my professional career with a medical training in Internal Medicine followed by a PhD in clinical physiology focused on lipid metabolism in diabetes and atherosclerosis. Then, driven by the idea to understand more about the molecular mechanism behind metabolic disorders I worked as a post-doctoral fellow at KI, studying the interaction between immune and metabolic cells in insulin resistance and fatty liver.
Now I am a staff physician in the Endocrinology Department of Karolinska University Hospital and researcher at the Karolinska Institutet.  From January 2020, I hold a Clinical Scientist position supported by region Stockholm. From 2021 I am team leader in the Cardio Metabolic Unit of the Endocrinology Division.
Research description
My main research interest is to understand the role of immune cell activation in the pathogenesis of  diabetes complications and cardio-metabolic disorders. By combining analysis on human immune cell epigenome and transcriptome with clinical and diagnostic information, I aim to identify pattern that can help to determine human individual risk of developing cardio-metabolic complications, detect illness earlier and, find the most effective intervention to improve patient health.
Teaching portfolio
- Organizer of PhD Course - Lipid and Lipoprotein Metabolism: Basal Aspects and Clinical Significance
- Co-supervisor, PhD student KI, Jennifer Härdfeldt (2019- present ), Main supervisor, master student KI, Laura Catharina (2018), Co-supervisor, master student KI, Arlisa Alisjahban (2017), Main supervisor, master student UCLA, Marion Benquet (2010), Main supervisor, Medical Student Pisa University Hospital, Silvia Trifiro'(2009).
- Half-time review  committee member  at KI Natalie Stiglund (2019), Stelia Ntika (2020).
Education
Post-doctoral fellow at ICMC, MedH, Karolinska Institutet, lab of Myriam Aouadi  (2015-2020)
Ph.D. in  Clinical Physiology  Scuola Superiore Sant'Anna, Pisa, Italy/ Banting and Best Diabetes Center, University  of Toronto, Canada (2011-2014)
Clinical Fellow, Internal Medicine, University of Pisa, Italy (2006-2010)
MD School of Medicine, University of Pisa,  Italy (1999-2005)