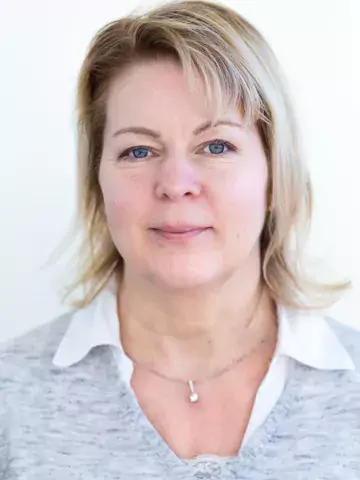 Cecilia Williams
Principal researcher
Hormone signalling and non-coding RNAs in cancer
About me
Cecilia Williams is a professor at KTH Royal Institute of Technology, and currently a visiting professor at KI. She received her PhD training in DNA sequencing technologies and the p53 tumor suppressor gene at KTH, postdoc training in gene expression profiling techniques and stem cells, and was later a researcher at Karolinska Institutet where she studied the role of estrogen receptor beta. In 2009, she joined the Center of Nuclear Receptors and Cell Signaling at University of Houston as Assistant Professor and received a tenured Associate Professorship in 2015. Her main activities at BioNut are focused at understanding hormonal signalling and the role of non-coding RNAs in cancer, and include supervision of doctoral students.
Research description
Hormone signalling and non-coding RNAs in cancer
The Williams' group focuses on understanding key molecular mechanisms in cancer, applying a combination of large-scale genomic approaches, focused mechanistic experiments and animal studies. The goal is to understand critical pathways so that we can define biomarkers of their activity and suggest better cancer treatments and preventive approaches.
The hormone estrogen increases the risk of breast cancer, but can simultaneously protect against colorectal cancer. It is not understood exactly how, but if we can achieve a detailed knowledge of this mechanism, we could design approaches that can protect against colon cancer while not promoting breast cancer.
Estrogenic signaling is mediated by the estrogen receptors, ERalpha, ERbeta and GPER1. ERalpha and ERbeta are ligand-activated nuclear receptors and as such excellent therapeutic targets. Our research focuses on understanding estrogen-induced pathways in breast and colon cancer, and the impact that environmental or dietary estrogenic exposure may have. Related to this, is the identification of molecular mechanisms involving microRNAs and long non-coding RNAs, molecules with great potential as novel biomarkers and therapeutic targets. These molecules are likely to contribute to the estrogenic effects, but this area remains to be explored. Our previous work include identification of the estrogen-regulated transcriptome, the roles of specific microRNAs in cell migration, and expression and regulations of lncRNAs, with a focus on cancer.
Teaching portfolio
Course responsible, teacher, and examiner for Clinical Applications of Biotechnology (6.0 credits), Master's programme in Molecular Techniques in Life Science (SciLifeLab)
Education
1994 M.S. (Civ. Ing.) in Chemical Engineering with specialization in Biotechnology, KTH Royal Institute of Technology, Stockholm 
2002 Ph.D. Biotechnology, KTH Royal Institute of Technology. Molecular Archaeology of Cancer - Analysis of the Human p53 Tumor Suppressor Gene.