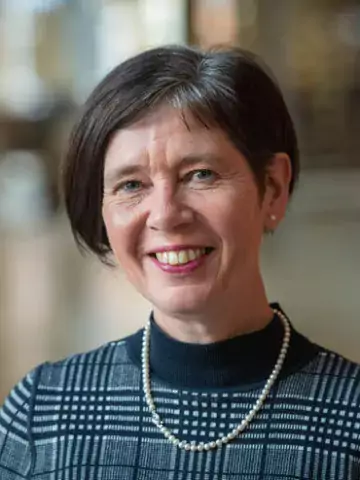 Christina Samuelsson
Professor/speech and language pathologist
About me
Education: Speech Language Pathologist (SLP) 1986, Master in SLP1999, PhD 2004, senior lecturer in SLP 2012.
Academic titel: Professor combined with employment as SLP
Publikationer (2002-2020): Total amount of peer reviewed papers in international journals: 54
Research description
My main area of ​​research regards interaction involving people with communicative disabilities. The focus is on mapping and facilitating communication for people with dementia, people with aphasia, children with language disorders and children with hearing loss.
NETWORK
A digital academy for welfare technology in dementia care
This is a network on work with digital welfare technology in dementia care. It involves scholars from the department of neurobiology, care scenes and society, KI, Center for dementia research, CEDER, Linköping University, and Department of education, Stockholm University. Within the network we focus on accessibility, citizenship and participation for people living with dementia. More about the network https://ki.se/clintec/en-digital-akademi-for-valfardsteknik  
PROJECTS
Platform Uptake
This is a project funded by EU (Horizon 2020) which regards how different digital platforms are used by elderly people and within the elderly care. The project's principle aim is: "to observe, analyse, and understand the whole ecosystem of open service platforms and their related networks and depict a picture describing the whole ecosystem with its achievements and potentials targeting all user groups while also generating synergies among platforms and their related projects". I am leading the Swedish group, which is responsible for the evaluation part of the project.  More abut Platform Uptake
Living with dementia – communication, relationships and cognition
This FORTE-funded research program presents a different perspective on dementia: the focus is on what people with dementia can do, and on the importance that social networks and the environment have in increasing social inclusion and participation. Within the research program, we also work closely together with the Swedish Dementia Center, where we are currently collaborating on the development of a web-based education on communication in dementia. More about the Living with dementia project 
IN LIFE, Independent Living for the Elderly
This work was part of a now finished EU project (Innovations Actions, Horizon 2020). The focus of the Swedish part has been on digital communication supports for elderly people with cognitive and/or communicative disabilities and memory problems. Within the project, communication support applications for people with dementia have been developed and, above all, the CIRCA app has been tested on a larger scale. More about IN LIFE
Early lexical development and development of gestures in children with typical language development, children with cochlear implants and children with language disorder
The project is funded by the Swedish Research Council and its overall purpose is: To generate knowledge that provides better conditions for the care of children with language disorder and Swedish- and foreign-born deaf/hearing-impaired children with cochlear implants (CI).
Adapting two assessment tools to measure language development in Swedish, SeSotho and SeTswana Speaking children from 8 to 36 months
This is a collaborative project with the University of Cape Town funded by STINT. The project mainly aims at sharing expertise on early language development and its assessment by translating and adapting two assessment materials into Swedish and into two Bantu languages, SeSotho and SeTswana. The project is linked to Child Language Africa.
Educational equality for children with developmental language disorder. A study of goal attainment, experience and participation
I am also working in the above project funded by the Swedish Research Council. More about this project
Teaching portfolio
Inspirer of the year 2019, SLP program, Linköping University
Education
Supervision of theses in SLP at advanced level, including master's theses. Main supervisor of one PhD student, Karin Myrberg (SLP). Co-supervisor of four PhD students: Elias Larsson, Sophia Lindeberg, Lovisa Elm and Inga-Lena Johansson (all SLPs).