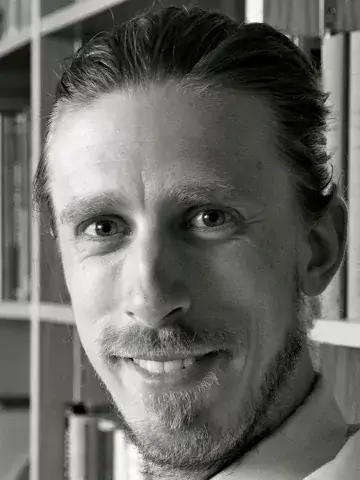 Christopher Cederroth
Principal researcher
About me
Christopher R. Cederroth received his Ph.D. degree in 2009 from the University of Geneva, Switzerland. In the laboratory of Prof. Serge Nef, he investigated the molecular mechanisms of endocrine disruption by xenoestrogens on sexual development, reproduction and metabolism. His Ph.D. work was awarded both the national Endocrinology Prize and the Denber-Pinard Prize and led to the creation of a start-up company in the medical food sector, named Amazentis S.A.
In 2009, he moved to New York City as a Swiss National Foundation Advanced Fellow, and joined the laboratory of Prof. A. James Hudspeth at the Rockefeller University to initiate a study aimed at bringing tinnitus research to mice.
In 2012, thanks to the Wenner Gren Stiftelse and the Nicholson Postdoctoral Fellowship, he joined the laboratory of Prof. Barbara Canlon at the Karolinska Institutet to investigate the relationship between the circadian system and auditory sensitivity.
Dr. Cederroth has now developed an independent translational axis of research focusing on tinnitus. More precisely, he aims at identifying factors implicated in  tinnitus development in animals in humans, and to develop new objective measures of tinnitus.
Research description
Research funding - past and present
GENDER-NET Co-Plus Fund, H2020 ITN (ESIT), Vetenskapsrådet, Svenska Läkaresällskapet, Lars Hiertas Minne, Magnus Bergvalls Stiftelse, Loo och Hans Ostermans, Tysta Skolan, Hörselforskningsfonden and Karolinska Institutet.
Please contact us if you are willing to support our research. 
Collaborations
Our research team works in close co-operation with several national and international researchers and is part of the COST Action TINNET BM1306. Among our partners are experts with extensive experience in pre-clinical clinical auditory research, psychologists, geneticists, chemists, basic molecular biology research and industries. This constellation of researchers enables a deeper understanding of how auditory disorders arise and can be cured.
Follow the progress of our Frontiers Research Topic!
Vacant positions
We are looking for neuroscientists, cell biologists, biochemists, epidemiologists, audiologists, mouse geneticists: I strongly encourage scientists to contact me with a letter of interest, CV and letters of recommendation. I would be most happy to help with applications for external support for those eligible for postdoctoral fellowships (e.g. SSMF, Swedish Brain Foundation, Swedish Research Council, HSFP, Wenner Gren Stiftelse).
Selected publications
Medicine in the Fourth Dimension.
Cederroth CR, Albrecht U, Bass J, Brown SA, Dyhrfjeld-Johnsen J, Gachon F, Green CB, Hastings MH, Helfrich-Förster C, Hogenesch JB, Lévi F, Loudon A, Lundkvist GB, Meijer JH, Rosbash M, Takahashi JS, Young M, Canlon B.
Cell Metab. 2019 Aug 6;30(2):238-250
Circadian Regulation of Cochlear Sensitivity to Noise by Circulating Glucocorticoids
Cederroth CR, Park JS, Basinou V, Weger BD, Tserga E, Sarlus H, Magnusson AK, Kadri N, Gachon F, Canlon B.
Curr Biol. 2019 Aug 5;29(15):2477-2487.e6
Sex-Specific Association of Tinnitus With Suicide Attempts.
Lugo A, Trpchevska N, Liu X, Biswas R, Magnusson C, Gallus S, Cederroth CR.
JAMA Otolaryngol Head Neck Surg. 2019 Jul 1;145(7):685-687
Association of Genetic vs Environmental Factors in Swedish Adoptees With Clinically Significant Tinnitus.
Cederroth CR, PirouziFard M, Trpchevska N, Idrizbegovic E, Canlon B, Sundquist J, Sundquist K, Zöller B.
JAMA Otolaryngol Head Neck Surg. 2019 Mar 1;145(3):222-229
Therapeutic Approaches to the Treatment of Tinnitus.
Langguth B, Elgoyhen AB, Cederroth CR
Annu. Rev. Pharmacol. Toxicol. 2019 Jan;59():291-313
Differential Phase Arrangement of Cellular Clocks along the Tonotopic Axis of the Mouse Cochlea Ex Vivo.
Park JS, Cederroth CR, Basinou V, Sweetapple L, Buijink R, Lundkvist GB, et al
Curr. Biol. 2017 Sep;27(17):2623-2629.e2
Genetic susceptibility to bilateral tinnitus in a Swedish twin cohort.
Maas IL, Brüggemann P, Requena T, Bulla J, Edvall NK, Hjelmborg JVB, et al
Genet. Med. 2017 09;19(9):1007-1012
TrkB-mediated protection against circadian sensitivity to noise trauma in the murine cochlea.
Meltser I, Cederroth CR, Basinou V, Savelyev S, Lundkvist GS, Canlon B
Curr. Biol. 2014 Mar;24(6):658-63
Hearing loss and tinnitus--are funders and industry listening?
Cederroth CR, Canlon B, Langguth B
Nat. Biotechnol. 2013 Nov;31(11):972-4
Dietary phytoestrogens activate AMP-activated protein kinase with improvement in lipid and glucose metabolism.
Cederroth CR, Vinciguerra M, Gjinovci A, Kühne F, Klein M, Cederroth M, et al
Diabetes 2008 May;57(5):1176-85
A phytoestrogen-rich diet increases energy expenditure and decreases adiposity in mice.
Cederroth CR, Vinciguerra M, Kühne F, Madani R, Doerge DR, Visser TJ, et al
Environ. Health Perspect. 2007 Oct;115(10):1467-73
Education
2003, Bachelors Degree (Biological Sciences), University of Geneva, Switzerland
2004, Masters Degree (Biological Sciences), University of Geneva, Switzerland
2005, Licenciate Degree (Medical Biology), University of Geneva, Switzerland
2009, Ph.D. Degree (Sciences), University of Geneva, Switzerland - S. Nef Laboratory
2009-2012, Post-doc, Rockefeller University, USA - A. J. Hudspeth Laboratory
2012-2014, Post-doc, Karolinska Institutet, Sweden - B. Canlon Laboratory
Academic honours, awards and prizes
2020 - Geraldine Dietz Fox Young Investigator Award
2019 - Research Prize "Hearing & Tinnitus" from the Deutsche Tinnitus Stiftung
2019 - Collaborator, Global Burden of Disease study
2019 - Scientific Advisory Board member, American Tinnitus Association
2018 - Associate Editor, Frontiers in Neuroscience
2018 - Docent
2014 - Assistant Professorship from Karolinska Institutet
2014 - Excellence in Reviewing in the journal Hearing Research
2011 - Philippe Foundation Prize (USA)
2010 - Denber-Pinard Prize (CH)
2007 - Endocrinology Foundation Prize (CH)