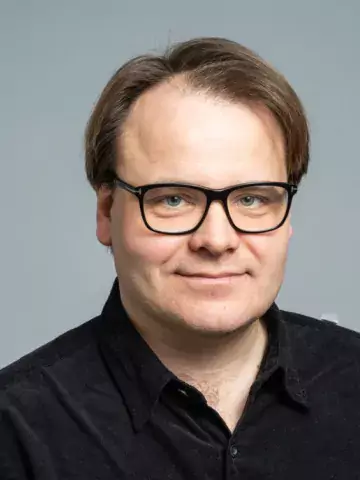 Daniel C Andersson
Senior lecturer/specialist physician
About me
Daniel C Andersson is an associate professor in physiology, senior lecturer at the Karolinska Institute (KI). He is a consultant cardiologist at the Karolinska University Hospital, where he sub-specializes in heart failure cardiology.
Research description
Daniel C Andersson is the principal investigator of a translational research laboratory that studies heart and skeletal muscle dysfunction in the context of inflammatory diseases, eg to study how rheumatic diseases affects muscle and heart function. The laboratory uses experimental physiology and molecular biology tools to investigate disease mechanisms. I clinical studies Daniel C Andersson investigates how inflammatory/rheumatic diseases affects the risk for heart failure.
Selected publications
Acyl ghrelin improves cardiac function in heart failure and increases fractional shortening in cardiomyocytes without calcium mobilization.
Lund LH, Hage C, Pironti G, Thorvaldsen T, Ljung-Faxén U, Zabarovskaja S, Shahgaldi K, Webb DL, Hellström PM, Andersson DC, Ståhlberg M
Eur Heart J 2023 Mar.
Association Between Rheumatoid Arthritis and Incident Heart Failure by Left Ventricular Ejection Fraction.
Faxén J, Benson L, Mantel Ä, Savarese G, Hage C, Dahlström U, Askling J, Lund LH, Andersson DC
Am Heart J 2023 Feb.
Citrullination is linked to reduced Ca2+ sensitivity in hearts of a murine model of rheumatoid arthritis.
Pironti G, Gastaldello S, Rassier DE, Lanner JT, Carlström M, Lund LH, Westerblad H, Yamada T, Andersson DC
Acta Physiol (Oxf) 2022 Nov;236(3):e13869
Improved skeletal muscle fatigue resistance in experimental autoimmune myositis mice following high-intensity interval training.
Yamada T, Ashida Y, Tamai K, Kimura I, Yamauchi N, Naito A, Tokuda N, Westerblad H, Andersson DC, Himori K
Arthritis Res Ther 2022 Jun;24(1):156
Myositis-specific autoantibodies and QTc changes by ECG in idiopathic inflammatory myopathies.
Korsholm SS, Andersson DC, Knudsen JB, Dastmalchi M, Diederichsen ACP, Gerke O, Witting N, Jacobsen S, Pecini R, Friis T, Krogager ME, Lundberg IE, Diederichsen LP
Rheumatology (Oxford) 2022 Oct;61(10):4076-4086
Eccentric Resistance Training Ameliorates Muscle Weakness in a Mouse Model of Idiopathic Inflammatory Myopathies.
Himori K, Ashida Y, Tatebayashi D, Abe M, Saito Y, Chikenji T, Westerblad H, Andersson DC, Yamada T
Arthritis Rheumatol 2021 May;73(5):848-857
Intact single muscle fibres from SOD1G93A amyotrophic lateral sclerosis mice display preserved specific force, fatigue resistance and training-like adaptations.
Cheng AJ, Allodi I, Chaillou T, Schlittler M, Ivarsson N, Lanner JT, Thams S, Hedlund E, Andersson DC
J Physiol 2019 Jun;597(12):3133-3146
Cardiomyopathy, oxidative stress and impaired contractility in a rheumatoid arthritis mouse model.
Pironti G, Bersellini-Farinotti A, Agalave NM, Sandor K, Fernandez-Zafra T, Jurczak A, Lund LH, Svensson CI, Andersson DC
Heart 2018 Dec;104(24):2026-2034
Association Between Rheumatoid Arthritis and Risk of Ischemic and Nonischemic Heart Failure.
Mantel Ä, Holmqvist M, Andersson DC, Lund LH, Askling J
J Am Coll Cardiol 2017 Mar;69(10):1275-1285
Endurance exercise increases skeletal muscle kynurenine aminotransferases and plasma kynurenic acid in humans.
Schlittler M, Goiny M, Agudelo LZ, Venckunas T, Brazaitis M, Skurvydas A, Kamandulis S, Ruas JL, Erhardt S, Westerblad H, Andersson DC
Am J Physiol Cell Physiol 2016 May;310(10):C836-40
Excess TGF-β mediates muscle weakness associated with bone metastases in mice.
Waning DL, Mohammad KS, Reiken S, Xie W, Andersson DC, John S, Chiechi A, Wright LE, Umanskaya A, Niewolna M, Trivedi T, Charkhzarrin S, Khatiwada P, Wronska A, Haynes A, Benassi MS, Witzmann FA, Zhen G, Wang X, Cao X, Roodman GD, Marks AR, Guise TA
Nat Med 2015 Nov;21(11):1262-1271
Genetically enhancing mitochondrial antioxidant activity improves muscle function in aging.
Umanskaya A, Santulli G, Xie W, Andersson DC, Reiken SR, Marks AR
Proc Natl Acad Sci U S A 2014 Oct;111(42):15250-5
Ryanodine receptor oxidation causes intracellular calcium leak and muscle weakness in aging.
Andersson DC, Betzenhauser MJ, Reiken S, Meli AC, Umanskaya A, Xie W, Shiomi T, Zalk R, Lacampagne A, Marks AR
Cell Metab 2011 Aug;14(2):196-207
Mitochondrial production of reactive oxygen species contributes to the β-adrenergic stimulation of mouse cardiomycytes.
Andersson DC, Fauconnier J, Yamada T, Lacampagne A, Zhang SJ, Katz A, Westerblad H
J Physiol 2011 Apr;589(Pt 7):1791-801
Teaching portfolio
Daniel C Andersson is the course director for the integrative pre-clinical exam on the medical doctor (MD) program. He is a faculty representative in the steering board for the MD  program, and the chairman of the steering group for the local admission to the MD program at KI.
Education
- 2005. MD degree, Karolinska Institutet.
- 2009. PhD in physiology, Karolinska Institutet.
- 2009-11. Postdoctoral fellowship, Columbia University, NY, USA.
- 2013. License to practice medicine in Sweden.
- 2017. Associate professor (docent) in physiology, Karolinska Institutet.
- 2019. Specialist physician in cardiology, Karolinska University Hospital.
Academic honours, awards and prizes
- Prize for excellent thesis supervision on the medical doctor program, 2019.
- Harald & Greta Jeanssons foundation prize for young researcher and group leader, 2018. http://jeanssonsstiftelser.se/pristagare/
- Young investigator award - for oral presentation at Scandinavian Physiological Society Annual Meeting, 2008.