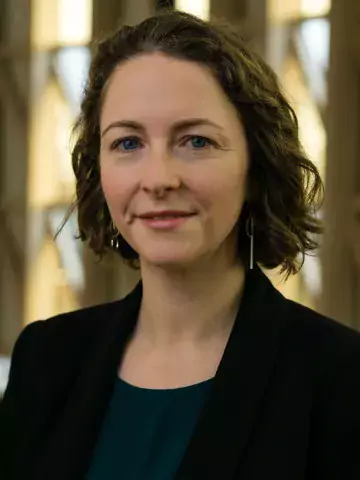 Emma Patterson
Adjunct senior lecturer
Docent | Nutritionist with a focus on public health and sustainability | Adjunct senior lecturer in Public Health Nutrition at KI; employed at the Swedish Food Agency.
About me
Docent and adjunct senior lecturer in Public Health Nutrition. Since 2020 I work at the Swedish Food Agency (Livsmedelsverket), on national dietary surveys and scientific evaluation of issues related to public health nutrition and sustainability. Before that I worked at the Centre for Epidemiology and Social Medicine at the Region of Stockholm (formerly Stockholm County Council) for several years, on health promoting schools and issues related to nutrition and evaluation in the region.
I trained as a dietitian and nutritionist in Ireland, and completed a doctorate in medical sciences in 2010 at KI on the topic of child and adolescent dietary habits, followed by postgraduate training in nutritional epidemiology and public health sciences. I have conducted research and taught/supervised with the research group Community Nutrition and Physical Activity at the Dept. of Global Public Health since 2010.
Research description
My research is focused on the importance of diet for public health and for a sustainable society. One strand of my research is assessing and understanding dietary habits, and another is how to influence dietary habits in practice, with a focus on evaluation, intervention and implementation, and reducing inequalities in health.
A repeating theme of my research is the diets of children and adolescents, and in particular the topic of school meals. I helped to develop, validate and subsequently implement an innovative system for evaluating school meals (SkolmatSverige). It has been used by almost half of the country's primary schools to some degree. Using the data I have studied how school meal quality can change in the short term and long-term, and whether tools or policy have the greater effect.
In the project "OPTIMAT: Fostering healthy and sustainable dietary habits through optimised school meals", with funding from Formas, the Swedish Research Council for Sustainability, I and colleagues have looked at ways to enhance school meals with respect to nutrition, climate impact, cost and acceptability, simultaneously. Collaborators on this project are the National Food Agency and Metropolitan University Copenhagen. We have conducted simulations and real-world interventions in schools. The project has shown promising results, is already being replicated for a third time.
In the A Healthy School Start Plus intervention study we are testing a parental support programme for the third time, in disadvantaged areas. The programme targets all children in pre-school class (i.e. aged 5-7) and has shown promising results regarding dietary behaviours and weight gain. For the current iteration, I have helped to develop and validate a mobile-phone based method for measuring dietary intakes in these young children, via their parents, while keeping respondent burden as low as possible. The full evaluation of this intervention to promote healthy diets and physical activity is ongoing, with funding from Forte, the Swedish Research Council for Health, Working Life and Welfare and from The Kamprad Family Foundation for Entrepreneurship, Research & Charity.
Strategies for full-scale implementation of the A Healthy School Start programme are the focus of the IMPROVE-study (2020-24), also with funding from Forte.
I am also involved in the Mistra Sustainable Consumption project, co-ordinated by KTH where I have performed a health impact assessment showing how a small number of more sustainable dietary practices could result in significantly fewer premature deaths in Sweden. This work was carried out with collaborators from the London School of Hygiene and Tropical Medicine.
In summary, my research interests lie broadly along this spectrum:
Dietary assessment -> Nutritional epidemiology -> Children's diets & school meals -> Public health nutrition -> Sustainable diets
Bibliometry
I have published >60 Web of Science-indexed works, plus peer-reviewed study protocols and reviews, in addition to regional and national reports. I have reviewed for over 13 journals and served as an associate editor for the journal Public Health Nutrition.
Teaching portfolio
Docent. Adjunct senior lecturer in Public Health Nutrition.
Co-supervisor for two doctoral students (one defended 2021, one due to defend 2022).
Main supervisor for eight final year student projects within basic and advanced programmes Nutrition, Food Science, Public Health and Global Health.
Lecturer on the basic and advanced programmes Public Health, Nutrition, Physiotherapy and Health Science, Medicine; on courses Applied Epidemiology, Nutrition Epidemiology and Health Promotion. I give lectures mainly on the topics of nutritional epidemiology, public health nutrition and dietary assessment methods, in both English and Swedish.
Plus popular science lectures, interviews and other presentations for non-scientific audiences.
Education
2004: BSc (Hons) Human Nutrition and Dietetics, 4-year double degree programme from Trinity College Dublin & Dublin Institute of Technology, Ireland (240 ECTS)
2010: PhD (Medical Sciences), Dept of Biosciences and Nutrition, Karolinska Institutet. Title: Dietary intakes of Swedish children and adolescents. (Thesis)
2010: Postdoc, Division of Intervention and Implementation Research, Department of Public Health Sciences, Karolinska Institutet
2011: Postdoc, Unit for Nutritional Epidemiology, Institute of Environmental Medicine (IMM), Karolinska Institutet
2018: Teaching and Learning at Higher Education, Karolinska Institutet
2020: Integrating Global Health Perspectives in your Teaching, Karolinska Institutet
Academic honours, awards and prizes
Scholorship to attend European Nutrition Leadership Program, administrated by Wageningen University, the Netherlands (a food-industry funded program).