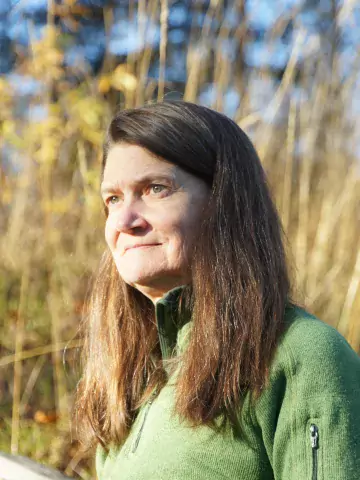 About me
I am Professor of Molecular Cardiovascular Medicine at the Department of Medicine, Karolinska University Hospital, Solna (MedS). Since January 2023 I am the Academic Vice President for Higher Education.
I perform translational cardiovascular research and my research is focusing on the interplay between lipid handling, inflammation and autophagy in relation to cardiovascular disease.
As regards education, previous and present appointments include assignments at different levels ranging from course to strategic levels in several working groups, committees and boards. I was the Departmental Director of Education at MedS 2016-2022 and I have been a  member of the biomedicine programme committee and director of the Center for Clinical Education (CKU-KI). I have received the KI Pedagogical Prize and an educational prize from students at the biomedicine programme.
Other commissions include the Research Council of the Heart-Lung Foundation, a review panel of the Swedish Research Council, the Swedish Foundation for International Cooperation in Research and Higher Education (STINT), a review panel of the Finnish Academy, the organizing committee of the European Lipoprotein Club, the KI/SLL Board of Education and the research, development & educational committees at Karolinska University Hospital and Stockholm Health Care Services (SLSO).
I have also been the Deputy Dean for collaboration with the Stockholm County Council (SCC), which provided great opportunities to contribute to beneficial collaboration between KI and SCC in order to develop and improve healthcare.
Research description
My research is about cardiovascular disease, which is a leading cause of morbidity and mortality worldwide. The main culprit is atherosclerosis, which is characterized by accumulation of lipids and connective tissues as well as proliferation of vascular smooth muscle cells in the arteries accompanied by local inflammation. An important control mechanism for the quality of cells and survival in the vessel wall is autophagy, which is a highly conserved self-protecting process as cellular response to stress, in which cellular components are self-consumed and recycled for downstream metabolism.  Autophagy has also been shown to be involved in lipid handling inside the cells and how the inflammatory response is regulated. However, the role of autophagy in the pathogenesis of atherosclerosis in humans is largely unknown.
The overall objective is to identify which factors are of importance for the interplay between lipid metabolism, inflammation and autophagy in cardiovascular disease. We are focusing on how lipid handling in macrophages affects inflammation and autophagy during the atherosclerosis process. We are also aiming at identifying factors/proteins in the autophagy process that are of relevance for the development of vulnerable plaques and/or progression of atherosclerosis in the vessel wall. The objective is to provide new therapeutic approaches to reduce cardiovascular disease.
The research project is mainly supported by the Swedish Research Council and the Swedish Heart-Lung Foundation. I am/have been the principal supervisor of six PhD students, of which five have defended their theses and the co-supervisor of two PhD students, of which one has defended her thesis. I have been the principal supervisor of six postdoctoral fellows. In addition, I have been an examiner or member of examination boards at more than 40 thesis defences.
Teaching portfolio
I have been engaged in the biomedicine programme since 1999 as a teacher, course coordinator and/or member of the programme committee. I am involved in developing student-activating teaching that integrates the latest research and peer learning. Another important aim has been to develop interprofessional learning between clinically-oriented and experimentally-oriented student groups at undergraduate and postgraduate levels.
Other commissions at KI and/or SLL include chairperson for the pedagogical committee at Karolinska University Hospital (Solna), shared presidency of the Educational Congress, director of the Centre for Clinical Education (CKU-KI, coordinator for teaching capacity issues for the Board of Higher Education and Departmental Director of Education at MedS.
Education
MD, Karolinska Institutet, 1988
PhD, Karolinska Institutet, 1994
Postdoctoral fellow, University of British Columbia, Vancouver, Canada, 1995-1997
Junior researcher position (Swedish Medical Research Council), Karolinska Institutet, 1997-1999
"Teachers of the future", Karolinska Institutet, 2000-2002
Associate Professor, Karolinska Institutet, 2001
Professor of Molecular Cardiovascular Medicine, Karolinska Institutet, 2011
Academic honours, awards and prizes
Pedagogical prize 2005, Student Organisation of the Biomedical Programme
Karolinska Institutet's Pedagogical Prize 2017