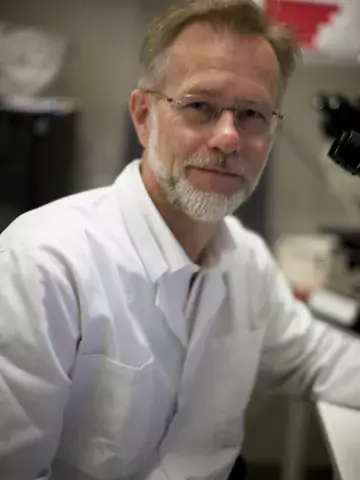 Göran K Hansson
Professor
About me
Professor of Experimental Cardiovascular Research
Member of the Royal Swedish Academy of Sciences
Member of Academia Europaea
Research description
Cardiovascular disease is the leading cause of death in the world. We have established that chronic inflammation and adaptive immune reactions play important roles in the pathogenesis of atherosclerosis. This has opened new avenues to target vascular inflammation in patients suffering from cardiovascular diseases.
The goals of our current research project are (i) to elucidate the immunopathogenesis of atherosclerosis and (ii) to adapt this knowledge for cardiovascular medicine. The following specific aims are addressed in forthcoming years:
1. Characterize effects of immune activation on atherosclerosis.
2. Determine molecular epitopes of LDL particles that trigger immune reactions.
3. Identify druggable effector mechanisms to prevent vascular inflammation and improve lipoprotein metabolism.
We have constructed a humanized model system of LDL autoimmunity with T-cell receptor transgenic mice, which enables us to perform detailed studies of immune activation and regulation in atherosclerosis. Substantial effects are observed on atherosclerosis development and lipoprotein metabolism in the model system, but we need to fully clarify the effector mechanisms in order to find targets for development of new prevention, diagnostics and therapy against atherosclerosis. We will combine studies in mouse models with experiments in cultures of human plaque cells, and validate findings in human tissue samples derived from our carotid endarterectomy biobank.
Education
Medical school, Gothenburg University; Med.kand. (Bachelor of Medicine) 1972; Läkarexamen (M.D.) 1977; Ph.D. 1980 in histology, Gothenburg University.
Positions and commissions of trust: Docent, Histology, Gothenburg University 1981 Fogarty Postdoctoral Research Fellow, University of Washington, Seattle, 1981-2  Internship and residency, Sahlgrenska University Hospital, Gothenburg, 1983-89 Senior Scientist, Medical Research Council 1990-94 Professor of Cell Biology, Gothenburg University, 1994-95 Professor of Cardiovascular Research, Karolinska Institutet, 1995-18 Chairman, Nobel Committee for Physiology or Medicine 2004-6 Visiting Professor, Harvard Medical School, 2008 Secretary, Nobel Assembly at Karolinska Institutet 2009-15 Vice Chairman, Board of Directors, The Nobel Foundation 2010-2022 Distinguished Professor, Karolinska Institutet, 2010-18. Senior Professor, Karolinska Institutet, 2019- Secretary General, Royal Swedish Academy of Sciences, 2015-2022  
Academic honours, awards and prizes
Erik K. Fernström Prize to young medical scientists, 1992 Visiting Professor, Università Catolica del Sacro Cuore, Rome 1996 Elected to the Nobel Assembly at Karolinska Institute, 1997 Lars Werkö Prize for Heart Research, 1999 Russell Ross Memorial Lecture, International Atherosclerosis Society, 2000 Pfizer Visiting Professor, Univ of Texas at Houston, 2001 Nikkilä Lecture, Scand Soc Atherosclerosis Research, 2002 Eijkman Medal, Utrecht University 2003 Vulnerable Plaque Lifetime Achievement Award, AEHA, Chicago 2003 Leducq Visiting Professor, Harvard Medical School, Boston 2005 Kennedy Visiting Professor, Imperial College, London 2005 David Geffen School of Medicine Visiting Professor, UCLA 2006 Anitschkow Prize, European Atherosclerosis Society 2007 Hugh Sinclair Lecture, British Atherosclerosis Society 2007 George Lyman Duff Memorial Lecture, American Heart Association 2007 Elected to the Royal Swedish Academy of Sciences 2007 Elected to Academia Europæa 2007 William Harvey Medal, European Society of Cardiology, Munich 2008 Outstanding Achievement Award, Intl Atherosclerosis Society, Boston 2009 Distinguished Service Award, American Heart Association, Orlando 2009 Federa Prize, Federation of Biomedical Scientific Societies, Leiden 2011 Middlesex Memorial Lecture, University College London 2012 Honorary Professor, Shandong University, China 2014 Anthony Cerami Prize in Translational Medicine, Feinstein Institute, New York 2014 Doctor of Medicine honoris causa, University of Eastern Finland, Kuopio 2015 Shimamoto Takio Memorial Lecture, Japan Atherosclerosis Society 2016 His Majesty the King's Medal in Gold, 2017 Gold Medal of the European Society of Cardiology 2022