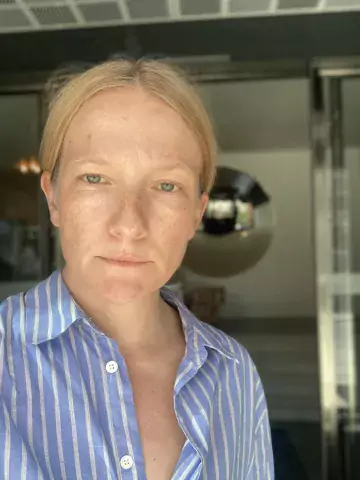 Ida Nilsson
Senior research specialist
About me
Associate Professor in Neuroscience and responsible for Spatial Biology at KIGene
Research description
The neurobiology of anorexia nervosa
The memory of us in my original family celebrating when my older sister, several years after her weight recovery from anorexia nervosa (AN), finally felt hunger again has been my guiding star and motivator during my years in research on the neurobiology of AN. How come that individuals with AN stay in negative energy balance, severely emaciated and starved, commonly for years, despite that the human body and brain in order to ensure our survival, have developed intricate systems to prevent exactly this. At the same time others struggle to lose weight their whole life.
Based on our own and others previous results we propose that genetic vulnerability to anorexia nervosa (AN) combined with environmental triggers of dieting/food restriction, induce changes in arcuate nucleus of the hypothalamus (Arc) neurons, and their communication with surrounding microglia, resulting in a paradoxical response to negative energy balance. 
We utilise clinical samples, as well as preclinical- and stem cell based models, and medical registries, in order to define the neuronal circuitries and molecular mechanisms involved in the negative energy balance of AN. We believe that we by defining these mechanisms can contribute to the development of pharmaceuticals supporting renourishment and weight gain in the very critical initial phase of treatment of individuals with AN.
Selected publications:
Ozsvar J, Gissler M, Lavebratt C, Nilsson IAK. Exposures during pregnancy and at birth are associated with the risk of offspring eating disorders. Int J Eat Disord. 2023 Aug 30. doi: 10.1002/eat.24053. Epub ahead of print. PMID: 37646613.
Xu J, Landberg R, Lavebratt C, Bulik CM, Landén M, Nilsson IAK. Plasma concentrations of short-chain fatty acids in active and recovered anorexia nervosa. Nutrients, 2022 Dec 9.;14(24):5247. doi: 10.3390/nu14245247. PMID: 36558405
Duriez P, Nilsson IAK, Le Thuc O, Alexandre D, Chartrel N, Rovere C, Chauveau C, Gorwood P, Tolle V, Viltart O. Exploring the mechanisms of recovery in anorexia nervosa through a translational approach: from original ecological measurements in human to brain tissue analyses in mouse. Nutrients. 2021 Aug 13;13(8):2786. doi: 10.3390/nu13082786.PMID: 34444945 
Salehi M A, Nilsson IA, Figueira J, Thornton LM, Abdulkarim I, Pålsson E, Bulik CM, Landén M. Serum profiling of anorexia nervosa: A 1H NMR-based metabolomics study. Eur Neuropsychopharmacol. 2021 Mar 17;49:1-10. doi: 10.1016/j.euroneuro.2021.02.015. Epub ahead of print. PMID: 33743376.
Nilsson IAK, Millischer V, Göteson A, Hübel C, Thornton LM, Bulik CM, Schalling M, Landén M. Aberrant inflammatory profile in acute but not recovered anorexia nervosa. Brain Behav Immun. 2020 Aug;88:718-724. doi:
10.1016/j.bbi.2020.05.024. Epub 2020 May 7. PMID: 32389698.
D'Addario C, Zaplatic E, Giunti E, Pucci M, Micioni Di Bonaventura MV, Scherma M, Dainese E, Maccarrone M, Nilsson IA, Cifani C, Fadda P. Epigenetic regulation of the cannabinoid receptor CB1 in an activity-based rat model of anorexia nervosa. Int J Eat Disord. 2020 May;53(5):432-446. doi: 10.1002/eat.23271. Epub 2020 Apr 10. Erratum in: Int J Eat Disord. 2020 Dec;53(12):2095. PMID: 32275093.
Kong L, Nilsson IAK, Brismar K, Gissler M, Lavebratt C. Associations of Different Types of Maternal Diabetes and Body Mass Index With Offspring Psychiatric Disorders. JAMA Netw Open. 2020 Feb 5;3(2):e1920787. doi: 10.1001/jamanetworkopen.2019.20787. PMID: 32031649.
Florent V, Baroncini M, Jissendi-Tchofo P, Lopes R, Vanhoutte M, Rasika S, Pruvo JP, Vignau J, Verdun S, Johansen JE, Pigeyre M, Bouret SG, Nilsson IAK, Prevot V. Hypothalamic Structural and Functional Imbalances in Anorexia Nervosa. Neuroendocrinology. 2020;110(6):552-562. doi: 10.1159/000503147. Epub 2019 Sep 5. PMID: 31484186.
Nilsson IAK, Millischer V, Karrenbauer VD, Juréus A, Salehi AM, Norring C, von Hausswolff-Juhlin Y, Schalling M, Blennow K, Bulik CM, Zetterberg H, Landén M. Plasma neurofilament light chain concentration is increased in anorexia
nervosa. Transl Psychiatry. 2019 Aug 1;9(1):180. doi: 10.1038/s41398-019-0518-2. PMID: 31371701; PMCID: PMC6675786.
Nilsson IAK. The anx/anx Mouse - A Valuable Resource in Anorexia Nervosa Research. Front Neurosci. 2019 Feb 5;13:59. doi: 10.3389/fnins.2019.00059. PMID: 30804742; PMCID: PMC6370726.
Kong L, Nilsson IAK, Gissler M, Lavebratt C. Associations of Maternal Diabetes and Body Mass Index With Offspring Birth Weight and Prematurity. JAMA Pediatr. 2019 Apr 1;173(4):371-378. doi: 10.1001/jamapediatrics.2018.5541. PMID:
30801637; PMCID: PMC6450270.
Education
MSc in Nutrition, Stockholm University, 2004
PhD in Medical Science, Karolinska Instituet, 2010
Postdoctoral Training, Lab of Dir. Vincent Prévot, INSERM, Lille (FR), 2011
Academic honours, awards and prizes
NARSAD Young Investigator 2013-2014