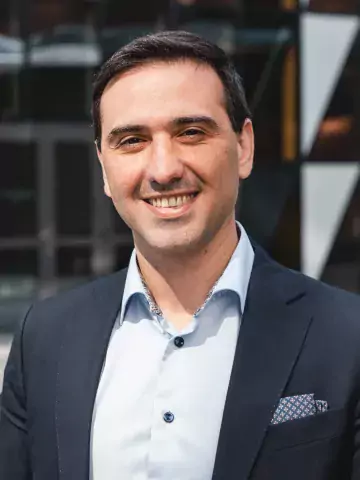 Ioannis Parodis
Adjunct lecturer
MD PhD | Senior consultant and Associate Professor of Rheumatology
Research area: clinical and translational research within the field of inflammation and autoimmunity
About me
I studied medicine at the National and Kapodistrian University of Athens, Greece, and graduated in 2006. I have an interest in B cell biology and novel treatments for systemic lupus erythematosus and lupus nephritis. In February 2017, I defended my doctoral thesis titled "Systemic lupus erythematosus: biomarkers and biologics", which I carried out at the Division of Rheumatology, Department of Medicine Solna, Karolinska Institutet, Stockholm, Sweden. My research has focused on identifying biomarkers and calibrating predictive models for diagnostics, clinical and immune responses to therapies, and long-term prognosis in systemic lupus erythematosus and lupus nephritis.
Currently, I am a senior consultant rheumatologist at the Karolinska University Hospital in Stockholm, Sweden, Director of studies for the elective programme of the KI medical school, and responsible for the core course in internal medicine for 6th term medical students. Along with clinical work and teaching, I conduct clinical and translational research within the field of inflammation and autoimmunity, focusing on systemic lupus erythematosus, at the Center for Molecular Medicine in Stockholm, Sweden.
Research description
The goal of our research is to contribute to improved surveillance and management for people living with systemic lupus erythematosus. We focus on identification of biomarkers that reflect activity and portend flare, response or non-response to therapy, particularly B cell targeted biologics, and long-term outcome. We stress on patient-reported health status and patient participation in medical care.
Last but not least, we have projects within medical pedagogy, and we are currently working on the development of a novel virtual patient modality for enhancing the acquirement of clinical reasoning skills and for facilitating interprofessional learning.
Teaching portfolio
Past doctoral students
Serving as main supervisor:
Shahrzad Kia Komujuni (Karolinska Institutet)
Current doctoral students
Serving as main supervisor:
Alvaro Gomez Gonzalez (Karolinska Institutet)
Julius Lindblom (Karolinska Institutet)
Alexander Borg (Karolinska Institutet)
Sandra Jägerback (Karolinska Institutet) 
Serving as co-supervisor:
Tomas Walhelm (Linköping University)
Kinza Degerlund Maldi (Karolinska Institutet)
Education
Associate Professor of Rheumatology: December 2021
Medical specialty (rheumatology): November 2012, Karolinska University Hospital
Medical licensure: 14 August 2006
Medical degree: 2 August 2006, University of Athens, Greece
Doctoral education: 2013–2017
Defence: 17 February 2017
Title: Systemic lupus erythematosus: Biomarkers and biologics
University: Karolinska Institutet
Main supervisor: Professor Iva Gunnarsson
Post-doctoral training
2021/2022 Region Stockholm/KI-funded post-doctoral position: "Tailoring patient selection for biological therapy, and optimising surveillance and treatment outcome in systemic lupus erythematosus"
2019 Université catholique de Louvain (Brussels): "Repeat kidney biopsy in lupus nephritis"; Host/supervisor: Professor Frédéric Houssiau
Academic honours, awards and prizes
2020 Amgen and Swedish Society of Rheumatology Award/Stipend
2019 Eli Lilly and Swedish Society of Rheumatology Award/Stipend
2019 Pedagogy award for best supervisor of medical students (internal medicine course, MedS, KI)
2019 Winner of the European Lupus Society Training Bursary Programme (of six)
2018 American College of Rheumatology/European League Against Rheumatism (ACR/EULAR) Exchange programme; chosen participant (of ten)
2014 Pedagogy award for best supervisor of medical students (internal medicine course, MedS, KI)
2007 Prize for best poster, 13th national scientific meeting for med stud and young physicians, Greece
Links