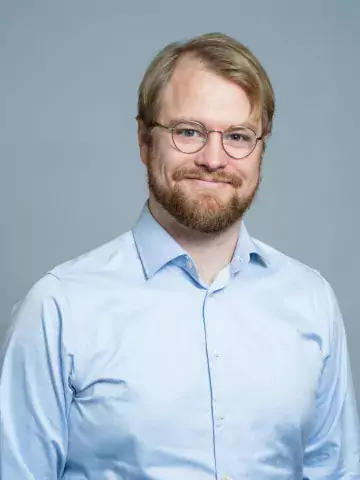 Jens Karlsson
Postdoctoral researcher
I am a postdoctoral researcher in Birgitta Henriques-Normark group. Besides research into microbial pathogenesis, I take part in education at MTC as well as organizing the KI Infection Retreat.
About me
Hailing from Kalmar in south-east Sweden, I moved to Stockholm to pursue a university degree within the broad field of biology. I studied the Bachelor's Programme in Biomedicine at Karolinska Institutet and did my Bachelors Thesis project at King's College London. I then decided to continue with the Master's Programme in Biomedicine at Karolinska Institutet. During my Master Thesis project I realized that microbiology was the topic which I wanted to continue to do research on. During my PhD studies in Edmund Loh's research group, I investigated Hfq- and sRNA-mediated gene regulation in Neisseria meningitidis.
Research description
My current research interest include microbial pathogenesis of the bacteria Streptococcus pneumoniae and Staphylococcus aureus. Specifically pathogenic attributes of these bacteria in relationship with the production and release of membrane vesicles. Membrane vesicles are interesting particles that have been extensively researched in Gram-negative bacteria. In Gram-positive bacteria, much less is known about the role and function of membrane vesicles. My current research projects include the study of membrane vesicle biogenesis, membrane vesicle cargo, and the interaction between bacterial membrane vesicles and the immune system.
Publications
Eichner H, Karlsson J, Spelmink L, Pathak A, Sham LT, Henriques-Normark B, et al. RNA thermosensors facilitate Streptococcus pneumoniae and Haemophilus influenzae immune evasion. PLoS Pathog. 2021;17(4):e1009513.
Karlsson J, Eichner H, Andersson C, Jacobsson S, Loh E. Novel hypercapsulation RNA thermosensor variants in Neisseria meningitidis and their association with invasive meningococcal disease: a genetic and phenotypic investigation and molecular epidemiological study. Lancet Microbe. 2020;1(8):E319-E27.
Karlsson J, Eichner H, Loh E. Invasive meningococcal disease and genome databases. The Lancet Microbe. 2021;2(9):e421-e2.
Spoerry C, Karlsson J, Aschtgen MS, Loh E. Neisseria meningitidis IgA1-specific serine protease exhibits novel cleavage activity against IgG3. Virulence. 2021;12(1):389-403.
Gaudenzi G, Kumbakumba E, Rasti R, Nanjebe D, Reu P, Nyehangane D, Martensson A, Nassejje M, Karlsson J, Mzee J, Nilsson P, Businge S, Loh E, Boum Ii Y, Andersson-Svahn. H, Gantelius J, Mwanga-Amumpaire J, Alfven T. Point-of-Care Approaches for Meningitis Diagnosis in a Low-Resource Setting (Southwestern Uganda): Observational Cohort Study Protocol of the "PI-POC" Trial. JMIR Res Protoc. 2020;9(11):e21430.
Tsikourkitoudi V, Karlsson J, Merkl P, Loh E, Henriques-Normark B, Sotiriou GA. Flame-Made Calcium Phosphate Nanoparticles with High Drug Loading for Delivery of Biologics. Molecules. 2020;25(7).
Teaching portfolio
Laboratory teaching assistant (DSM2.1)
Seminar leader (DSM2.1 and Immunology and microbiology)
Education
Doctor of Philosophy in Medical Science, Karolinska Institutet, 2021-09-24
Masters in Biomedicine, Karolinska Institutet, 2015-06-04
Bachelors in Biomedicine, Karolinska Institutet, 2013-08-08