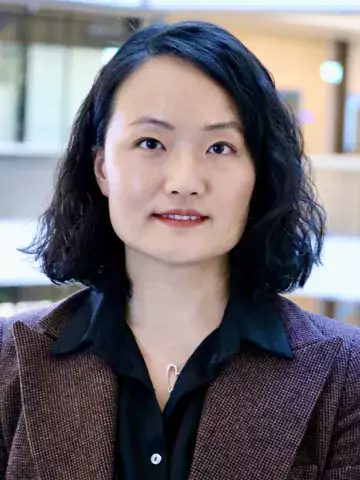 Juan Du
Principal researcher
About me
I am Associate Professor at the Department of Microbiology, Tumor and Cell Biology, Karolinska Institutet. I received my Ph.D. degree from the Department of Oncology-Pathology, Karolinska Institutet in 2012 followed by postdoctoral training at Harvard University. In 2016, I joined The Centre for Translational Microbiome Research (CTMR) at Karolinska Institutet. My research interests focus on host-microbiota interactions.
Research description
https://www.youtube.com/watch?v=hbG2-d0q5A8&t=97s
Project 1: Cohort study: Swedish Cancer Microbiome project (SCANMi)
The SCANMi project comprises cohorts from head and neck cancer (HNC), cervical cancer (CC), ovarian cancer (OC), and breast cancer (BC), which are the most common cancer types worldwide. The hypothesis is that the microbiome of the gut, oral, vagina, and tumor will be altered according to differences in immune system, cancer stage, and treatments. Certain commensal bacterial species are expected to be more abundant and relate to a stronger immune response, less inflammation, and better clinical outcomes. It paves the way for more personalized and precise cancer treatments that take into account individual microbiome compositions. 
Project 2: Harnessing the power of the vaginal microbiome to combat Human Papillomavirus (HPV) infections and related diseases
Vaginal microbes and HPV share the same biological niche. We and others have previously found that bacterial vaginosis is associated with a higher risk of HPV infection. It is also essential to identify commensal bacteria/probiotics e.g. Lactobacillus, that have the potential to combat HPV infection and related diseases. We employ state-of-the-art laboratory analyses to gain mechanistic insights into the interplay between vaginal microbes and HPV. Additionally, we are investigating the carcinogenic mechanisms of microbes that are related to cancer. Furthermore, we possess a large clinical bacterial biobank that enables us to compare and distinguish the best candidates for potential anti-HPV and anti-cancer treatment.
Project 3: Using commensal bacteria and their metabolites to combat antibiotic resistant pathogens
Antimicrobial-resistant bacterial infections have become a global burden, and currently, new antibiotic discovery streams are extremely limited. My group studies the interaction between pathogens and commensal bacteria to determine the crucial role played by commensal bacteria from our gut microbiota and their derived metabolites in pathogen clearance. This proposal will generate valuable data on microbiome-pathogen interactions, both in vitro and in vivo. My long-term goal is to establish a platform for systematic screening of the gut microbiota, which can provide significant value for future treatments of microbiota-related diseases.
Project 4: Gut/Vagina-microbiota 3D model for host-microbiota interaction study
We aim to establish an in vitro 3D co-culture platform using a hydrogel system that mimics the morphology of the human small intestine and vagina. This platform will serve as a foundation for co-culturing human small intestine cell lines or vaginal cell lines with human microbiota, enabling us to evaluate the interactions between the host and microbiota. Additionally, we will test our hypotheses using ex vivo explants of cervix tissues.
Lab members:
Juan Du, Ph.D. Associate Professor 
Fabricio Romero Garcia, PhD candidate, 2022-2026, Karolinska Institutet
Unnur Guðnadóttir, PhD candidate, 2021-2025, Karolinska Institutet
Yuanyuan Wang, PhD candidate, 2020-2024, Karolinska Institutet
Didem Kart, PostDoc, 2022-2023, Karolinska Institutet
Cara Polte, Master, 2023, Karolinska Institutet
Maria Tseka, Bachelor, 2023, Karolinska Institutet
Renato Esposito, Research Assistant, 2023, Karolinska Institutet
Alumni:
Liqin Cheng, PhD, 2018-2022, Karolinska Institutet
Andreas Ährlund-Richter, PhD, 2019-2023, Karolinska Institutet
Karlijn Johanna van Dijk, Master, 2021-2022, Gothenburg University
Margarita Chatzopoulou, Master, 2022, Karolinska Institutet
Shengru Wu, PostDoc, 2019-2021, Karolinska Institutet
Shawn Higdon, PostDoc, 2020-2021, Karolinska Institutet
Fabricio Romero Garcia, Master, 2021, Lund University
Spyke Schumacher, Master, 2021, Karolinska Institutet
Christina Nordentoft, Master, 2021, Karolinska Institutet
Unnur Guðnadóttir, Master, 2019, Uppsala University
Yan Wang, exchange PhD, 2019-2020, Karolinska Institutet
Lorena Calderon Pérez, exchange PhD, 2019, Karolinska Institutet
Sebastian-Alexandru Radu, Bachelor student, 2018-2020, Karolinska Institutet
Yue Hu, PostDoc, 2017-2018, Karolinska Institutet
Tabusi Mahebali, Master, 2018, Karolinska Institutet
Sebastian-Alexandru Radu, Bachelor, 2018-2019, Karolinska Institutet
IngTsyr Beh, Bachelor exchange student, 2017, Karolinska Institutet
Gloria Natalia Loko, Master, 2017-2018, Uppsala University
Daniel Scheiner, Bachelor exchange student, 2018, Karolinska Institutet
Arlisa Alisjahbana, Master, 2017, Karolinska Institutet, Summer project
Julia Foyer, Bachelor, 2017, Karolinska Institutet, Summer project
Mikaela Svensson, Bachelor, 2017-2018, Imperial College London, Summer project
Andreas Ährlund-Richter, Master, 2008-2012 & 2017, Karolinska Institutet
Funding
Current:
Vetenskapsrådet (Swedish Research Council) 
Swedish Research Council and National Natural Science Foundation of China (NSFC) collaboration grant
Eurostars
KI Forskningsbidrag
Svenska Läkaresällskapet (SLS)
Past:
Stiftelsens för Strategisk Forskning (SSF)-Ingvar Carlsson Award
Åke Wibergs stiftelse
Harald Jeanssons Stiftelse
Föreningen för Klinisk Mikrobiologi
Stiftelsen Längmanska kulturfonden
Stiftelsen Lars Hiertas Minne
Fredrik och Ingrid Thurings Stiftelse
Clas Groschinskys minnesfonds (CGM)
Svenska Sällskapet för Medicinsk Forskning (SSMF)
Teaching portfolio
Course director for KI Master program in Biomedicine
Main course organiser every year for KI PhD course 2861: Biomedical Ecology-The microbiota in health and disease.
Main course organiser every year for KI PhD course 5636: Microbiota and Cancer.
Invited lecturer for KI medicine program course Disease and Illness at bachelor level on topics: Bacteriology; Antibiotics and antivirals.
Invited lecturer and mentor for KI medicine program course Microbiology and Immunology at bachelor level on topics: Human Herpes viruses; Human Papillomavirus; Microbiota and cancer.
Invited lecturer for KI course Molecular Medicine-Oncology at bachelor level of on topic: Microbiome and cancer.
Invited examiner for KI Master course Frontiers in Biomedicine.
Invited lecturer for KI PhD Course Microbiota, metabolism and immunity in the development and treatment of malignancies on topic: Vaginal microbiome and cancer. 
Invited lecturer for KI PhD Course Mucosal Immunology.
Invited lecturer and examiner for Uppsala University PhD course Advanced tumor biology on topic: Microbiome and cancer
Education
PhD. 2012.Karolinska Institutet, Department of Oncology and Pathology, Sweden
Post-doctoral. 2013-2016. Harvard Medical School, Department Microbiology and immunology & Massachusetts General Hospital, Department of infectious disease, USA