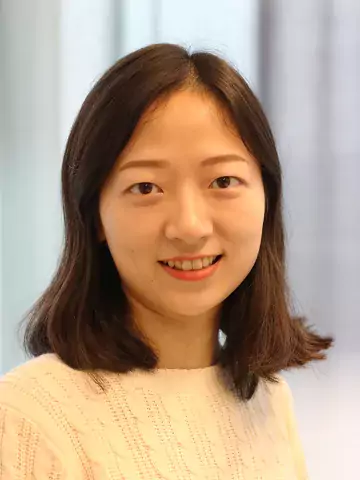 Kejia Hu
Postdoctoral researcher
About me
I am a postdoc researcher at Karolinska Institutet. My research interests include the incidence and prognosis of cancer, and comorbidities between cancer and other chronic diseases, especially mental health-related. 
Research description
My work was focused on: 
1. Psychosocial risk factors and cancer incidence
In my doctoral thesis, I have studied psychological distress as a risk factor for the incidence of breast cancer, and whether anti-inflammatory medications could play a role in the prevention of breast cancer.
2. Mental health in cancer patients and their families
I have studied the risk of mental disorders among patients with cancer and their spouses, and whether anti-inflammatory and anti-microbial medications could counteract the increased risk. 
3. Prognostic factors of cancer
For example, I have studied the prognostic role of endocrine treatment, circulating vitamin D and neuroendocrine gene mutations in breast cancer, and inflammation-based prognostic score in lung cancer. 
Selected publications:
1.      Hu K, Wang J, Sparén P, Herweijer E, Sjölander A, Adami HO, Valdimarsdóttir U, Sundström K, Fang F. Invasive cervical cancer, precancerous lesions, and cervical screening participation among women with mental illness in Sweden: a population-based observational study. Lancet Public Health. 2023 Apr;8(4):e266-e275. doi: 10.1016/S2468-2667(23)00026-9. PubMed PMID: 36965981.
2.      Hu K, Feychting M, Lu D, Sjölander A, Czene K, Hall P, Fang F. Use of Nonsteroidal Anti-Inflammatory Drugs and Risk of Breast Cancer: Evidence from a General Female Population and a Mammographic Screening Cohort in Sweden. Cancers (Basel). 2023 Jan 23;15(3). doi: 10.3390/cancers15030692. PubMed PMID: 36765650; PubMed Central PMCID: PMC9913077.
3.      Hu K, Liu Q, László KD, Wei D, Yang F, Fall K, Adami HO, Ye W, Valdimarsdóttir UA, Li J, Fang F. Risk of Psychiatric Disorders Among Spouses of Patients With Cancer in Denmark and Sweden. JAMA Netw Open. 2023 Jan 3;6(1):e2249560. doi: 10.1001/jamanetworkopen.2022.49560. PubMed PMID: 36602801; PubMed Central PMCID: PMC9857700.
4.      Hu K, Wang C, Luo C, Zheng H, Song H, Bergstedt J, Fall K, Luo T, Czene K, Valdimarsdóttir UA, Fang F, Lu D. Neuroendocrine pathways and breast cancer progression: a pooled analysis of somatic mutations and gene expression from two large breast cancer cohorts. BMC Cancer. 2022 Jun 21;22(1):680. doi: 10.1186/s12885-022-09779-8. PubMed PMID: 35729536; PubMed Central PMCID: PMC9210628.
5.      Hu K, Smedby KE, Sjölander A, Montgomery S, Valdimarsdóttir U, Engstrand L, Fang F, Fall K. Use of Antibiotics and Risk of Psychiatric Disorders in Newly Diagnosed Cancer Patients: A Population-Based Cohort Study in Sweden. Cancer Epidemiol Biomarkers Prev. 2022 Mar 1;31(3):528-535. doi: 10.1158/1055-9965.EPI-21-1095. PubMed PMID: 35027429.
6.      Hu K, Eriksson M, Wengström Y, Czene K, Hall P, Fang F. Sense of coherence and risk of breast cancer. Elife. 2020 Nov 23;9. doi: 10.7554/eLife.61469. PubMed PMID: 33226344; PubMed Central PMCID: PMC7717898.
7.      Hu K, Sjölander A, Lu D, Walker AK, Sloan EK, Fall K, Valdimarsdóttir U, Hall P, Smedby KE, Fang F. Aspirin and other non-steroidal anti-inflammatory drugs and depression, anxiety, and stress-related disorders following a cancer diagnosis: a nationwide register-based cohort study. BMC Med. 2020 Sep 9;18(1):238. doi: 10.1186/s12916-020-01709-4. PubMed PMID: 32900363; PubMed Central PMCID: PMC7487710.
8.      Hu K, He P, Peng Q, Zhong X, Deng L, Xie Y, Li J, Xu H, Lu D, Zheng H. OFS plus AI or SERM vs. SERM alone in premenopausal women with hormone receptor-positive breast cancer: a prospective cohort study using the real-world database. Breast Cancer. 2019 May;26(3):339-348. doi: 10.1007/s12282-018-0929-6. Epub 2018 Oct 26. PubMed PMID: 30367358.
A full list of publications can be found at: https://www.ncbi.nlm.nih.gov/myncbi/1fiOtryZdx3QH/bibliography/public/
Education
2015, MD, Central South University
2018, Msc, Sichuan University
2022, PhD, Karolinska Institutet