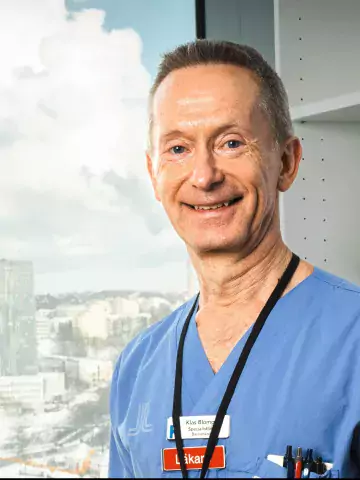 Klas Blomgren
Professor/senior physician
About me
I am Professor of Paediatrics at Karolinska Institutet since 2011.
I am a paediatric oncologist with a special interest in brain tumours.
Since 2016 I am Vice Head of the Department of Women's and Children's Health.
Research description
My research is focused on injury and repair in the developing brain and we have found that the young, still growing brain reacts very differently to injury compared with an adult brain. Our aim is to minimise the effects of the injury and promote mechanisms of repair. 
We focus primarily on the type of injuries inflicted by ionizing radiation to the young brain, as used in the treatment of malignant diseases.
Education
2007-2012 – Senior researcher, Childhood Cancer Foundation, 50 %
2001-2006 – Resident of paediatrics (Queen Silvia Paediatric Hospital, Gothenburg)
2001-2004 – Researcher, 50 %, "Translational Research", Childhood Cancer Foundation
1997-2001 – Researcher, 100 %, Swedish Research Council, University of Gothenburg
1995-1997 – Internship to earn a license to practise medicine (Alingsås, Borås, Lerum)
1994-1995 – Postdoctoral research at the Tokyo Metropolitan Institute of Medical Science (7 months)
1994 – Doctoral degree (Ph.D.), University of Gothenburg
1992 – Research visit at the Tokyo Metropolitan Institute of Gerontology (3 months)
1985-1990 – Medical school, University of Gothenburg
Academic honours, awards and prizes
2018  – NOPHO lecturer of the year (Nordic Organisation of Paediatric Haematology and Oncology)
2011 – Professor of Paediatrics at the University of Gothenburg
2011 – Ranked as number 3 of 104 applicants to one of 4 announced positions as Senior Researcher at the University of Gothenburg
2010 – Awarded the Yellow River Friendship Award, the highest award in the Henan province to a non-Chinese who has contributed significantly to the development of the province
2008 – Adjunct Professor of Paediatrics, University of Gothenburg
2005 – Ranked as number 1 of the 7 applicants invited to be interviewed and lecture at the University of Innsbruck, Austria, for the position as Professor of Experimental Neonatology
2003 – The Eric K Fernström Prize for young, particularly promising and successful researchers
2003 – Honorary Professor of Paediatrics at the University of Zhengzhou, China
2002 – Associate Professor of Physiology, University of Gothenburg