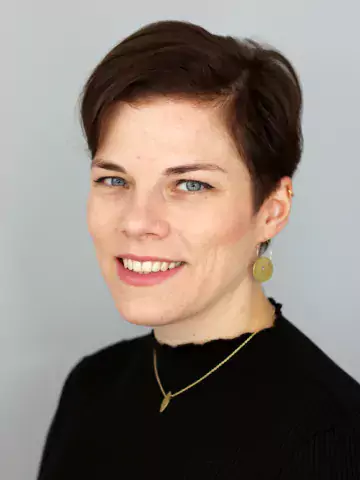 Lisa Dinkler
Assistant professor
About me
I am an assistant professor in psychiatric epidemiology at the Centre for Eating Disorders Innovation (CEDI) with primary research interest in eating disorders and neurodevelopmental disorders. My current research is mainly focused on avoidant/restrictive food intake disorder (ARFID). Using epidemiological and twin designs as well as genome-wide association studies, I am trying to understand the genetic and environmental causes of ARFID, its comorbidities (e.g., with autism, ADHD, and anxiety), and its course over time.  
My research is currently supported by
Svenska Sällskapet för Medicinsk Forskning (SSMF): Postdoctoral Grant (2023–2026)
Hjärnfonden (2023-2025)
Fonden för Psykisk Hälsa (2022, 2023)
Erik and Edith Fernström Foundation for Medical Research (2023)
Fredrik och Ingrid Thurings Stiftelse (2022)
Jerringfonden (2022)
Research description
Here are some articles and media featuring my research:
Webinar "Understanding ARFID and its genetic and environmental causes" for F.E.A.S.T. (Families Empowered and Supporting Treatment of Eating Disorders).
Article "ARFID: study shows genetics are a major factor in this condition" for The Conversation.
Podcast episode about ARFID and my research in Ätstörningspodden (in Swedish).
Blog article "11 things we now know about ARFID" for Gillberg's Blog.
Podcast Episode about ARFID and my research in Puls på Vård o Vetenskap (in Swedish).
Virtual Journal Club CAMHS around the Campfire on "Autism and Eating Disorders" organized by ACAMH.
Profile about my PhD research.
Blog article "What have twin studies taught us about ESSENCE conditions?" for Gillberg's Blog.
Video Abstract for ACAMH and Podcast Episode in Psychiatry Paper Chat about our prospective twin cohort study on anorexia nervosa and autism (published in JCPP).
Video Abstract for ACAMH about our co-twin control study of maltreatment-associated neurodevelopmental disorders (published in JCPP).
You can find my PhD thesis here: https://gupea.ub.gu.se/handle/2077/66196
Education
PhD in Medical Science (2020), Sahlgrenska Academy, University of Gothenburg, Sweden
MSc in Psychology (2014), Goethe-University Frankfurt, Germany; (major in work and organizational psychology, minor in clinical psychology)
BSc in Psychology (2012), Friedrich Schiller-University Jena, Germany
Academic honours, awards and prizes
Top-scoring paper abstract in ARFID Award for a student/trainee/early career professional at the Academy for Eating Disorders International Conference on Eating Disorders (2022)
IRIS stipend for progressive women (2018)
Best poster award, Bridging Transitions: Youth Mental Health – Risk and Resilience, ACE Centre 2nd International Conference, Glasgow, UK (2017)