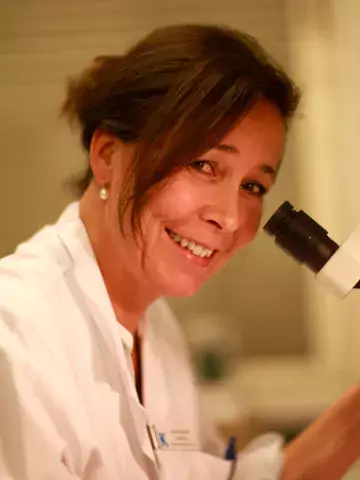 Lou Brundin
Professor/senior physician
About me
PhD in sensory physiology (hearing) at KI 1991.
Ass prof physiology 1998, also docent neurology 2001.
Specialist neurology 1999.
Senior staff neurology since 2002.
Teacher of neural and sensory functions (4 diciplines) since 1987.
Vice president of R&D at Karolinska Hospital 01-03.
Elected board of research education 01-04 KI.
Member of the national board for  MD neuro-contents.
Director of studies in neurology at KS Solna since 04.
Professor in neuroimmunology at KI 2008.
Head of the neuro section at the Department of Clinical Neuroscience since 2011.
Swedish society of neurology teaching prize  "The golden hammer" 2009.
Research description
I'm leading a research group of 10 researchers devoted to neural repair/stem cell biology.
The group is studying how inflammation affects the stem cells and how healing can be encouraged in patients with MS by using the nervous system's own stem cells.
I have supervised five PhD students and been co-supervisor for three PhD students. Right now I am main supervisor for two PhD students, co-supervisor for three PhD students and main supervisor for three postdocs. 
I have acted as opponent 3 times and participated in the dissertation board on 22 occasions. 
Education
MD at KI 1987
PhD sensory physiology KI 1991
Post doc University of Sussex 91-92.