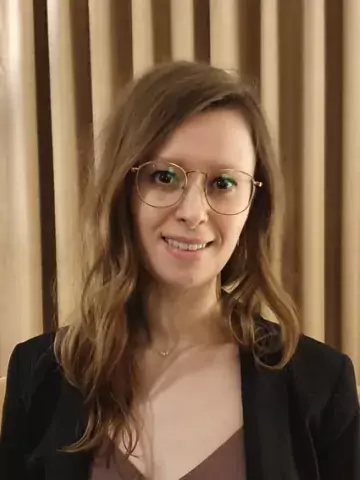 Michelle Dunk
Postdoctoral researcher
About me
I am a postdoctoral researcher in Weili Xu's Medical Epidemiology research group at the Aging Research Center. I have research experience spanning the fields of cognitive neuroscience, epidemiology, medicine, and health psychology.
I earned a BS in Psychology and Philosophy from the University of Wisconsin – Madison and an MA in Clinical Mental Health Counseling from the University of Denver. I then completed an MS and PhD in Neuroscience from the University of Wisconsin – Milwaukee. 
Research description
Through my research, I aim to identify lifestyle-related strategies to prevent chronic diseases and promote healthy aging. I am especially interested in plant-based nutrition and the role of diet in chronic disease development. My current research examines relationships between dietary patterns, cardiometabolic risk factors, and dementia.
My doctoral research focused on the involvement of dietary cholesterol and fat, blood lipids, and oxysterols in APOE-related risk for Alzheimer's disease. I have also conducted research in the following areas: genetic and lifestyle-related risk factors for cardiovascular disease, type 2 diabetes, and mortality;  neuropsychological characteristics and quality of life concerns in Parkinson's disease patients and caregivers; and semantic memory formation.
Selected publications:

Chen H, Dunk MM, Wang B, Zhao M, Shen J, Zong G, Pan Y, Tong L, Xu W, Yuan C. Associations of the Mediterranean-DASH Intervention for Neurodegenerative Delay diet with brain structural markers and their changes. Alzheimers Dement. 2023 Nov 6. Epub ahead of print. https://doi.org/10.1002/alz.13521

Carballo-Casla A, Dunk MM, Donat-Vargas C, Xu W. Could dietary nitrate affect dementia development? Am J Clin Nutr. 2023;118(2):347-348. https://doi.org/10.1016/j.ajcnut.2023.06.012
Dunk MM, Li J, Liu S, Casanova R, Chen JC, Espeland MA, Hayden KM, Manson JE, Rapp SR, Shadyab AH, Snetselaar LG, Van Horn L, Wild R, Driscoll I. Associations of dietary cholesterol and fat, blood lipids, and risk for dementia in older women vary by APOE genotype. Alzheimers Dement. 2023. Epub ahead of print. https://doi.org/10.1002/alz.13358
Li X, Wang S, Dunk M, Yang W, Qi X, Sun Z, Xu W. Association of life-course reproductive duration with mortality: a population-based twin cohort study. Am J Obstet Gynecol. 2022:S0002-9378(22)00529-4. https://doi.org/10.1016/j.ajog.2022.06.053
Dunk MM, Driscoll I; Alzheimer's Disease Neuroimaging Initiative. Total Cholesterol and APOE-Related Risk for Alzheimer's Disease in the Alzheimer's Disease Neuroimaging Initiative. J Alzheimers Dis. 2022;85(4):1519-1528. https://doi.org/10.3233/JAD-215091
McRae C, Dunk M, Russell D, Ellgring H, Stern Y, Greene P, Fahn S, Henchcliffe C. Baseline Differences in Long-term Survivors and Nonsurvivors of the Colorado/Columbia Fetal Implant Trial. J Int Neuropsychol Soc. 2022;28(5):452-459. https://doi.org/10.1017/S1355617721000680
Blujus JK, Prevalska I, Quevedo SF, Auchter A, Korthauer LE, Dunk MM, Monfils MH, Driscoll I. Updating mechanisms using an olfactory cue were not successful in improving memory in a rodent model of cognitive aging or in older adults. Psychol Neurosci. 2020;13(3):406–423. https://doi.org/10.1037/pne0000209
Dunk M, Engblom H, Gissen M, Joseph E, Li JPF, Russell DW, McRae C. Social support and loneliness among Parkinson care partners. Med Res Arch. 2017;5(8):1-14.
Education
BS, University of Wisconsin - Madison (2015)
MA, University of Denver (2017)
MS, University of Wisconsin - Milwaukee (2019)
PhD, University of Wisconsin - Milwaukee (2022)