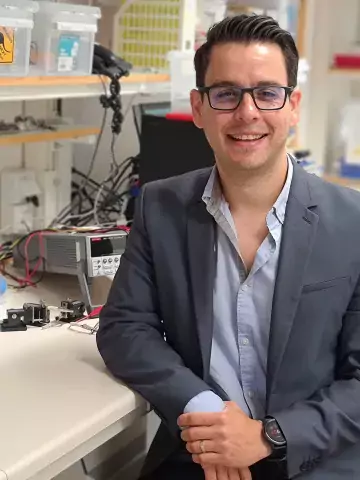 Onur Parlak
Assistant professor
About me
Lab website: https://www.parlaklab.com/
Onur Parlak earned his PhD in Bioelectronics from Linköping University in 2015. He then received a Fellowship from The Knut and Alice Wallenberg Foundation (KAW) and started postdoctoral research at Stanford University, focusing on wearable bioelectronics. After spending three years, he turned back to Sweden and joined the Karolinska Institutet to translate his engineering skills into medical settings with KAW starting grant. 
He has been recently awarded by KI Central Funding as an Assistant Professor and research group leader as a part of the KI investment program to recruit and support leading junior researchers with particularly outstanding scientific merits and future potential. Since 2021, Dr. Parlak has been acting as an Assistant Professor at the Department of Medicine, Solna, Dermatology and Venereology Unit in Karolinska Institutet where he specializes in personalized diagnostics and wearable bioelectronics.
Team Members
Onur Parlak, PI
Sihui Xu, PhD student
Liu Yang, PhD student
Nicolas Mano, Postdoc
Morteza Hasanpouraminiri, Postdoc (with TUM)
Fujie Tham, MSc student
Research description
Wearable Bioelectronics
Epidermal Sensors
Medical Diagnostics
Programmable Bioelectronics
Biomaterials Design & Electron Microscopy
To read further about our research, please read here.
Teaching portfolio
2021, Lecturer, and course responsible for Biomimetic Systems - Modelling Human Physiology in Infection Biology in Biology of Infection and Global Health (BIGH) Programme. 
2021-current, Lecturer, in Medical Sensors course organized by KTH Royal Institutet of Technology
Education
2019 – 2020, Researcher, Neuroscience Department, Karolinska Institute, Sweden
2016 – 2018, Postdoctoral Researcher, Materials Science and Engineering, Stanford University, USA
2012 – 2015, PhD in Bioelectronics, Biosensors and Bioelectronics Centre, Linköping University, Sweden
Academic honours, awards and prizes
2022, Bo Rydin Foundation Research Support (2 M SEK)
2022, KI Research Incubator Interdisciplinary Research Grant (2 M SEK)
2022, Swedish Research Council Starting Grant in Medicine and Health (6 M SEK)
2021, Karolinska Institutet Research Incubator (KIRI) Fellow 
2021, European Innovation Council Research Project Support (40 M SEK)
2021, HudFonden - Swedish Skin Foundation 
2020, KI Central Funding to support Tenure-track positions and starting grant (7 M SEK)
2020, Young Research Group leader for his merits and future potential by KI Central Funding
2020, Åforsk Foundation Research Grant for Young researchers (0.5 M SEK)
2018, Knut and Alice Wallenberg (KAW) Foundation Repatriation Grant 
2016, Knut and Alice Wallenberg (KAW) Foundation Postdoctoral Research Fellowship 
2011, Research Internship, Nanyang Technological University, Singapore
Links