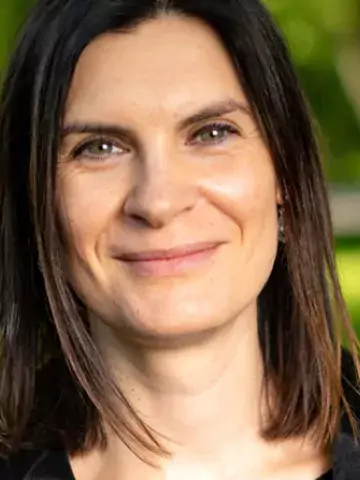 Paulina Nowicka
Affiliated to research
Associate Professor in Pediatric Science at Karolinska Institutet
Professor in Food Studies, Nutrition and Dietetics, especially the communication of dietetics, at Uppsala University
About me
My research aims to identify the most important familial and sociocultural drivers of obesity early in life, to investigate how lifestyle patterns develop across generations, and to develop effective treatment programs. Other interests include psychosocial development in childhood and psychometrics, especially development and validation of questionnaires related to eating behavior and feeding practices.  
I am responsible for several projects related to childhood obesity. Most recently I lead work package Health Care in the EU project Science and Technology in childhood Obesity Policy (STOP), financed by Horizont2020 program and lead by Imperial College. This large €10 milj project examines during 2018-2022 opportunities for interventions to help reduce the high burden of childhood obesity in Europe. This includes improving our understanding of how the environment in which we live shapes children's behaviours and parents' choices, starting from before birth. The project investigates early signs of biological changes due to those behaviours, eventually leading to obesity, in 17 cohorts of children throughout Europe. An experimental study is undertaken in Sweden, Spain and Romania to test whether digital technologies can help very young obese children and their families to achieve sustainable improvements in body weight, especially for children from a disadvantaged socioeconomic background.
Childhood obesity has been in focus  already for my doctoral thesis (2009, Lund University) and postdoctoral research (2009-2014, Yale University, University of Oregon and University of Oxford). Over the years I have been main supervisor for three doctoral students and five postdoctoral fellows.  I have also held several distinguished national and international assignments in the field of obesity: Scientific Secretary for the Swedish Association for the Study of Obesity (SFO), board member of the Childhood Obesity Taskforce (COTF) of the European Association for the Study of Obesity (EASO),  board of the European Childhood Obesity Group (ECOG), member of the Expert Group in Nutrition and Public Health of the National Food Agency (Livsmedelsverket). In 2015, I organised ECOG:s 25th European Obesity Childhood Obesity Congress that took place in Stockholm. Currently, I am a member of the Steering Committee for development of the new national guidelines for obesity by Swedish National Board of Health and Welfare (Socialstyrelsen), I am also a member of the expert committee for a smiliar work undertaken by WHO with focus on primary healthcare. 
Research description
My research group at Karolinska Institutet examines determinants and consequences of obesity in preschool age as well as effectiveness of different treatment approaches. We are also interested in scale development, psychometrics and survey design.
One of the main projects is a randomized controlled trial, the More and Less Study, testing different treatment options for preschoolers with obesity. This parent-only method has been shown to be one the two effective approaches in the world to reduce obesity in preschool aged children, according to a follow up 12 months after treatment start (Ek et al, Pediatrics 2019). We are currently working on 4-year-follow-up. 
My research has been funded by Swedish Research Council, Swedish Medical Society, FORTE, VINNOVA, EU HORIZON 2020 (grant no. 774548) and other funding bodies (for complete list see my CV).
Teaching portfolio
For complete description, please see my CV. 
Education
2011-2014      Postdoctoral fellow, Unit for Biocultural Variation and Obesity, Institute of Social and Cultural Anthropology, University of Oxford, United Kingdom.
2010-2011      Postdoctoral fellow, Department of Psychology, University of Oregon, USA
2009-2010      Postdoctoral fellow, Yale Pediatric Obesity Research, Yale University, USA
2005-2009      PhD, Pediatrics, Lund University, Sweden. Thesis title: Childhood and adolescent obesity: Multidisciplinary approaches in a clinical setting. Thesis advisors: Tomas Sveger, MD, PhD Carl-Erik Flodmark, MD, PhD. Defended 13 March 2009.
2000-2004      M.S., Psychology, Lund University, Sweden
1997-2000      B.S., Clinical Nutrition, Gothenburg University, Sweden
Academic honours, awards and prizes
From 2021   Member of Guideline Development Group, Obesity in primary healthcare, WHO
From 2020   Member of Steering Committe for development of the new national guidelines for          Obesity by Swedish National Board of Health and Welfare (Socialstyrelsen) 
From 2021   Member of the Research Committee, Faculty of Social Sciences, University University
From 2020   Member of Recruitment Group for Professors, Faculty of Sciences, Uppsala University   
2019-2021   Associate Editor, Nutrition Journal
2015-2016   Member of the International Scientific Committee of the European Congress on Obesity 2016
2016-2018   Member of the Expert Group in Nutrition and Public Health, National Food Agency (Livsmedelsverket).
2014-2017   Treasurer, European Childhood Obesity Group (ECOG)
2013-2015   Scientific secretary of the Swedish Association for the Study of Obesity (SFO)
2010-2012   Member of the International Scientific Committee of the European Congress on Obesity 2012          
2007-2016   Invited founding fellow and executive board member of Childhood Obesity Task Force for the European Association for Study on Obesity (EASO)
2004-2008   Chairman of the organising committee, Scandinavian Pediatric Obesity Conference
2003-2004   Chairman of the Swedish Dietitians Expert Group for Childhood Obesity
From 2004   Adhoc reviewer for the following journals, International Journal of Pediatrics/Pediatric Obesity, Obesity Facts, Appetite, International Journal of Behavioral Nutrition and Physical Activity
2003             2nd place, the national competition for the best master thesis in Sport Psychology
2003             1st place, the best master thesis in Sports Sciences at Lund University
1999             Member of the organizing committee, 9th European Childhood Obesity Group  Workshop, Lund
Links