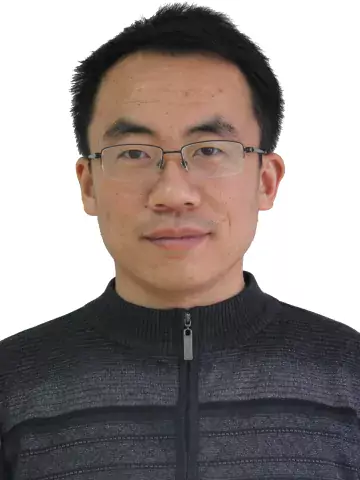 Qiang Wang
Postdoctoral researcher
About me
I have a background in Clinical Medicine and General Surgery, with expertise as a hepatobiliary surgeon in my country. In June 2018, I joined Professor Torkel B. Brismar Group as a PhD student and successfully defended my thesis in May 2022. Currently, I am working as a postdoctoral researcher within the same group, continuing my research pursuits.
Research fields: 
Liver cancer (hepatocellular carcinoma & cholangiocarcinoma), liver function/liver growth, radiomics/machine learning, body composition/sarcopenia, gadoxetic acid enhanced MRI
Research description
During my master's studies (2014-2017), I focused on a modified ALPPS procedure (radiofrequency ablation-assisted Associating Liver Partition and Portal vein ligation for Staged hepatectomy, RALPPS) for patients with hepatitis B-related hepatocellular carcinoma. ALPPS is an innovative technique known to stimulate accelerated liver growth in the future liver remnant, but it can also lead to increased morbidity and mortality. In this context, RALPPS was proposed as an alternative approach to classic ALPPS.
Liver function assessment plays a critical role not only in ALPPS but also in various other treatments. Accurate assessment of regional liver function holds immense clinical significance. Therefore, my doctoral project centered on utilizing gadoxetic acid-enhanced MRI to quantitatively evaluate liver function and predict postoperative liver failure, which is a fatal complication relating to liver function insufficiency. Additionally, I explored the integration of radiomics and machine learning techniques into liver function assessment and for the prediction of liver failure.
During my postdoctoral period, I have continued to delve into the aforementioned topics while also expanding my research field to include body composition analysis and its impact on liver growth, as well as liver cancer treatment outcomes. I have also been investigating cholangiocarcinoma and other liver cancer related areas.
Publications
Arslan A, Romano A, Wang Q, Wang B, Brismar TB, Nowak G. Volumetric Graft Changes After Liver Transplantation - Evidence of Adaptation to Recipient Body Size. American Journal of Physiology Gastrointestinal and Liver Physiology. 2023 Aug 15. doi: 10.1152/ajpgi.00040.2023. 
Wang Q*, Wang A, Wu X, Hu X, Bai G, Fan Y, Stål P, Brismar TB. Radiomics models for preoperative prediction of the histopathological grade of hepatocellular carcinoma: A systematic review and radiomics quality score assessment. European Journal Radiology. 2023 Jul 27;166:111015. doi: 10.1016/j.ejrad.2023.111015. 
Li C, Wang Q*, Zou M, Cai P, Li X, Feng K, Zhang L, Sparrelid E, Brismar TB, Ma K. A radiomics model based on preoperative gadoxetic acid-enhanced magnetic resonance imaging for predicting post-hepatectomy liver failure in patients with hepatocellular carcinoma. Fronters in Oncology. 2023 Jul 5;13:1164739. doi: 10.3389/fonc.2023.1164739. 
Wang Q#, Li C, Chen G, Feng K, Chen Z, Xia F, Cai P, Zhang L, Sparrelid E, Brismar TB, Ma K. Unsupervised Machine Learning of MRI Radiomics Features Identifies Two Distinct Subgroups with Different Liver Function Reserve and Risks of Post-Hepatectomy Liver Failure in Patients with Hepatocellular Carcinoma. Cancers. 2023 Jun 15;15(12):3197. doi: 10.3390/cancers15123197. 
Hu X, Wang Q#, Huang G, He X, Sparrelid E, Brismar TB, Fan Y. Gadoxetic Acid-Enhanced MRI-Based Radiomics Signature: A Potential Imaging Biomarker for Identifying Cytokeratin 19-Positive Hepatocellular Carcinoma.Computational and Mathematical Methods in Medicine. 2023 Feb 9;2023:5424204. doi: 10.1155/2023/5424204.
Hu X, Li C, Wang Q, Wu X, Chen Z, Xia F, Cai P, Zhang L, Fan Y, Ma K. Development and External Validation of a Radiomics Model Derived from Preoperative Gadoxetic Acid-Enhanced MRI for Predicting Histopathologic Grade of Hepatocellular Carcinoma. Diagnostics (Basel). 2023 Jan 23;13(3):413. doi: 10.3390/diagnostics13030413. 
Wang Q#*, Xu J, Wang A, Chen Y, Wang T, Chen D, Zhang J, Brismar TB. Systematic review of machine learning-based radiomics approach for predicting microsatellite instability status in colorectal cancer. La Radiologia Medica. 2023 Jan 17. doi: 10.1007/s11547-023-01593-x. 
Wang Q#, Wang A, Li Z, Sparrelid E, Brismar TB. Impact of sarcopenia on the future liver remnant growth after portal vein embolization and associating liver partition and portal vein ligation for staged hepatectomy in patients with liver cancer: A systematic review. Frontiers in Oncology. 2022 Nov 24;12:1064785. doi: 10.3389/fonc.2022.1064785. 
Wang Q*, Brismar TB, Gilg S, Jonas E, Nilsson H, Tzortzakakis A, Isaksson B, Axelsson R, Sparrelid E. Multimodal perioperative assessment of liver function and volume in patients undergoing hepatectomy for colorectal liver metastasis: a comparison of the indocyanine green retention test, 99mTc mebrofenin hepatobiliary scintigraphy and gadoxetic acid enhanced MRI. British Journal of Radiology. 2022 Sep 16:20220370. doi: 10.1259/bjr.20220370. 
Qu C, Wang Q*, Li C, Xie Q, Cai P, Yan X, Sparrelid E, Zhang L, Ma K, Brismar TB. A Radiomics Model Based on Gd-EOB-DTPA-Enhanced MRI for the Prediction of Microvascular Invasion in Solitary Hepatocellular Carcinoma ≤ 5 cm. Frontiers in Oncology. 2022 May 19;12:831795. doi: 10.3389/fonc.2022.831795. 
Wang Q*, Kesen S, Liljeroth M, Nilsson H, Zhao Y, Sparrelid E, Brismar TB. Quantitative evaluation of liver function with gadoxetic acid enhanced MRI: Comparison among signal intensity-, T1-relaxometry-, and dynamic-hepatocyte-specific-contrast-enhanced MRI- derived parameters. Scandinavian Journal of Gastroenterology. 2022 Feb 2:1-8. doi: 10.1080/00365521.2022.2032321. 
Chen Y, Chen D, Wang Q, Xu Y, Huang X, Haglund F, Su H. Immunological Classification of Pancreatic Carcinomas to Identify Immune Index and Provide a Strategy for Patient Stratification. Frontiers in Immunology. 2022 Jan 17;12:719105. doi: 10.3389/fimmu.2021.719105. 
Wang Q*, Li C, Zhang J, Hu X, Fan Y, Ma K, Sparrelid E, Brismar TB. Radiomics Models for Predicting Microvascular Invasion in Hepatocellular Carcinoma: A Systematic Review and Radiomics Quality Score Assessment. Cancers. 2021 Nov 22;13(22):5864. doi: 10.3390/cancers13225864. 
Wang Q#, Ji Y, Brismar TB, Chen S, Li C, Jiang J, Mu W, Zhang L, Sparrelid E, Ma K. Sequential Portal Vein Embolization and Percutaneous Radiofrequency Ablation for Future Liver Remnant Growth: A Minimally Invasive Alternative to ALPPS Stage-1 in Treatment of Hepatocellular Carcinoma. Frontiers in Surgery. 2021 Sep 30;8:741352. doi: 10.3389/fsurg.2021.741352. 
Wang Q, Wang A, Sparrelid E, Zhang J, Zhao Y, Ma K, Brismar TB. Predictive value of gadoxetic acid-enhanced MRI for posthepatectomy liver failure: a systematic review. European Radiology. 2021 Sep 25. doi: 10.1007/s00330-021-08297-8. 
Wang Q#, Chen S, Yan J, Brismar T, Sparrelid E, Qu C, Ji Y, Chen S, Ma K. Rescue radiofrequency ablation or percutaneous ethanol injection: a strategy for failed RALPPS stage-1 in patients with cirrhosis-related hepatocellular carcinoma. BMC Surgery. 2021 May 18;21(1):246. doi: 10.1186/s12893-021-01241-z. 
Note: # co-first author; * corresponding author. 
Academic honours, awards and prizes
Karolinska Institutet Travel Grant 2023 (period 2).
Erik and Edith Fernström Foundation 2023.
Ruth and Richard Julin Foundation 2023.
Analytic Imaging Diagnostics Arena (AIDA) of Clinical Fellowship Project 2022.
Karolinska Institutet Travel Grant 2022 (period 2).
Medicinsk Diagnostik Karolinska Kliniknära FoU 2022.
Member of National Clinical Research School in Chronic Inflammatory Diseases (NCRSCID) (2020-2022).