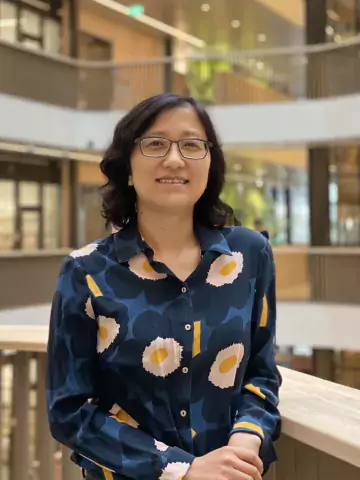 Qiaolin Deng
Principal researcher
About me
Qiaolin Deng has obtained her professional training in the fields of developmental neurobiology, stem cell biology and single-cell technology to understand the molecular mechanisms in cell fate specification and transcriptional regulation during embryonic development. Her lab is established in 2015 funded by Young Investigator grants from several funding agencies including the Swedish Society for Medical Research, Swedish Medical Research Council, and Karolinska Institutet Faculty Fund.
Wallenberg Academy Fellow with prolongation (5y+5y) (https://kaw.wallenberg.org/en/qiaolin-deng & https://kaw.wallenberg.org/en/wallenberg-academy-fellows-prolongation-g…)
VR consolidator grant (https://news.ki.se/qiaolin-deng-receives-karolinska-institutets-consoli…)
Board Member of StratRegen (https://ki.se/en/research/about-stratregen)
Research description
My lab is interested in understanding the developmental principles of the germline in health and disease. Moreover, we focus on how the parental effects are transmitted via developmental programming and germline moderation to future offspring, a process known as epigenetic inheritance. High-throughput sequencing, stem cell differentiation modeling, 3D organoid culture, and transgenic mouse models are our frequently used tools among others. 
More information at www.thedenglab.org  &  https://ki.se/en/fyfa/germ-cell-biology-developmental-programming-and-e…
Publications @ Google Scholar
https://scholar.google.se/citations?user=M7UWzN4AAAAJ&hl=en
Teaching portfolio
Scientific organizer of the EMBO practical course on "Single Cell Omics" Heidelberg, Germany 2014-2019 & 2022
Biomedicine undergraduate program, Advanced physiology, Karolinska Institutet, 2020-now
Biomedical engineering and Health system program, Advanced physiology, Royal Institute of Technology, 2020-now
Medical program, BV5 endocrinology and reproduction, Karolinska Institutet, 2021-now
Lecturer of doctoral course "Clinical achievements of reproductive medicine", 2019, 2021, 2022
Lecturer of doctoral course "Endothelial Cell Function and its Relevance in Cardiovascular Disease" 2020
Lecturer of Master Program courses "Frontier in translational science", 2018-2020
Lecturer of Developmental Biology for Regenerative Medicine (DBRM) research school, 2015-2016
Organizer and lecturer of doctoral courses: "DNA sequencing and bioinformatic analysis" 9-13 May 2016, "From germ cell to neuronal cell 12-16 September 2016
Education
2001   Bachelor in Medicine, Shanghai Medical College, Fudan University, China
2010   Ph.D in Medical Science, Dept. Cell and Molecular Biology, Karolinska Institutet
2019   Docent in developmental biology
Academic honours, awards and prizes
2011   Swedish Medical Research Council for postdoc employment in Sweden 
2015   Swedish Medical Research Council, establishing grant for young investigator 
2015    Swedish Society for Medical Research (SSMF), establishing grant for young investigator (Stora Anslag) 
2015    Karolinska Institutet Faculty Funded Assistant Professorship 
2015    Doctoral funding for recruiting doctoral student, Karolinska Institutet 
2016    Jansson's Stiftelser 
2016    Åke Wiberg Foundation 
2017    Karolinska Institutet Research Foundation of Young Investigator grant 
2018    Åke Wiberg Foundation 
2018    Nicholson Scholar, Nicholson Exchange Program, Karolinska Institutet-Rockefeller University 
2019    Swedish Medical Research Council for the project grant 
2019    Karolinska Institutet Faculty Funded Senior Researcher 
2019    Wallenberg Academy Fellow in Medicine 
2020    Birgitta och Carl-Axel Rydbeck's donation for pediatric research 
2020    SFO StratRegen Infrastructure grant for stem cell research 
2020    Consolidator grant, Karolinska Institutet 
2020    Consolidator grant, Swedish Medical Research Council 
2021    Strategic research area in stem cells and regeneration, Junior grant