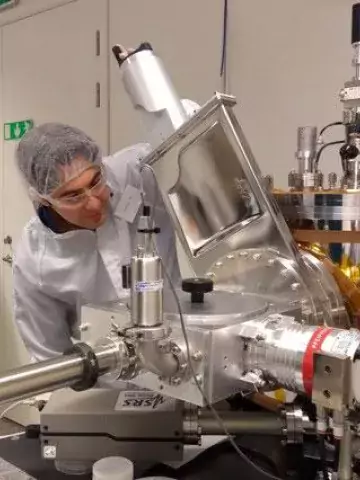 Reza Zandi Shafagh
Research specialist
Ph.D in Micro and Nanosystems
Head of Biofabrication and Tissue Engineering core Facility (Biofab)
About me
Reza is a research specialist and currently the head of Biofabrication and Tissue Engineering core Facility (Biofab) at the Department of Physiology and Pharmacology, karolinska institutet (KI). He holds Ph.D degree in Micro and Nanosystems from Royal Institute of Technology (KTH), Micro and Nanosystems department (MST), Stockholm, Sweden.  
Reza's expertise lies in nanoengineering, microfluidics, lab-on-a-chip, and biomicroelectromechanical systems (BioMEMS) for biomedical applications. More specifically during his Ph.D studies, he made the following contributions: 
Establishing novel micro-and nanofabrication methods (micro and nano reaction injection molding- μRIM and NanoRIM), as well as implementing the standard ones (Electron beam lithography and Nanoimprint lithography), for high-resolution structuring of polymer materials (down to 20 nm) and scalable manufacturing of microfluidic devices.
Introducing facile back-end processing techniques, including direct bonding and sealing, 3D surface energy patterning, and seamless integration of microfluidic devices and sensors.
Presenting high-resolution protein patterning techniques.
Developing ultrasensitive biosensing methods. 
He was also previously involved in three European IMI and EU FP7 projects , "RAPP-ID" and "Norosensor" and "POSITIVE":
Within the framework of the RAPP-ID project, the research included technologies for rapid and ultrasensitive detection of Influenza virus directly from human breath.
Within the framework of the Norosensor project, the research included technologies for the rapid and ultrasensitive detection of Norovirus in ambient air.
POSITIVE project aimed at the diagnosis of food allergies via porous silicon-based lab-on-a-chip devices.
Reza is currently the head of Biofabrication and Tissue Engineering core Facility (Biofab) at KI. Biofab aims to bridge the gap between engineering and biology at Karolinska Institutet and provide common grounds with respect to suitable material of use of modular design and tunable structures for biomedical purposes.
Research description
Microphysiological systems to mimic organ-to-organ crosstalk: Microphysiological systems, also coined as Organ-on-a-Chip devices, offer exciting possibilities to bioengineer tissue-tissue interaction for disease modeling or drug development purposes. Reza's research interest lies in developing suitable materials and engineering solutions in the noted research field. 
Mechanobiological control of human cells using bioinspired nanostructures: Development of suitable platforms for 3D cell culture and manipulation of different cell behaviors on a broad range of nanotopographies to alter mechanosensing of human cells are some other examples of the intended research efforts.