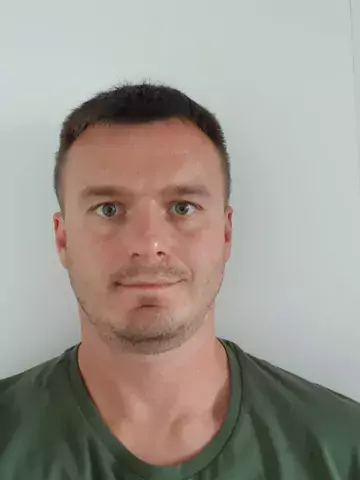 Serhiy Dekhtyar
Principal researcher
About me
I am Associate Professor (Docent) at the Aging Research Center, Department of Neurobiology, Care Sciences and Society (NVS) at Karolinska Institutet. I am a demographer by training with both Master's and PhD degrees from Lund University's Centre for Economic Demography (2009 and 2013, respectively).
I did my postdoctoral training during 2013-2017 at Karolinska Institutet's Department of Clinical Neuroscience, Division of Psychology; Agneta Herlitz research group. During this time, I  investigated the role of intellectual stimulation over the life course and the risk of dementia disorders in late life. I have also done work on contextual effects in cognitive ageing, as well as gender differences in cognition and their effects on career gender segregation in Sweden. During my postdoc I was awarded a price from the Aktiestinsen foundation (1.5 million SEK) to study the effects of cognitive and non-cognitive skills on inter-individual differences in academic achievement and career attainment.
I joined Aging Research Center in late 2017 as Assistant Professor, where I work on several projects in geriatric epidemiology. My work is closely tied to the Swedish National Study of Aging and Care (Kungsholmen), an ongoing population-based study of older adults that combines clinical, biological, physical, cognitive, and social assessments of 3,363 older adults followed over regular intervals.
In 2019 I received funding as principal investigator from the Swedish Research Council for Working Life and Welfare (FORTE; amount awarded SEK 4,58 million) to examine the role of lifelong social disadvantage as well as multiple somatic disorders, for depressive trajectories in older adults.
I was appointed Docent in Geriatric Epidemiology in June 2021.
I am also the scientific coordinator of the ARC Seminar Series as well as the steering board member of the Swedish Interdisciplinary Graduate School in Register Based Research (SINGS) funded by VR and Nordforsk. 
Research description
The research line that I have been developing in the last 5 years is concerned with uncovering compensatory factors, activities, and experiences that could allow older adults to preserve cognitive and physical health in the face of depleting homeostasis associated with pathological processes during aging. A life course approach is central to this undertaking, as it can indicate life stages at which protective influences of specific factors are especially pronounced, allowing interventions to be implemented at a time in individuals' lives when they have the best chance of succeeding.
Using this framework, I made several contributions to the field of compensatory mechanisms in cognitive aging and dementia. Some highlights are below:
We were among the few groups in the world to relate intellectual engagement in early life with dementia risk, finding that childhood cognition attenuated some, but not all protective influences of education and work engagement.
We showed that both early-life and late-life engagement provide unique risk reduction contributions, suggesting that it is neither too early nor too late to engage in dementia preventing activities.
We found that lifelong exposure to stimulating environments could mitigate dementia risk attributable to genetic predisposition (APOE e4 allele), as well as diabetes status.
I have since been expanding my research agenda from compensatory factors in cognitive aging and dementia, to also consider resilience against the decline of physical health and function. I demonstrated that old-age trajectories of multimorbidity and disability accumulation were shaped by economic, psychological, and social factors measured throughout life.
Most recently, I initiated a new research line at ARC linking lifelong psychosocial factors, somatic disease burden, and depression in old age. This expansion was made possible by the funding I received as principal investigator from the Swedish Research Council for Working Life and Welfare (FORTE; amount awarded SEK 4,58 million). As part of this project, I have already contributed new findings on the critical-period effects of childhood financial deprivation for depressive symptom trajectories in old age.
Together with my group, we aim to develop this work further, examining the architecture of depressive symptom networks in relation to both somatic and social markers of disadvantage throughout life.
Teaching portfolio
I have taught at all levels of education at Karolinska Institutet. A brief overview of teaching activity:
Undergraduate student teaching: Statistics module: Cognitive Processes. Psychology Program, Department of Clinical Neuroscience. Coordinator of the module and teacher, 2013-2017. 
Master student teaching: Geriatric Epidemiology: Health Assessments in Old Ages. Master Program in Public Health. Teacher, 2018-2019
PhD student teaching: courses in Application of Epidemiological Methods in Aging Research; Epidemiology in family medicine; Study Designs in Register-based Studies; Writing and presenting successful grant applications and communicating science. 2015-2020
I am currently primary supervisor for one PhD student (assistant supervisor for further two students) and one postdoc. Finally, I have supervised two visiting researchers while at the Aging Research Center.
Academic honours, awards and prizes
2019: Swedish Research Council for Health Working Life and Welfare (FORTE) for the project: "Mental health in old age: role of social disadvantages throughout the life course and across birth cohorts". Amount awarded: SEK 4,585,000.
2016: The Royal Swedish Academy of Sciences - Lennart" Aktiestinsen" Israelssons Foundation for the project: "The relative importance of cognitive and non-cognitive abilities for academic performance in adolescence, and socioeconomic attainment in mid-life". Amount awarded: SEK 1,500,000.
2019: Strategic Research Area in Epidemiology (SfoEpi): Grant to arrange a series of International Forums as well as a workshop on biological, clinical, and epidemiological advancements in dementia research. Amount awarded: SEK 67,000.