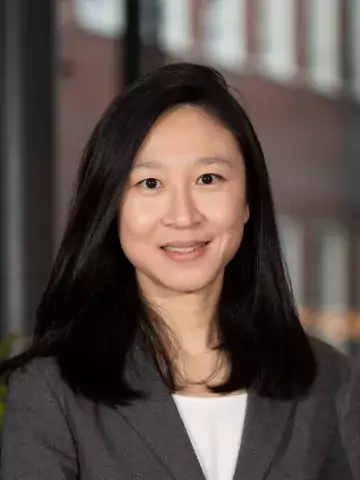 Shuang Hao
Health economist
About me
I am a health economist at MEB working in the research group led by Mark Clements and the prostate cancer research group at MEB. My projects mainly focus on the economic evaluations of cancer screening, diagnosis and disease management, particularly for prostate cancer and breast cancer in Sweden. I also work as a consultant (20%) at Stockholm Centre for Health Economics (StoCHE) under Region Stockholm. In addition, I am the coordinator of the working group Health Economics for the Swedish Consortium for Research on Organised Prostate Cancer Testing (OPT).
I defended my thesis titled Prostate cancer testing in Sweden: the interplay between cost and effectiveness in early December, 2022 (see also publications between 2020 and 2022). The PhD programme was supervised by Mark Clements (principal), Emelie Heintz, Martin Eklund and Ellinor Östensson.
Prior to the PhD programme, I had 9-year working experiences in the consulting and pharmaceutical industries.
Research description
Publication
Cost-effectiveness of Prostate Cancer Screening Using Magnetic Resonance Imaging or Standard Biopsy Based on the STHLM3-MRI Study
Hao S, Discacciati A, Eklund M, et al. Cost-effectiveness of Prostate Cancer Screening Using Magnetic Resonance Imaging or Standard Biopsy Based on the STHLM3-MRI Study [published online ahead of print, 2022 Nov 10]. JAMA Oncol. 2022;9(1):88-94. doi:10.1001/jamaoncol.2022.5252
Cost-Effectiveness of the Stockholm3 Test and Magnetic Resonance Imaging in Prostate Cancer Screening: A Microsimulation Study
Hao S, Heintz E, Östensson E, et al. Cost-Effectiveness of the Stockholm3 Test and Magnetic Resonance Imaging in Prostate Cancer Screening: A Microsimulation Study [published correction appears in Eur Urol. 2022 Mar 30]. Eur Urol. 2022;82(1):12-19. doi:10.1016/j.eururo.2021.12.021
Cost-Effectiveness of Magnetic Resonance Imaging in Prostate Cancer Screening: A Microsimulation Study
Hao S, Karlsson A, Heintz E, Elfström KM, Nordström T, Clements M. Cost-Effectiveness of Magnetic Resonance Imaging in Prostate Cancer Screening: A Microsimulation Study. Value Health. 2021;24(12):1763-1772. doi:10.1016/j.jval.2021.06.001
The cost-effectiveness of prostate cancer screening using the Stockholm3 test
Karlsson AA, Hao S, Jauhiainen A, et al. The cost-effectiveness of prostate cancer screening using the Stockholm3 test. PLoS One. 2021;16(2):e0246674. Published 2021 Feb 25. doi:10.1371/journal.pone.0246674
The economic burden of prostate cancer - a Swedish prevalence-based register study
Hao S, Östensson E, Eklund M, et al. The economic burden of prostate cancer - a Swedish prevalence-based register study. BMC Health Serv Res. 2020;20(1):448. Published 2020 May 20. doi:10.1186/s12913-020-05265-8
Influence of elicitation procedure and phrasing on health state valuations in experience-based time trade-off tasks among diabetes patients in China
Hao S, Heintz E, Helgesson G, Langenskiöld S, Chen J, Burström K. Influence of elicitation procedure and phrasing on health state valuations in experience-based time trade-off tasks among diabetes patients in China. Qual Life Res. 2020;29(1):289-301. doi:10.1007/s11136-019-02292-9
Teaching portfolio
Education
PhD in Health Economics; MPH Health Economics; MSc Applied Economics; BSc Statistics