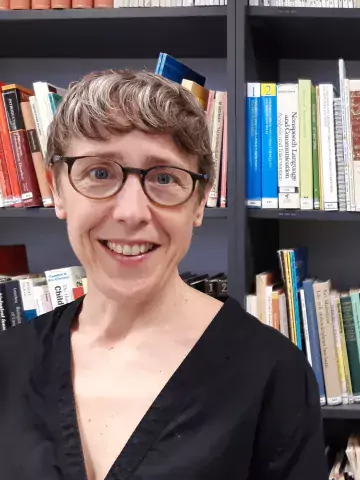 Sofia Strömbergsson
Assistant professor
Associate professor. Teaches and conducts research concerning children's speech and language disorders.
About me
Assistant professor since January 2019 at the Division of Speech and Language Pathology, Department of Clinical Science, Intervention and Technology at the Karolinska Institutet (KI).
Research description
One focus in Sofia's research is on the perception of pathological (or otherwise non-typical) speech – how speech is perceived by the speakers themselves, as well as by other listeners. An additional research focus are the communicative consequences of producing misarticulated speech, particularly with regards to intelligibility. This was the focus of the project Functional consequences of misarticulation in children's continuous speech.
Recently, Sofia has broadened her interest to cover also developmental language disorders in preschool-aged children. Specifically, she's interested in everyday consequences of having a speech and/or language disorder, for example in terms of communicative participation. Her research also involves the study of how speech/language intervention affect children's language functioning and communication in daily life. These are central topics of the project SPETS (project web page in Swedish).
Teaching portfolio
Since 2016 responsible for various courses at the Study Program in Speech and Language Pathology; particularly involved in courses relating to children's typical and atypical speech and language acquisition, for example the course Speech and Language Disorders in Children and Youth 1.
'Läsårsansvarig' (course coordinator) for the second year of the study programme. 
Responsible for the stream Child observations within the programme curriculum.
Regularly supervises Master theses (30 credits, advanced level).  
Supervises PhD students Anna Nyman, Sara Burge och Carla Wikse Barrow.
Responsible for the development of the course Documentation, Processing and Analysis of Linguistic Data, run in 2016 and in 2020, at advanced and PhD level in parallel.
Leading a project concerning the pedagogical development of the Study Program in Speech and Language Pathology at KI during 2014-2016. 
During 2014-2016 guest lecturer at the Department of linguistics and philology at Uppsala university.
Education
Earned her doctoral degree in April 2014 at the Royal Institute of Technology, Stockholm (KTH), with a thesis focusing on perceptual consequences of misarticulated speech in children – how these children's speech are perceived by adult listeners and by the children themselves. Apart from her M.Sc degree in SLP (Lund, 2007), Sofia also has a M.Sc degree in computational linguistics (Uppsala, 2000).