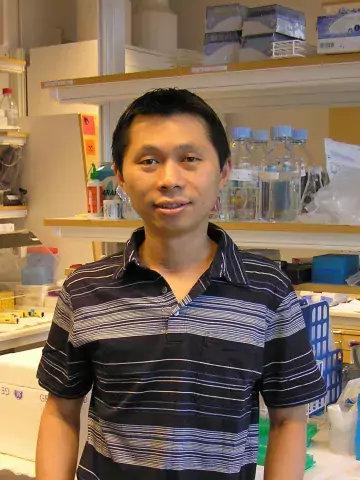 Weng-Onn Lui
Senior lecturer
About me
Current position
Associate professor (molecular genetics), since Jan 2014
Research fellow (VR Rådsforskare), September 2010 – August 2016, 100% research
Research description
My primary research area is on small RNA biology. Our research activity is mainly focusing on studying the role of small RNAs in cancer development and drug resistance.
http://ki.se/ki/jsp/polopoly.jsp?d=44413&a=156545&l=en
A major effort of our previous work had focused on the identification of novel small RNAs (particularly miRNAs) and the documentation of their expression patterns in several tissue types. We also evaluated the potential use of miRNA expression profiles in tumor classification and prognostication. Our current projects focus primarily on the functional roles of small RNAs along with their regulatory components in clinically relevant experimental systems.
Education
1992-1996, Tunku Abdul Rahman College, Malaysia, Bachelor of Science (Applied Science)
1999–2002, Karolinska Institutet, Sweden, PhD (Medical Genetics) 
Postdoctoral work
Nov 2002-Aug 2004, Karolinska Hospital (Thyroid cancer; Advisor: Catharina Larsson)
Sep 2004-June 2008, Stanford University School of Medicine, USA (Advisor: Andrew Fire)
Academic honours, awards and prizes
Travel awards from Karolinska Institutet Foundation (2001), Swedish Cancer Foundation and the Cancer Society in Stockholm (2002, 2003, 2004)
AACR-Ortho Biotech Scholar-in-Training Award (2003)
AACR-AFLAC Scholar-in-training award (2005, 2006)
Translational Research Award, Stanford Comprehensive Cancer Center (2007)
Swedish Research Council Junior Fellowship (2008, 4 years)
Swedish Research Council Senior Fellowship (2010, 6 years)
Links