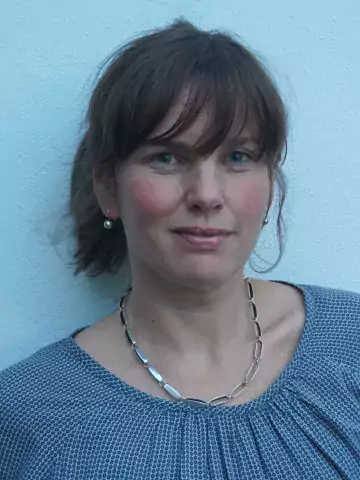 Wibke Jonas
Senior lecturer
About me
I am a midwife by training and received my degree from the Rheinische Friedrich Wilhelms University of Bonn, Germany in 1996. I gained my PhD in 2009 from the Department of Women's and Children's Health at Karolinska Institute (KI). After a postdoctoral position at the Department of Psychology, University of Toronto, I returned to KI, where I am currently research group leader, senior lecturer in reproductive health at the midwifery program and associate professor. 
My research focuses on pregnancy, birth and the early postpartum period, including breastfeeding and infant development throughout the first two years of life. My group and I study, in prospective longitudinal trials and in intervention studies, which environmental factors and behaviours influence infant development and health outcomes and parenting and parental well-being. For doing so, we use a bio-behavioral approach, where mostly quantitative research methods are used. Additionally, we study parental or staff experiences with qualitative research methods.
I maintain several scientific collaborations with the Healthy Children Project in the US, the University of Toronto, Canada, University of Turku, Finland and the IRCCS Eugenio Medea, Lecco, Italy.
I have received funding from various funding agencies including the Swedish Council for Work Life and Social Research (FORTE), Swedish Research Council (VR), Region Stockholm, Strategiska Forskningsområde Vård (SFO-V) at Karolinska Institutet, Fernström Foundation, Sällskapet Barnavård, Kempe Carlgrenska Foundation, Lilla Barnets Foundation and Frimurarstiftelsen. 
Languages: Swedish, English, German
Education
1996 Registered Midwife, Rheinische Friedrich Wilhelms Universität, University Hospital, Bonn, Germany
Doctoral degree
2009–09-21 Thesis: "Mother and newborn adaptations after birth: Influence of administration of oxytocin and epidural analgesia during labour", Karolinska Institutet
Academic honours, awards and prizes
'Hot topic' presentation – 9 out of over 100 abstracts were selected for a plenary presentation at the 'Parental Brain Conference' in Regensburg, Germany (11-14/7 2013).
Winner of a 'Best Scientific Poster Award' at the Connaught Global Challenge International Symposium "Investing in Mothers and Children" (Fraser Mustard Institute for Human Development), University of Toronto 27-29/9 2012.
Travel award for "Northeastern ADVANCE Future Faculty Workshop" at the World Conference on Neurohypophysial Hormones, Boston, Northeastern University (26-30/7/2011). Unfortunately, I had to cancel participation.