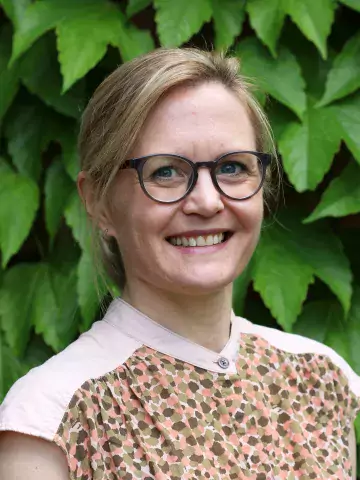 Anna Hedman
Senior research specialist
Organisation:
as senior research specialist
Adjunct lecturer/Senior research specialist
About me
I am an adjunct lecturer in scientific development at the department of Medical Epidemiology and Biostatistics, MEB. I am an examiner and coordinator for the degree project in medicine (master thesis) at the medical program at KI, semester 8. 
My research is mainly focused on paediatric epidemiology by combining several approaches to investigate atopic diseases in childhood. This is achieved by utilising different cohorts (twin- clinical- and register based cohorts), methods (twin-modelling, longitudinal data and sibling design) and biomarkers (proteins/cytokines, IgE, FeNO, eosinophils and metabolic markers) to find the causes and consequences  of non-communicable diseases.
Research description
Five selected publications:
Genetic effects of allergen-specific IgE levels on exhaled nitric oxide in schoolchildren with asthma: The STOPPA twin study.
Hedman AM, Kuja-Halkola R, Örtqvist AK, van Hage M, Almqvist C, Nordlund B
Pediatr Allergy Immunol 2021 05;32(4):709-719
Association of Early Life Exposure to Antibiotics With Risk of Atopic Dermatitis in Sweden.
Mubanga M, Lundholm C, D'Onofrio BM, Stratmann M, Hedman A, Almqvist C
JAMA Netw Open 2021 04;4(4):e215245
Longitudinal plasma inflammatory proteome profiling during pregnancy in the Born into Life study.
Hedman AM, Lundholm C, Andolf E, Pershagen G, Fall T, Almqvist C
Sci Rep 2020 10;10(1):17819
Allergen-specific IgE over time in women before, during and after pregnancy.
Hedman AM, Lundholm C, Scheynius A, Alm J, Andolf E, Pershagen G, Almqvist C
Allergy 2019 03;74(3):625-628
Bidirectional relationship between eating disorders and autoimmune diseases.
Hedman A, Breithaupt L, Hübel C, Thornton LM, Tillander A, Norring C, Birgegård A, Larsson H, Ludvigsson JF, Sävendahl L, Almqvist C, Bulik CM
J Child Psychol Psychiatry 2019 07;60(7):803-812
Teaching portfolio
Examinator, degree project in medicine (2020-)
Coordinator, degree project in medicine (2017-)
Course Director at the degree project in medicine, medical program KI, semester 8 (2022-2023)
Lecturer in scientific writing at 'Basvetenskap 1', medical program KI, semester 1 (2022-2023)
Group leader at the MVM-course (Medical Scientific Methodology), medical program, semester 5 (2017-2021)
Group leader at the VetU-course (Scientific Development), medical program, semester 1 (2017-2021)
Supervisor and co-supervisor to students writing their degree project in medicine/master thesis
Education
Post-doc in Epidemiology, MEB, KI, Sweden (2015-2019)
PhD in Neuroscience, Rudolf Magnus Brain Center, Utrecht University, the Netherlands (2013)