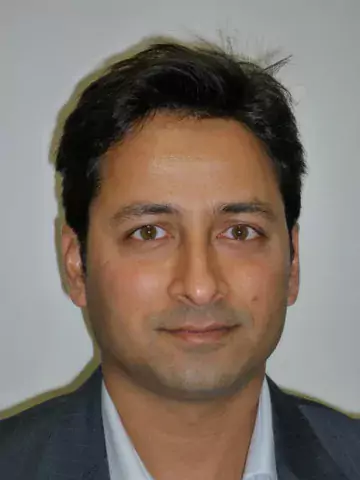 Ashish Kumar
Affiliated to research
I am working in the domain of complex disease medical research, with specialization in bioinformatics, biostatistics, computational genetics and high-performance computing (HPC).
About me
I am technology enthusiast, with expertise around convergence of different scientific disciplines spanning medical science, computer science, data science, high-performance computing, biostatistics, biophysics and scientific application around business process automation and re-engineering. 
I am additionally focussing on developing new Indo-European collaborative research projects in complex diseases as well as technology convergence in the genomics domain. At Karolinska Institutet (since 2012), I'm providing consultancy to Prof. Erik Melén's group and affiliated to Department of Clinical Science and Education at the Södersjukhuset (KI SÖS) - one of the largest hospitals in Stockholm.
Research description
Previously, I was working with Diabetes Research group, led by Prof. Mark McCarthy at the Wellcome Centre for Human Genetics, University of Oxford (from 2006-2014) and Genetic Epidemiology group, led by Prof. Nicole Probst-Hensch at the Swiss Tropical and Public Health Institute, University of Basel in Switzerland (from 2010-2018).
Research Summary:
OMICs data integration involving GWAS and imputed datasets, sequencing (genomic and exomes), methylation/epigenomics data, transcriptomics, expression arrays, proteomics and biological pathways.

Application of methodologies in artificial intelligence/machine learning into genomics.

Complex diseases like asthma, type-2 diabetes, pulmonary function traits like lung function, COPD, eczema, rhinitis, obesity, BMI and related phenotypes.

GWAS analysis in consortium projects like DIAGRAM, ENGAGE, EGG, EAGLE, SpiroMeta, MAGIC, GoDMC, etc.

Discovery, genotyping and association evaluation of variants in projects like GoT2D, GABRIEL and SUMMIT project (developing SOPs and pipelines for discovery/analysis on HPC servers and super-computing clusters).

Evaluations of methylation chip data using various normalisation methods

Annotation challenges with genetics and epigenetics datasets.
Expertise:
Covering diverse range of platforms including low-coverage sequencing, exome-sequencing, dense-array genotyping on various chips from Illumina & Affy, methylation arrays from Illumina, custom i-Select chips like Metabochip, HumanCoreExome, etc.

Multivariate statistics like logistic regression, principal components analysis, etc. to analyse various cohort datasets.

Gene and environment interactions, rare variants and fine mapping analysis.

Building and incorporating large QC and bioinformatics-pipelines for various types of -omics datasets like genotyped/imputed SNPs, methylation CpGs, RNA-seq, proteomics, expression, etc.

Managing Data centre; high-performance computing resources.

Large scale data storage, handling, formatting and visualisation.

Bioinformatics education & training.
For detailed publications list, please follow this link:
http://scholar.google.co.uk/citations?user=j-eQjGEAAAAJ&hl=en