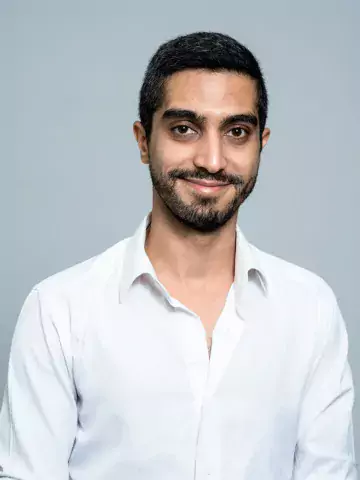 Hassan Gharibi
Postdoctoral researcher
About me
I am a Postdoctoral Fellow in Roman Zubarev's group (Chemical Proteomics Core Facility) in the Department of Medical Biochemistry and Biophysics at Karolinska Institutet, Sweden.
Research description
My project is focused on developing a high-resolution Orbitrap-based mass spectrometry method (FT IsoR MS) to simultaneously acquire isotopic ratio of C, H, N, and O elements in individual amino acids alongside protein sequencing and profiling with only a microgram amount of sample.
Selected Publication:
1. Gharibi. H et al. 2022. Abnormal (Hydroxy)proline Deuterium Content Redefines Hydrogen Chemical Mass. Journal of American Chemical Society, 144, 6.
2. Gharibi. H et al. 2022. Proteomics-Compatible Fourier Transform Isotopic Ratio Mass Spectrometry of Polypeptides. Analytical Chemistry, 94 (43), 15048-15056.
3. Gharibi. H et al. 2022. Measurements of heterogeneity in proteomics analysis of the nanoparticle protein corona across core facilities. Nature Communication 13, 6610
4. Zhang. X, Meng. Z, Gharibi. H et al. 2023. Ultralight Ultrafast Enzymes. Angewandte Chemie. doi:10.1002/anie.202316488
5. Kurth. M, Barayeu. U, Gharibi. H et al. 2023. DOPA Residues Endow Collagen with Radical Scavenging Capacity. Angewandte Chemie. e202216610.
6. Gharibi. H et al. 2023. Massive Solubility Changes in Neuronal Proteins upon Simulated Traumatic Brain Injury Reveal the Role of Shockwaves in Irreversible Damage. Molecules 2023 Sep;28(19).
7. Gharibi. H et al. 2022. Multi-omics analysis of magnetically levitated plasma biomolecules. Biosensors and Bioelectronics, 114862.
8. Saei. A, Beusch. C, Sabatier. P, Astorga Wells. J, Gharibi. H et al. 2021. System-wide Identification and prioritization of Enzyme Substrates by Thermal Analysis (SIESTA). Nature Communications 12, 1296 
Teaching portfolio
Lab Teacher Assistant for General and Organic Chemistry (2021HT, 2022HT, 2023HT)
Education
2018 - 2023: PhD in Medical Science, Karolinska Institutet, Sweden
2015 - 2018: MSc in Biotechnology Engineering, Tarbiat Modares University, Iran
2009 - 2015: BSc in Chemical Engineering, Sharif University of Technology, Iran