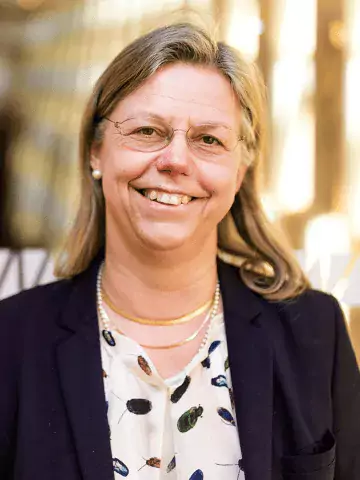 Karin Dahlman-Wright
Professor
About me
I am professor of molecular endocrinology and was made Vice-President of Karolinska Institutet on 1 January 2016. On 18 February that same year, the government appointed me Karolinska Institutet's acting President, a position I relinquished on 1 August 2017 to resume my previous title. I left my position as Vice President 9 September 2019. From 2009 until August 2015 I was head of the Department of Biosciences and Nutrition, and in 2015 I was vice-dean of infrastructure.
Between September 2013 and June 2015 I was KI Scientific Director at SciLifeLab with special responsibility for the national platforms, and was a member of SciLifeLab's operational management. In 2001 I founded BEA, a core facility that provides advanced services in genomics and bioinformatics. From 1994 to 2000 I held the positions of line manager and project manager at Pharmacia and Upjohn. I am also active in the Strategic Research Area in Diabetes at KI.
Selected publications
Estrogen receptor β2 induces proliferation and invasiveness of triple negative breast cancer cells: association with regulation of PHD3 and HIF-1α.
Bialesova L, Xu L, Gustafsson JÅ, Haldosen LA, Zhao C, Dahlman-Wright K
Oncotarget 2017 Sep;8(44):76622-76633
Adipocyte Expression of SLC19A1 Links DNA Hypermethylation to Adipose Tissue Inflammation and Insulin Resistance.
Petrus P, Bialesova L, Checa A, Kerr A, Naz S, Bäckdahl J, et al
J. Clin. Endocrinol. Metab. 2018 02;103(2):710-721
Estrogen Enhances the Expression of the Polyunsaturated Fatty Acid Elongase Elovl2 via ERα in Breast Cancer Cells.
González-Bengtsson A, Asadi A, Gao H, Dahlman-Wright K, Jacobsson A
PLoS ONE 2016 ;11(10):e0164241
AP-1 is a key regulator of proinflammatory cytokine TNFα-mediated triple-negative breast cancer progression.
Qiao Y, He H, Jonsson P, Sinha I, Zhao C, Dahlman-Wright K
J. Biol. Chem. 2016 08;291(35):18309
Estrogen Receptor α Promotes Breast Cancer by Reprogramming Choline Metabolism.
Jia M, Andreassen T, Jensen L, Bathen TF, Sinha I, Gao H, et al
Cancer Res. 2016 10;76(19):5634-5646
Peroxisome Proliferator-activated Receptor γ Coactivator-1 α Isoforms Selectively Regulate Multiple Splicing Events on Target Genes.
Martínez-Redondo V, Jannig PR, Correia JC, Ferreira DM, Cervenka I, Lindvall JM, et al
J. Biol. Chem. 2016 07;291(29):15169-84
Altered DNA methylation of glycolytic and lipogenic genes in liver from obese and type 2 diabetic patients.
Kirchner H, Sinha I, Gao H, Ruby MA, Schönke M, Lindvall JM, et al
Mol Metab 2016 Mar;5(3):171-183
Bioenergetic cues shift FXR splicing towards FXRα2 to modulate hepatic lipolysis and fatty acid metabolism.
Correia JC, Massart J, de Boer JF, Porsmyr-Palmertz M, Martínez-Redondo V, Agudelo LZ, et al
Mol Metab 2015 Dec;4(12):891-902
AP-1 Is a Key Regulator of Proinflammatory Cytokine TNFα-mediated Triple-negative Breast Cancer Progression.
Qiao Y, He H, Jonsson P, Sinha I, Zhao C, Dahlman-Wright K
J. Biol. Chem. 2016 Mar;291(10):5068-79
Commission of trust
I am a member of the SciLifeLab Stockholm steering board and the joint steering committee for AstraZeneca/KI/ SciLifeLab collaboration. I am also a member of the reference group for the European spallation resource ESS I have acted as Chairman, vice Chairman and member of evaluation panels at the Swedish Research Council. I have evaluated research in Norway on request of the Norwegian Research Council. 2007-2008 and 2015-, I was a member of the KI-SLL infrastructure council. I have taken part in a committee on behalf of the Swedish department of justice with regard to patents in the area of biotechnology and I am appointed expert in patent cases.
Research description
My research is focused on studies of estrogen signaling with specific focus on type 2 diabetes and breast cancer. We study phenotypes of mouse models with tissue selective knock-out of estrogen receptors and relate this to molecular changes such as changes in global gene expression. We use different breast cancer cell models and functional genomics technologies, such as ChIP SEQ, global gene expression analysis and proteomics, to identify signaling pathways that can include possible targets for treatment of breast cancer.
Education
Ph.D Medical Sciences, Karolinska Institutet, 1991
Docent Molecular Endocrinology, Karolinska Institutet, 1996