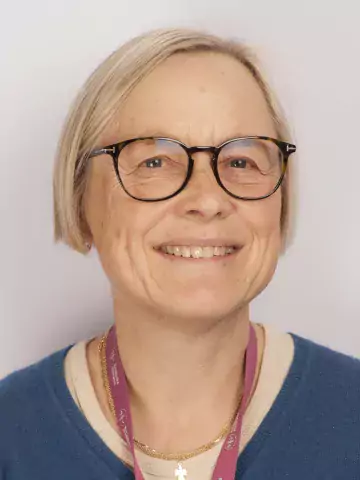 Malin Ernberg
Professor/senior dentist
About me
Professor in Clinical Oral Physiology and Senior Consultant. Head of the Division of Oral Diagnostics and Rehabilitation. Clinical work at the Specialist Clinic at the University Dental Clinic.
Malin Ernberg received her dental degree (DDS) at Karolinska Institutet 1979 and received her Specialist Diploma in Orofacial Pain/TMD in 1995. In 1999 she defended her PhD thesis and in 2004 she was appointed Associate Professor at KI. Between 2004 and 2006 she was guest researcher at the Department of Orofacial Pain at Aarhus University, Denmark during a total of 1 year. From 2009 to 2014 she had a 50% clinical research position financed by the Swedish Research Council and was 2012 appointed Professor in Clinical Oral Physiology at KI.
During 2011 and 2012 she was the President of the Neuroscience Group of the International Association for Dental Research (IADR) and between 2013 to 2016 the President of the Swedish Pain Society, the national chapter of the International Association for the Study of Pain (IASP).  At the same time she was also a member of the European Pain Federation's (EFIC) Council. Presently she is the President of the European Academy of Orofacial Pain and Dysfunction (EAOPD).
She has co-authored more than 120 original papers, review papers and book chapters.
Research description
Research
My research group focuses on increasing our knowledge concerning the mechanisms behind chronic orofacial pain, emphasising jaw muscle pain and its sex differences. The research is translational, spanning from basic research conducted in patients and matched pain-free controls via human experimental studies where pain is experimentally induced to clinical intervention studies. We study potential algesic and inflammatory peripheral biomarkers, such as serotonin, glutamate, cytokines and neuropeptides.
The Orofacial Pain Research Group is part of the larger Orofacial Neuroscience Group at the Department of Dental Medicine, which in turn collaborates with other leading research groups in Scandinavia, via the Scandinavian Center for Orofacial Neuroscience (SCON). The group has a close collaboration with the Specialist Clinic for Orofacial Pain at the Eastman Institute in Stockholm.
The group also collaborates with several other reserach groups within KI and other Swedish and International universities.
For information about specific research projects, please visit the Department's Research pages.
Group Members
DDS/PhD Nikolaos Christidis, Associate Professor
DDS/PhD Britt Hedenberg-Magnusson, Associate Professor
DDS/PhD Sofia Louca-Jounger
DDS/PhD Hajer Jasim
DDS/PhD Giancarlo De la Torre Canales, postdoc
DDS Golnaz Barjandi, PhD student
DDS Malin Collin, PhD student
DDS Maria Erkapers, PhD student
DDS Auliki Jögi, MSci student
DDS Anna Wieslander Fältmars, MSci student
DDS Johanna Svedenlöf
Teaching portfolio
I have always had a great interest in teaching and throughout the yeras been a member of various educational committees . At present I am affiliated to the Educational Committee at the Department of Dental Medicine. As Professor I have initiated radical changes of the teaching in my subject (Orofacial Pain and Jaw Function) for dental students, in which we have changed from having a more traditional teaching with lectures to Team-based learning. I was also responsible for the implementation of Observed Structural Clinical Examination (OSCE) within the undergraduate dental curriculum in 2009.
Education
DDS KI 1979
Specialist Diploma in Orofacial Pain 1995
PhD KI 1999
Associate Professor (Docent) KI 2004
Professor KI 2012
Academic honours, awards and prizes
The Swedish Dental Society award for the best doctoral thesis in odontology 2001
The Henry Beyron award for scientific achievments in Prosthetic dentistry and Orofacial pain in Sweden or abroad 2012
Links