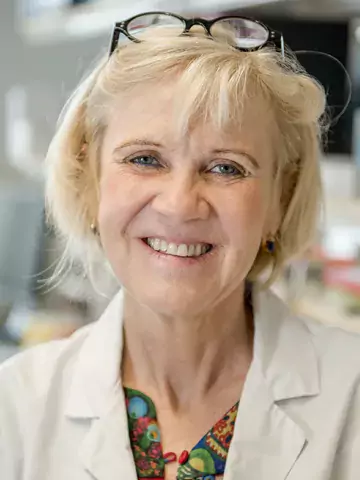 Maria Bradley
Professor/senior physician
About me
I am an associate professor and senior lecturer at the unit of dermatology and venerology unit a senior consultant in dermatology at Karolinska University Hospital. I spend my time between seeing patients, perform research in genetic aspects of atopic dermatitis and teaching students, mainly medical students in the dermatology program but I am also heading a a postgraduate course in tropical dermatology in Ethiopia. I have a global interest and I am actively involved in the Palme-Linnaeus program for teacher and students exchange and a coordinator for a new exchange program in Malawi. 
I think medical education is the key for keeping up a high standard both for health care, research education, research and international competition. I think that medical education for physicians will face challenges within the coming years and it will be important to create an education that can handle the enormous amount of information, the harmonizing with other countries and more specific the harmonizing with the New Karolinska University Hospital. 
Research description
Genetic studies of skin barrier defects with focus on atopic dermatitis
AD is an inflammatory skin disorder that results from a complex interaction between genetic and environmental factors. 
Our research is aiming to advance our understanding of the development of AD, by both genetic and functional studies mainly focusing on genes underlying the barrier dysfunction seen in AD patients.  Furthermore, we are studying the disease in different ethnic groups and want to increase the knowledge about possible differences regarding the genetic and the environmental contribution in developing AD in various populations in the world.
 We have numerous local, national and international cooperation partners
The research is manly funded by ALF. 
In the group 5 Ph.D students have graduated and I have bee main supervisor for 2 of them and co-supervisor for 2.
I have 46 publications
Selected publications:
[pubmed:12045207]
[pubmed:16685656]
[pubmed:19107207]
[pubmed:21692775]
[pubmed:25819062]
[pubmed:27294528]
Education
1987                        MD
1991                       Fully qualified as a physician
1996                       Board certified in Dermatology and Venereology 
2001                       Ph.D, medical faculty 
2002                       Post Doc Stanford  
30.0                        ECTS credits in university-level teaching          
Academic honours, awards and prizes
Delagate (of 2 from Sweden) of European Union of Medical Specialist  (EUMES)
Member of Stockholm County Council Pharmaceuticals Committee Expert Council, for Skin Diseases since 2009
Former secretary, Swedish Dermatological Association
Former secretary, Foundation for International Dermatology