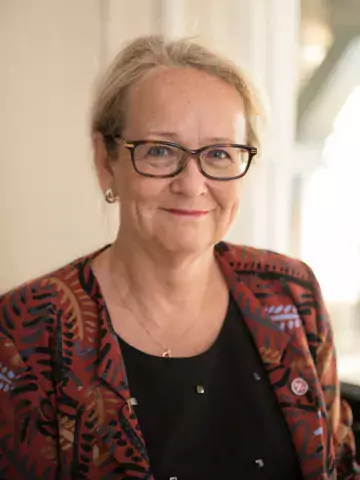 Marianne Schultzberg
Professor
About me
I am Professor of Clinical Neuroscience at the Department of Neurobiology, Care Sciences and Society since 2005.
I have led my own research group at Karolinska Institutet since the middle of the 1980's. During the period 1988 to 1990 I was guest scientist at National Institute of Mental Health (NIMH), Bethesda, USA.
I have had a large number of commitions of trust, such as being member of various committees, evaluation boards for grants and academic positions, including the Swedish Research Council. I was Director for Doctoral Education at the department for ten years.
From July 1, 2016, to December 31, 2018, I was Dean of Doctoral Education at Karolinska Institutet, and prior to that I was Pro-Dean of Doctoral Education from January 1, 2012, to June 30, 2016.
My view on doctoral education
"Doctoral education at KI shall be world-leading, and shall attract the very best students in the world."
PhD students represent the basis for continued excellent research at KI, and are attractive for academia, industry and society. Career planning and mobility both during the education and after dissertation should be stimulated. International contacts/collaborations need to be developed further.
A strong link between clinical practice and research requires good opportunities for clinicians to embark on doctoral studies. Clinical research schools are good examples that can be developed within new fields.
A doctoral degree from KI should represent high quality. High quality in doctoral education requires a good research environment, and support to doctoral students and supervisors through feed-back and follow-up. Activities to improve the psychosocial environment have to continue to be in focus.
How do we know that the doctoral students learn what we expect them to learn? And that their development towards the dissertation is according to plan? We have to be able to monitor this process, and the methods/tools to follow-up need to be developed, without being a burden.
Research description
My research focuses on the role of neuroinflammation in neurodegenerative disorders such as Alzheimer's disease (AD), and combines cellular and animal experimental models in a translational approach based on in vivo and in vitro models in close association with the geriatric clinic at Karolinska University Hospital, with the goal to find new treatments strategies.
Inflammation normally ends by a resolution process in which certain pro-resolving mediators stimulate phagocytosis of dead microorganisms, cell debris, and down-regulate inflammatory factors, leading to restoration and repair of the tissue. Dysfunctional resolution leads to chronic inflammation. The inflammation in AD brain is chronic, and our recent studies show decreased levels of certain pro-resolving mediators in the brain and cerebrospinal fluid from AD-patients. 
Education
BSc in biochemistry 1974.
PhD in 1980 with thesis on neuropeptides in the peripheral nervous system and coexistence of neuropeptides and classical neurotransmitters.
Postdoc at Dept of Physiology, Liverpool University, 1980-1981.
Docent (associate professor) in 1983.