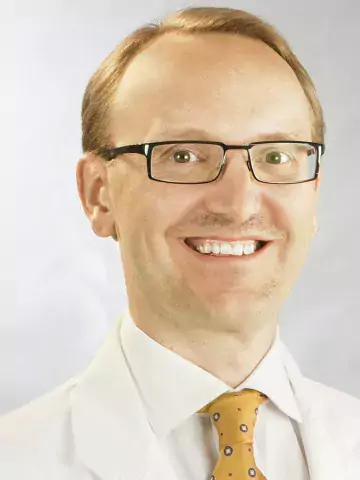 Paul Ackermann
Professor/assistant senior physician
About me
Dr. P.W. Ackermann is focusing his research on neuro-vascular regulation of venous thromboembolism, pain and musculo-skeletal tissue repair in collaboration with a global network of researchers. Clinically Dr. Ackermann is working as an orthopedic surgeon at the Karolinska University Hospital, Stockholm.
Research description
The mission of Dr. Ackermanns research is to understand and exploit neuro-vascular pathways in the musculo-skeletal system for restoring joint function, alleviating pain and minimizing complications.
Currently Dr. Ackermann holds a grant from the Swedish Research Council to examine the effects of Intermittent Pneumatic Compression (IPC) on tissue repair and prevention of deep venous thrombosis.  
Professor interview: Studying healing disorders in tendons and joints
Education
2009 Qualification as Associate Professor, Karolinska Institutet
2002-2008 Postdoctoral work: Assistant Professor, "Neuronal Role in Musculoskeletal Healing", Karolinska Institutet and collaboration with University of Calgary
2001 Doctoral degree:  Orthopedics/Sportsmedicine, "Peptidergic Innervation of Periarticular Tissue" at Karolinska Institutet.                       .
1998  M.D: Medical school at Karolinska Institutet                           
1992 Chemistry: Stockholm University
Academic honours, awards and prizes
2017  Swedish Research Council grant on "Prevention of thromboembolism and failed healing during lower limb immobilization – a multicenter study with adjuvant intermittent pneumatic compression therapy."
2012  Swedish Research Council grant on "Prevention of thromboembolism and failed healing after lower extremity injury - novel neuro-vascularly targeted Therapy".
2011  Awarded winner of DJO Sports Medicine's grant $100,000 "Compression treatment prevents post-operative complications and promotes tissue repair".
2010  Awarded winner of the American Orthopaedic Society for Sports Medicine's (AOSSM) $250,000 Ligament and Tendon Repair and Regeneration Grant for Groundbreaking Ligament and Tendon Repair Research, "Biological Augmentation of Ligament and Tendon Healing: Role of Neuropeptides."
2002  Best poster award, "Can sports massage improve recovery after hard eccentric exercise?", Swedish Orthopedic Society