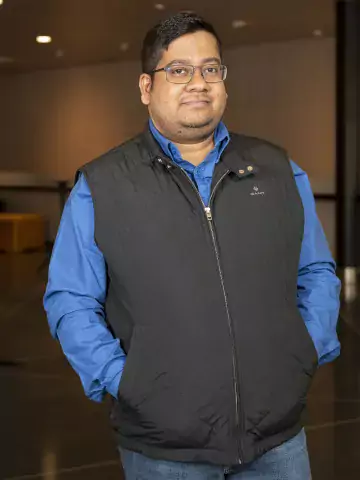 My research group aims to identify the molecular mechanism of viral adaptation in the host and identify novel biomarkers of natural immune control against RNA viruses
About me
I obtained my doctoral degree from Department of Medicine Huddinge, Karolinska Institutet (KI) in 2013. Following my two year postdoc  I joined the  Department of Laboratory Medicine as Assistant Professor in 2015, where my research focuses  on multi-omics system biology studies in infectious diseases to understand the mechanism of disease progression and control.
Research description
Using system analysis of multi-omics technologies, my research group aims to identify the molecular mechanism of viral adaptation in the host and identify novel biomarkers of natural immune control against RNA viruses. We aim to identify the components of the immune response that are required for natural immune protection and disease severity that can be translated into the future development of vaccine and antiviral strategies against emerging and re-emerging viruses like human immunodeficiency viruses (HIV), Crimean–Congo hemorrhagic fever (CCHF) viruses, dengue viruses, Zika viruses and more recently SARS-CoV-2. 
Using a similar high-throughput research methodology, my group also works towards unraveling the mechanism of inflamm-aging in people living with HIV (PLHIV) on successful therapy to identify biomarkers for potential future clinical intervention.
For more information visit:
https://ki.se/en/labmed/the-systems-virology-lab 
Teaching portfolio
Teaching assignments under the Biomedical Laboratory Science program
Education
2009 – 2013: Ph.D. in Medical Sciences, Department of Medicine, Huddinge, Karolinska Institutet, Stockholm, Sweden. Thesis title: Translational genomics of HIV-1 subtype C in India: Molecular phylogeny and drug resistance
2005-2007: M.Sc Microbiology, Bangalore University Bangalore, India
2002-2005: B.Sc. Biological Science, Dr. Babasaheb Ambedkar Marathwada University, Aurangabad, India
Academic honours, awards and prizes
FELLOWSHIPS
2016: Jonas Söderquist's Stipendium for Experimental Virology and Immunology Research-2016 for research in development of high-throughput techniques to quantify HIV-1 latent reservoir.
2012: AIDS International Training and Research Program (AITRP) fellowship, sponsored by National Institute of Health (NIH), US for training at Albert Einstein College of Medical Science, NY.
MAJOR GRANTS
The Swedish Research Council (Interdisciplinary-2018-06156)   (01/2019 – 12/2024)
A clinical trans-omics multidisciplinary study to understand the role of antiretroviral therapy in premature aging of the immune system in HIV-infection. Role: Principal Investigator
Swedish Research Council (Startup grant- 2017-01330) (01/2018-12/2021)
A multi-omics system biology approach to identify disease control mechanisms in HIV-1 positive Elite Controllers and the importance for HIV-cure. Role: Principal Investigator
US National Institute of Health (R01 GM118012-01) (07/2016-06/2020)  
Reverse transcriptase multi-class drug resistance and rilpivirine susceptibility in diverse HIV-1 Subtypes. Role: Co-Investigator
http://grantome.com/grant/NIH/R01-GM118012-01A1
Other Grants: Swedish Physicians against AIDS Foundation, Karolinska Institutet Doctoral Funding, Stockholm County Council, Jeanssons Stiftelser, Karolinska Institutet Research Foundation Grants, Åke Wibergs Stiftelse