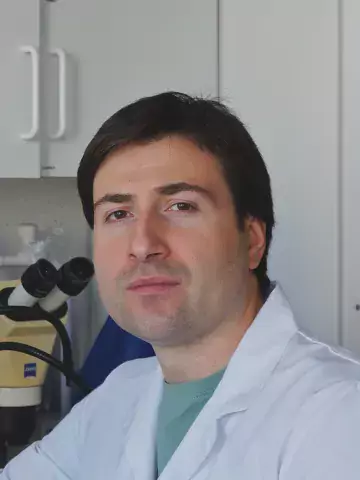 Vladimer Darsalia
Researcher
About me
Researcher, Docent in Neuroscience
Researh Group: https://ki.se/en/kisos/the-neurocardiometabol-group
2014 - 2018: Assistent professor, Karolinska Institutet, Stockholm, Sweden
2010 - 2014: Post-doctoral fellow, Karolinska Institutet, Stockholm, Sweden
2008 - 2010: Post-doctoral fellow, Lund University, Lund, Sweden
2007: Ph.D. in Neurobiology, Lund University, Lund, Sweden
Research description
TYPE 2 DIABETES AND STROKE
Prevalence of type 2 diabetes and its complications is rapidly rising worldwide. One of the major complications of diabetes is cardiovascular disease that often leads to a stroke. Diabetes not only doubles the risk of stroke, but also significantly impairs post-stroke recovery, often leading to lasting disabilities.
The main subject of my research is the identification of the pathophysiological mechanisms by which diabetes impairs stroke recovery and the development of treatment strategies based on lifestyle and pharmacological interventions. This research and development effort is conducted in close collaboration with academic, clinical and industrial partners and involves both clinical and preclinical settings.
Our group is also actively investigating the role of diabetes in other neurological complications that are overrepresented in the diabetic population, such as Parkinson's disease, cognitive decline and dementias.
RESEARCH HIGHLIGHTS
In a nationwide cohort study, our group demonstrated the link between insulin resistance (IR) and increased stroke risk and mortality in type 2 diabetes (T2D), highlighting the need of novel therapeutics beyond simple glycaemic control. In following studies, using experimental T2D, IR and stroke models we showed that the IR is detrimental for stroke recovery and reversing it pre-stroke by lifestyle or pharmacological interventions leads to improved functional recovery.
T2D leads to impairments in nigrostriatal dopaminergic system along ageing by reducing dopamine release in striatum, potential increasing the risk of neurological disorders associated with impaired movement, attention, reward and learning (complications that are common in T2D people). This effect is reversed by chronic treatment with DPP-4inhibitors and sulfonylureas, showing the additional benefit of these drugs over standard T2D care.
Chronic GLP-1R agonist and DPP-4 inhibitor treatment reduce stroke-induced injury in T2D. This was the first demonstration the superior potential of GLP-1R agonists and DPP-4 inhibitors over standard T2D care as the potential strategy to in addition of treating T2D, also benefit T2D patients in case of stroke.
Human foetal neural stem cells differentiate into neurons after grafting in stroke-damaged brain. The survival of grafted stem cells is better if grafted shortly after stroke. However, their capacity to migrate and differentiate into neurons is still conserved when grafting is delayed, indicating the potential efficacy of stem cell therapy for stroke even in chronic phase after stroke.
Stroke-induced neurogenesis persists chronically, in recovery phase after a stroke. Newly generated neuroblasts maintained directed migration towards injury site by stromal cell-derived factor-1alpha and its receptor CXCR4. During ageing, the neurogenic capacity of the brain in response to stroke is maintained despite the general reduction of basal neurogenesis.
SELECTED PUBLICATIONS, LAST 5 YEARS
Teaching portfolio
Project Coordinator and Examiner for degree projects in medicine (30hp)
Department of Medical Epidemiology and Biostatistics, Karolinska Institutet.
Education
2021: Docent in Neuroscience, Karolinska Institutet, Sweden
2007: Ph.D. in Neurobiology, Lund University, Sweden
2001: Bachelor in Biology, Tbilisi State University, Georgia