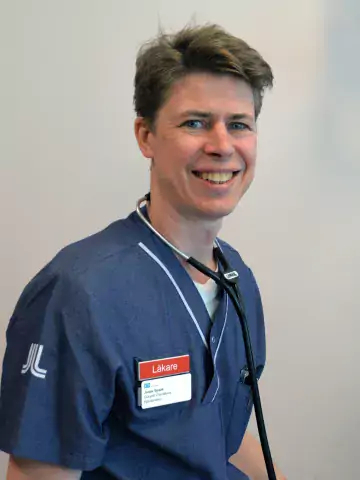 Jonas Spaak
Affiliated to research
About me
I am a Cardiologist with a keen interest in vascular medicine, integrated care, cardiorenal syndrome, heart failure, hypertension, arterial stiffness, vascular function and sympathetic regulation. My background with a PhD in Physiology and Post-Doc in Cardiovascular Physiology and Cardiology give me a solid foundation which enriches my current clinical research. My research focus on disease mechanisms and their management in patients with vascular disease and concomitant diabetes or impaired kidney function. In 2013 I started the Heart-Nephrology-Diabetes clinic, an integrated clinic for patients with concomitant cardiovascular disease, impaired renal function and diabetes. I am responsible for a regional referral centre for Vascular Medicine. I am President of the Swedish Society for Hypertension, Stroke and Vascular Medicine, and engaged in several other organizations. I believe efforts in this area will have a real impact on the individual patient, which I find truly inspiring.
Research description
From vascular dysfunction to integrated complex chronic disease management
Part of the Research Group in Vascular Medicine and Hypertension @ KI-DS 
Main supervisor (PhD) for:
Hermine Rietz, MD on "Cardiovascular effects of obstructive sleep apnea".
Christina Ekenbäck, interventional cardiologist on "Sympathetic and vascular regulation in myocardial infarction with angiographically normal coronary arteries".
Masih Khedri, MD on "Renal dysfunction and long term outcome after myocardial infarction".
Gudrun Evén, RN, on "Patients' perception of care and measures of safety in a multidiciplinary person-centered clinic".
Henrik Hellqvist, cardiologist, " Arterial stiffness for risk assessment in cardiovascular disease".
-Co-supervisor for Helge Brandberg, MD, Muhammad Rafiq, MA. Felicia Håkansson, MD, Barbara Salzinger, MD and Christina Montgomerie, MD.
Past:
Main supervisor for Nephrologist Josefin Mörtberg and Cardiologist Kristina Lundwall. 
Teaching portfolio
500+ hours teaching at the MD program, Karolinska Instiututet.
50+ invited lectures.
Education
MD, Karolinska Institutet, 1999
PhD, Karolinska Institutet, 2001
Clinical Research Fellowship (post-doctoral), Mount Sinai Hospital and University of Toronto, Cardiology, 2001-2004.
Visiting Scientist, Prince of Wales Medical Research Institute, Sydney, 3 months, 2002.
Specialist in Internal Medicine, 2011
Specialist in Cardiology, 2013
Academic honours, awards and prizes
- President Swedish Society for Hypertension, Stroke and Vascular Medicine (www.hypertoni.org/).
- Past President of KIRCNET; Karolinska Respiration and Circulation research NETwork (researchnetworks.ki.se/converis/area/201).
- Sir Stanley Davidson Lecturer, Royal College of Physicians of Edinburgh, 2016.
- Swedish representative in VAS, Vascular Independent Research and Education European Organisation.
- Swedish representative in European Union Medical Specialists, div. Angiology and vascular medicine.
- Member of the departmental Research Board and head of the Clinical Research Support Center