Guide to the Staff Portal
The staff portal on ki.se is where you find information about your employment at or affiliation to Karolinska Institutet. You will be updated on what is happening at the university and find information and tools that help you perform day-to-day tasks more efficiently.
Main menu
In the top menu you will find the following links:
Your employment
Tools and support
Education
Doctoral education
Research support
On site on campus
Our KI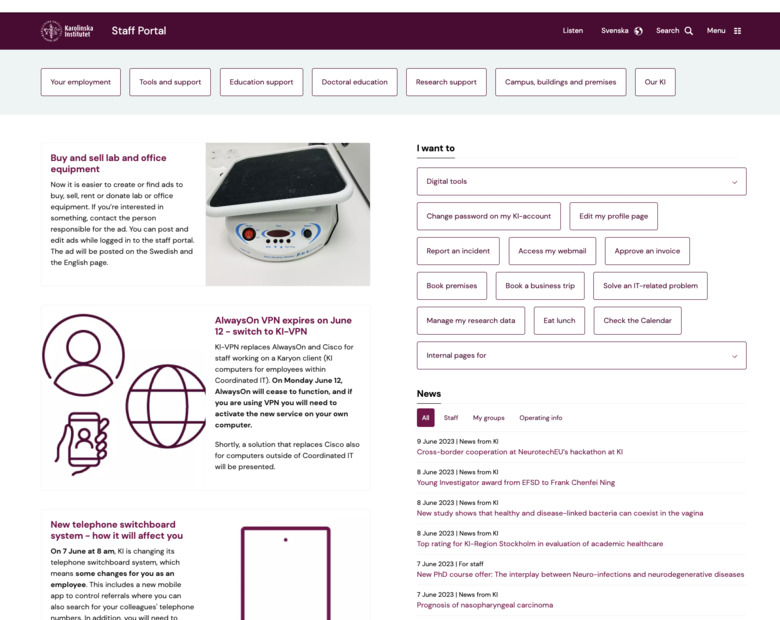 The staff portal
Your employment
Rights, obligations and opportunities for employees at Karolinska Institutet.  
RSS feed
Operating info, news and calendar have the option of subscription via RSS, ie getting updates sent to Outlook or to your browser.
Read more about RSS here
Tools and support 
Support and tools that you need to solve the tasks related to your professional role, for instance IT support, communication support, or useful links for managers, etc. 
Education
Information, tools and opportunities for your work with education at KI.
Doctoral education
Information about doctoral (PhD) education for doctoral students, supervisors and course directors at KI.
Research support
Tools and support for making your research a success. 
On site on campus and Our KI 
Relevant information for KI staff, such as management, organisation, campus info, maps, environment and sustainability work, etc.
Operating info
Under Operating info you will find news and information on technical issues and updates regarding premises, equipment, computer programs and other matters related to the operation and maintenance of the university. Check Operating info for technical disturbances or issues related thereto.
Digital tools
In the drop-down list Digital tools you will find links to various systems, such as IDAC, PA-web (where you can apply for vacation, report sick leave, etc.), search for jobs at KI, login in to your profle page, read your e-mail online, etc. You will find the most common tools under the section "I want to".
Under Local web you will find links to the various departments' local web pages as well as to some of the premises'. These pages may require a login for access.
News
This is an automated list of news for staff, showing the date and heading and linking to KI's news page. A selection of news and promos also appear in the middle of the main page.
The shuttle bus
In this section you will find departure times from Flemingsberg and Solna, as well as a link to a page with more information on the shuttle bus service.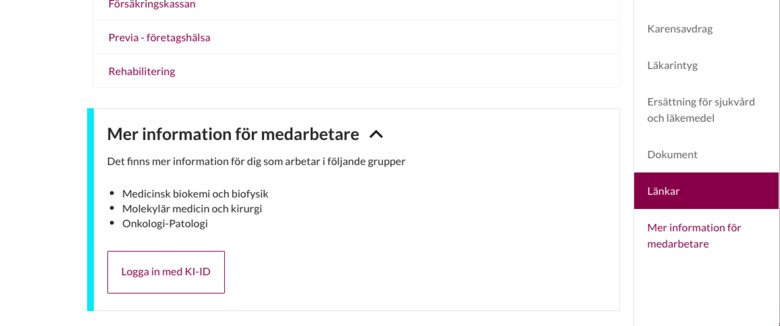 Lokalt innehåll på sida
Local content
On the Staff Portal, information aimed at to one or more groups of employees at KI can be added to a page or a landing page. This might be info like routines for a specific department regarding sick leave or an invitation to an event intended for staff at a specific institution. A page that has local content always has the "More information for ..." link in the page menu.