A sporty IT technician who likes music
Martin Lindström manages technical support at NVS together with Alfred Nyeko.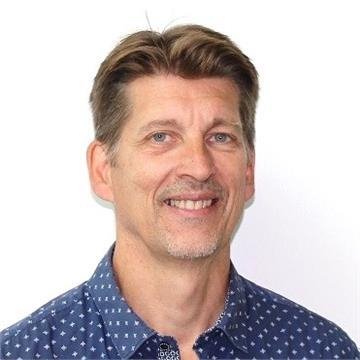 Martin Lindström, IT technician, NVS. Photo: Marie Franzén.
What is your role at NVS?
– IT-support.
What's the best thing about your job here?
– The work is varied, and I meet many interesting and kind people every day.
How long have you been at KI? And have you been to more departments than NVS?
– I started in the fall 2018, it was my first job at KI.
What is important to you in the workplace? What do you need to thrive?
– It's important to have a stimulating environment, challenging work, and good colleagues and manager. If you enjoy your workplace, I feel that you automatically perform well.
What do you think you'll be doing in 5-10 years?
– Maybe a mix of work and retirement, play in an orchestra.
What is your background? Where are you from?
– I'm from Västerbotten in the north of Sweden (Skellefteå), I have worked in a sawmill, as a plumber, a custodian and as a full- and part time musician. Moved to Stockholm in 1977 and started working as an AV technician at Södertörn University, and started at KI 19 years later.
What do you do to relax in your spare time?
– I like to spend time with my family, going to a café with my wife, run, bike and ski. I watch hockey live or on TV, preferably the Skellefteå AIK games.
What are your hobbies?
– Work out, music and hockey.
Has the coronavirus pandemic affected you in any particular way?
– Not too much, I was mildly affected towards the end, by the omikron variant. But I have noticed a change in behavior when it comes to social distancing, washing your hands, not touching door handles etc.
Do you have a good movie, TV series or book to recommend to your colleagues?
– Films: The King´s Speech, The Lighthouse, The Town, Superswede, Slap Shot, Madagaskar 3. Series: Line of Duty, Scott & Bailey, La Casa De Papel, Peaky Blinders, Sherlock, Luther, Modern Family. Books: Jussi Adler Olsen: All about Carl Mörck, Avd Q. Jo Nesbö: All about Harry Hole. Lee Child: All about Jack Reacher. Michael Connelly: All about Harry Bosch. Ann Rosman: Everyone in the Marstrand series. Åsa Martinsson: All about Rebecka Martinsson.
What is the best thing that has happened to you?
– A classic answer: the birth of my three children. Lovely, transforming and life changing, and to hear the word "dad" every day makes me very proud.