KI South Distinguished Lecture Series
The KI South Distinguished Lecture series at the Karolinska Institutet South Campus welcomes outstanding international scientists to present their latest discoveries and concepts of interest to a broad range of biomedical researchers, clinicians and students.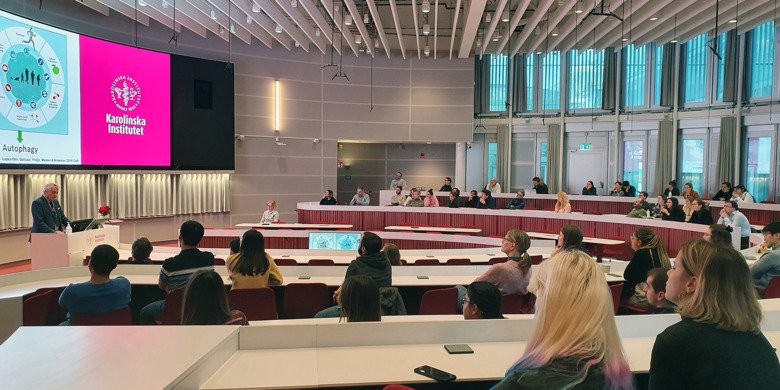 From the lecture with Guido Kroemer Photo: Marie Franzén
Format
A short talk given by a local early career researcher/junior PI working at KI South to introduce the subject (15 min)
KI South Distinguished Lecture by prestigious international speaker (45 min)
Afternoon reception and interaction with the speakers and researchers
Dinner for a small group including the speaker and researchers from KI South
The proposing PI should also act as the host for the invited speaker.
The local KI South speaker will be selected through the nominations and decided upon at the same time as the distinguished lecturer.
This lecture series holds up to four lectures per year, always on a Tuesday at 13:00. These are followed by a joint mingling outside the lecture hall. After that a smaller group of invited younger researchers will have the opportunity to discuss with the lecturer separately.
PI:s at KI South are welcome to nominate outstanding lecturers to this lecture series. For more information and nominations please contact the representatives of the KI South Distinguished Lecture Group at your department. For administrative questions you can also contact the coordinator of Dean KI South (coordinator of the lecture group).
The KI South Distinguished Lecture Group consists of representatives from each KI South department (including BioNut, LabMed, DentMed, MedH, CLINTEC, NVS, SÖS). The group will collect the lecturer nominations and make the final decision about whom to invite. The aim is to select proposals from all KI South departments that cover basic, clinical and translational research of broad interest and relevance for KI South activities.
Once selected, KI South Distinguished Lecture Group and the respective host will invite the lecturers, work on the program and the administrative details supported by the host's departments administration.
Upcoming lecturers
5/12-2023 Angela Nieto and Jonas Fuxe
9/4-2024 Rebecca Gottesman and Anna Marseglia
3/9-2024 Piero Carninci and Carsten Daub
Previous Lecturers
4/5-2021 Molly Stevens and Samir EL Andaloussi
26/10-2021 Fabrizio d'Adda di Fagagna and Marianne Farnebo
23/11-2021 Guido Kroemer and Federico Pietrocola
31/5-2022 Nigel Mackman and Charlotte Thålin
22/11-2022 Gavin Perkins and Jacob Hollenberg (at KI SÖS)
7/2-2023 Aurélie Goyenvalle and Joel Nordin
9/5-2023 Martha Somerman and Georgios Belibasakis
5/9-2023 Antonio Bertoletti and Marcus Buggert
14/11-2023 Katsuhiko Hayashi and Pauliina Damdimopoulou