Methods for capturing the social relevance of education, both qualitatively and quantitatively
A comprehensive inter-university project has focused on developing an in-depth understanding of how collaboration with external actors can contribute to the planning and development of education, leading to an increase quality, and to be better able to meet the challenges of the future.
Collaboration with external actors can be a way of gathering around a topic, and creating a better basis for decision making for the actors involved. This is especially important when setting up new training programs and in revising existing ones. New joint recommendations for relevance assessment within of higher education institutions (HEI) quality systems are being developed within the project.
Expected results:
The concept of relevance and other concepts of collaboration are defined based on different situations and for different purposes.
Proposals and recommendations are formulated for how external actors can be involved in evaluating the relevance of education.
Recommendations are formulated for how collaboration can be systematized and integrated into the quality systems of HEI.
A toolbox with methods for assessing an education's long-term social relevance in connection with educational development is presented.
Defining relevance in education
This part of the larger project, aims to determine and define different concepts that are of relevance to the individuals being educated, to the recipients, and to society. This work focusing on definitions, takes place through an iterative process within another inter-university project named Samsyn, where concepts are defined and presented on a wiki page, in this instance Samsyn Merut, which is coordinated through the Samsyn project's overarching wiki.
For example, the concept of dimensioning when developing educational programs, is defined as a process that determines:
what courses to give
how many places are to be allocated per focus and educational opportunity
where the courses are to be located, (Campus and/or distance learning)
the content of the different courses
Decisions about dimensioning and designing programs are made at different levels, and coordinstedin different ways within the HIEs. Collaboration with external actors can be a way of gathering and focusing energies around the points listed above, and creating a better basis for decision-making for all those involved.
Recommendations for quality systems
Through interviews with people in key positions in HEIs, areas of improvement and descriptions of good examples have been collected and analyzed.
Dimensioning decisions regarding educational programs and courses are made at different levels, and are rarely strategically coordinated at the HEI level.
There are a number of similarities in the dimensioning work across the universities:

The same levels of management are often involved in preparation and making decisions
Preparation is done in a back-and-forth process 
Initiatives often come from the program level or from the recipients (students)?
The interests of prospective students is a strong driver

Management systems and systematic working methods for collaboration in dimensioning and evaluation of relevance are often missing, examples include:

Large variations in collaboration within different faculties, and between different subject areas / educational levels
Large variations in whether and how recipients and community actors are involved in the process and at what levels of collaboration
Difficult to evaluate how collaborations are taken into account or included within evaluations for quality control 

The full potential of collaborating with external actors when evaluating relevance of an education is not fully exploited.
Illustration of identified areas of improvement and good examples of collaboration with different stakeholders for assessment of the relevance of an educational program or course at different levels: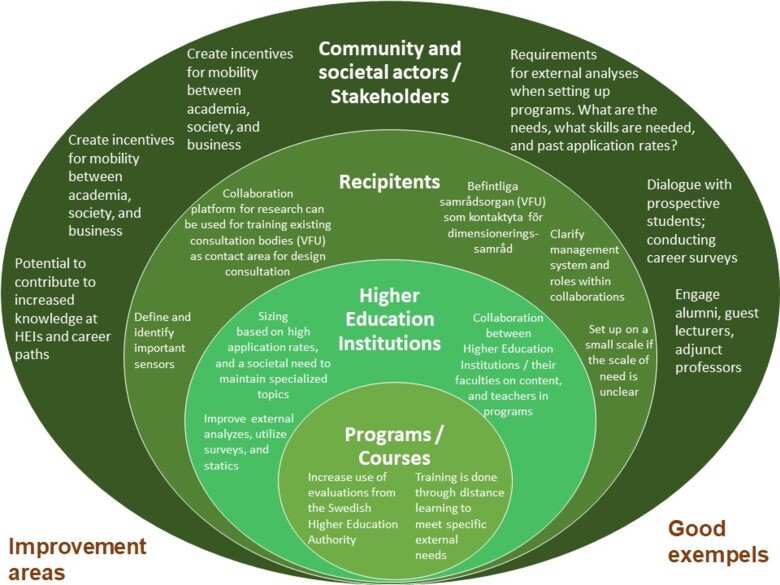 The project's quality system recommendations will be coordinated with the results of other projects that deal with related issues.
Inventory and analysis of methods
In order to ensure the relevance of education from the perspective of work life, that is to say whether they cover the requirements and knowledge needed for employment, a tool box is being developed with methods and work processes.
This tool box will include methods to:
Support education leaders and program managers in assessing the relevance of education,
Involve external parties in the development and design of courses in their entirety or selected parts,
Evaluate the needs of future students,
Support external actors to clarify expectations, roles, and commitments in connection with educational development.
Dialogue with external actors
Interviews have been conducted with external actors who participate in collaborations with HEI. A collection of experiences and success factors is being compiled from these external actors including methods for assessing the relevance of an education, and suggested methods about how to collaborate are being developed from an external perspective.
Contact
If you have questions regarding methods to capture the social relevance in education, please contact: