Group page
All groups that exist in Primula, i.e. in KI's organisation, will be able to have their own group page on ki.se with some information automatically retriewed from KI RIMS. Group means research group, unit, team.
The process:
The initial transfer of information from the existing pages to the new group pages on ki.se will be done by web editors with the support of the KI RIMS project. This work starts in November/December. Research groups, teams, and units will be the first to receive attention. After that, work on other types of groupings, such as centers, networks, and core facilities, will start. 
 
Instructions for how a group leader/manager handles the group's information (for example members, funders, and the group's publications) in KI RIMS will be available on the KI RIMS support pages a bit further ahead.
Information from KI RIMS
The groups are sent to ki.se from KI RIMS with basic information about the group. The basic information that comes from KI RIMS consists of:
Name of the group
Brief description of the group
Who the group leader/manager is
Members of the group
Publications (if it is a group that conducts research)
Funders (if it is a group that conducts research)
Labels
More information on the web
The group page with basic information is sent to ki.se where an editor can add more information and publish the page so that it is visible on ki.se.
Examples of more information that can be added: a longer description of what the group does, pictures, graphs, if you are responsible for a course, social media and more.
The tags placed on a group will be very important for the filter search that will be developed on ki.se in February 2024.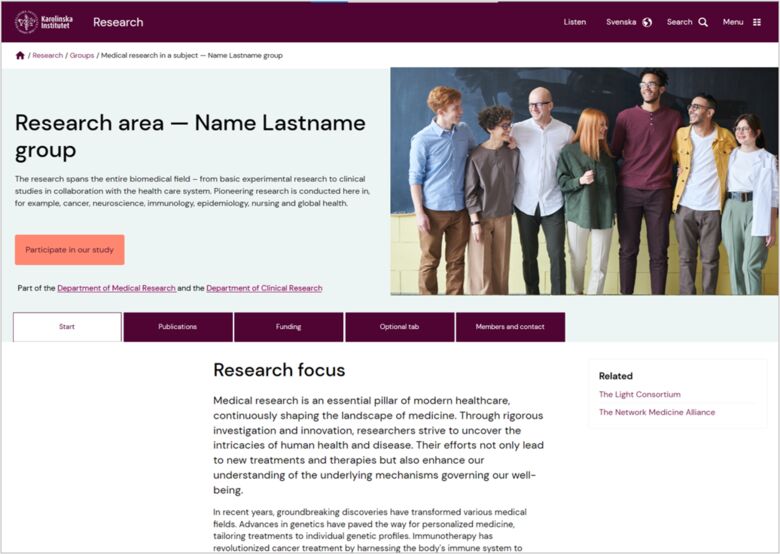 A dummy screenshot of a group page