Nailing and distribution of your thesis
In order for the public to be able to read the thesis in advance and ask questions at the defence, it must be made public.

E-nailing
At KI, the thesis is published by e-nailing, which means that the thesis is published online in the KI Open Archive no later than three weeks before the public defence.
As a doctoral student, you must ensure that the thesis is printed in time for the nailing.
In connection with the nailing day, the thesis must be distributed by mail to the opponent, examination board and defence chairperson.
In connection with the nailing, the public defence must be announced in the KI calendar. Contact the administrator at your institution.
NEW! The doctoral student should no longer submit statutory copies to KIB and not upload the thesis as a file in KI Open Archive. The e-nailing is instead carried out by KIB when they have received the file and printed copies from the printer.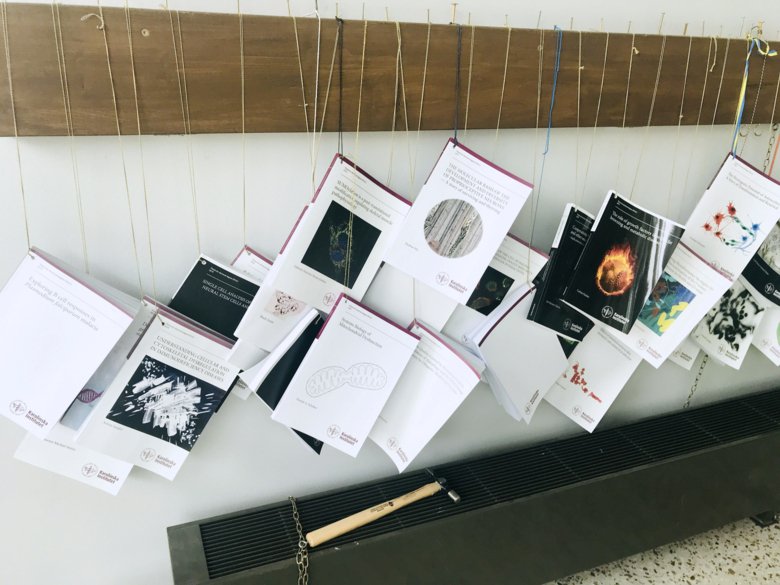 "Nailed" doctoral theses on a wall in Biomedicum, Campus Solna, in spring 2021. Photo: Katarina Sternudd Photo: Katarina Sternudd
Physical nailing at the library
Doctoral students can nail up their thesis at the University Library in Solna or Flemingsberg. Nail copies (with holes in them) as well as nails and string can be obtained from the printing company. Hammers are available at the nail board.
The doctoral student can take down their thesis immediately after the defence, otherwise it will be taken down after one week and discarded.