Images, photos and illustrations
With images, you reach out more effectively, strengthen messages, affect, and clarify. Images can be photographs but also illustrations, graphics, or collages. Here you will find support in your use of images.
Ask the following questions before choosing an image: What is the use of the image? Who is the image addressed to? What do I want to achieve?
Checklist for images
1. Genuine and natural
Images should reflect and bring KI's operations to life. Images should preferably be taken in KI's environments and by employees and students "in action".
2. Relevant for the context
Images must have a connection to the subject being illustrated. For example, if you need to illustrate a conference about cancer research, choose a research-related image, an image of conference participants, or an image of the place where the conference will be held.
3. Professional and in high quality
Images must be characterized by high quality and live up to the requirements for openness and accessibility that are imposed on public activities. The images should be in high resolution, have good light/contrast/focus, and preferably be taken by a professional photographer.
4. Realistic – especially in labs and clinical settings
Be careful so it looks like in real life. Double-check, for example, that jewelry, hair, and clothes follow the hygiene requirements that exist for the specific environment.
 
Questions to ask the person in charge of the environment to be photographed: 
Should hair be set up?
Can you wear jewelry?
Can you have nail polish?
Relevant clothes – lab coat or not? Short/long sleeves?
Should gloves, mouth guards, visors, or similar be used?
5. Useful and not only serve as decoration or to fill space
Graphics can help us visualize things that are difficult to explain using only photos or text. For example, if you want to show a procedure, a connection between things or development.
If possible, avoid images that feel unnatural and taken out of their contexts, such as over-arranged agency stock photos and clip art pictures.
6. Gender-conscious, norm-critical and inclusive 
KI values diversity, different opinions, and many voices, which should be reflected in the image choice. Images should, for example, show the entire KI (both Campus Flemingsberg and Campus Solna), as well as show the breadth of KI's education and research environments (not just education with high application pressure). 
Our target groups/visitors/users should be able to recognize themselves in our images. Therefore, strive to be gender-conscious, norm-critical (does the image reinforce existing norms, or do you challenge the norm in your images?), and inclusive in the image choice.
Make a brief analysis before choosing an image:
Does the image or text contain any gender stereotypes or restrictive norms?
Who can feel included or excluded from the image?
 
Use images that promote equal rights and opportunities regardless of: 
Sex (How are different people portrayed? Active, passive, smiling or serious, etc.)
Transgender identity or expression
Ethnicity
Religion or other belief
Disability
Sexual orientation
Age
7. Free from alcohol and drugs
KI works for a drug-free work and study environment by distancing itself from alcohol, drugs, and other addictive substances, and this also applies to images. Exceptions are genre images to illustrate research in these areas. 
8. Free from product placements 
Avoid logos and marks on objects and clothing. If possible, avoid displaying advertisements or logos in the background. 
Photographer and/or stock photos
Hire a photographer
For portraits, pictures of campus environments, and events, you can hire a photographer. There are two options:
KI's framework agreement for photography services
KI's photographers Bildmakarna 
Stock photos from an external image bank
Generic images can be used when you want to describe a specific topic and KI does not have the images. With stock photos from an external image bank, it is important that they feel believable regarding, for example, environments, situations, and hospital attires. The images should be taken in an environment similar to KI's so that they have the right attributes (plastic gloves/lab coats, etc.) and preferably not taken in a studio. Stock photos should follow the checklist for images.
Examples of images
Examples of stock photos (genre images)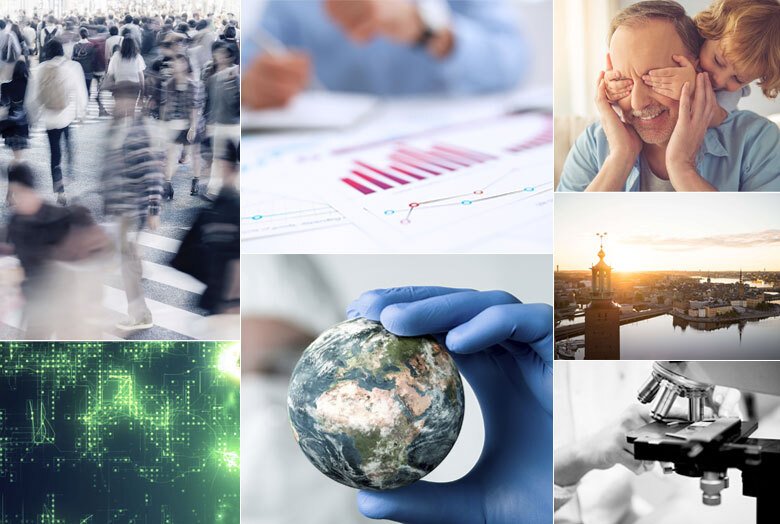 Photo: Getty Images, iStock, Björn Olin/Folio/imagebank.sweden.se, Erik Cronberg.
Buildings and environments
Communicate a sense of what it is like to be at KI 
Airy and modern
Create depth and perspective with exciting angles, for example from above
Close-ups or details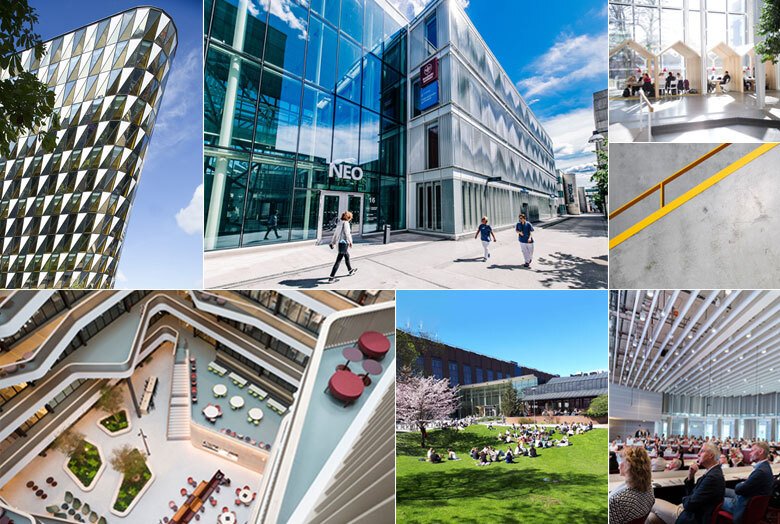 Photo: Erik Cronberg, Erik Flyg, Martin Stenmark, Bildmakarna.
Ceremonies, events, and meetings 
Capture a moment, for example when people meet
Portray the mood, for example through color tones or details that reflect the type of event
People in the picture should be perceived as active and committed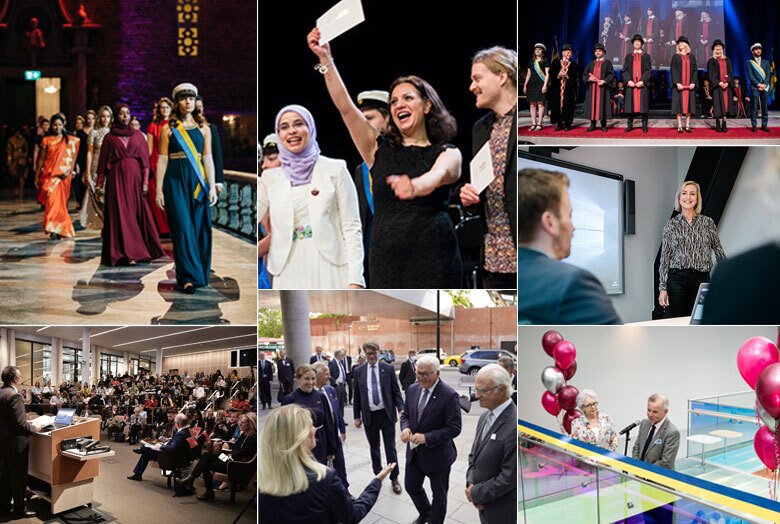 Photo: Erik Cronberg, Erik Flyg.
Research, labs, and clinical settings
Cooperation between two or more people is preferable
Depict the background and environment (avoid messy backgrounds)
Detail images of research instruments or hands
Feel free to use research images (microscope/cell images)
Be careful so it looks like in real life. Check, for example, that jewelry, hair, and clothes follow the hygiene requirements that exist for the specific environment.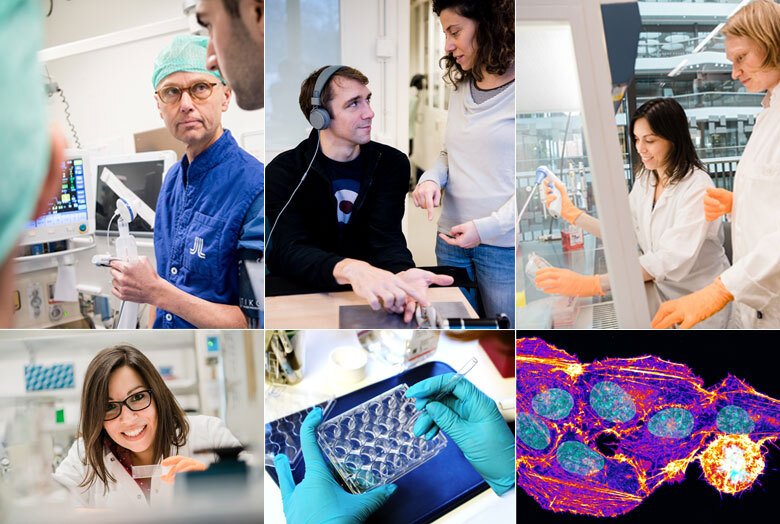 Photo: Erik Cronberg, Erik Flyg, Selma Wolofsky, Florian Salomons/Biomedicum Imaging Core.
Portraits and group images 
Full-screen images and half-image portraits
Depicted in a relevant environment (preferable no studio)
No portraits cut-out with isolated backgrounds (transparent backgrounds)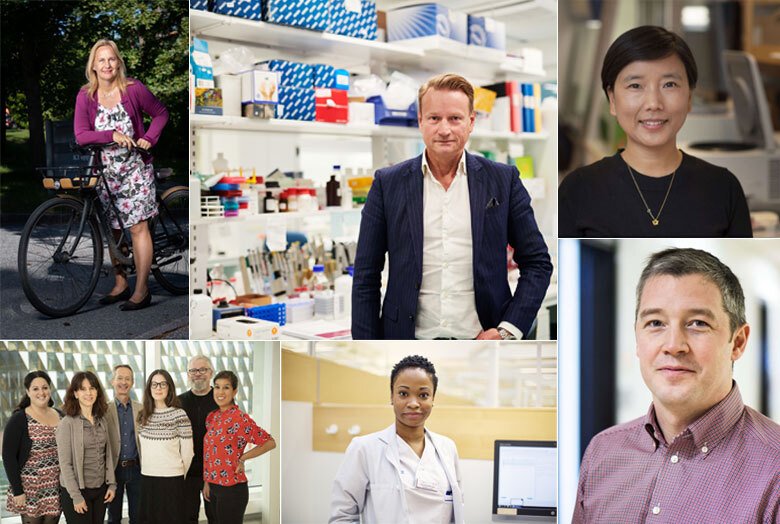 Photo: Bildmakarna, Erik Flyg, Martin Stenmark.
Students and education
Active images 
Modern education environments, if possible
The images show commitment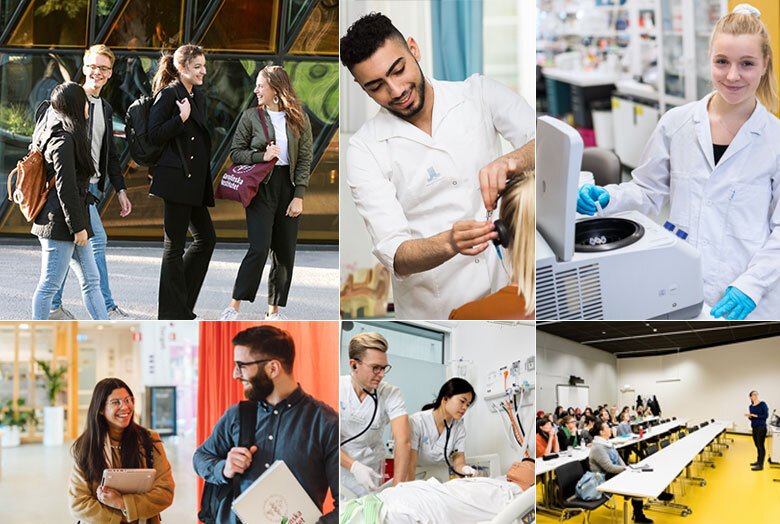 Photos: Ulrich Schulte, PMAGI, Erik Cronberg, Erik Flyg.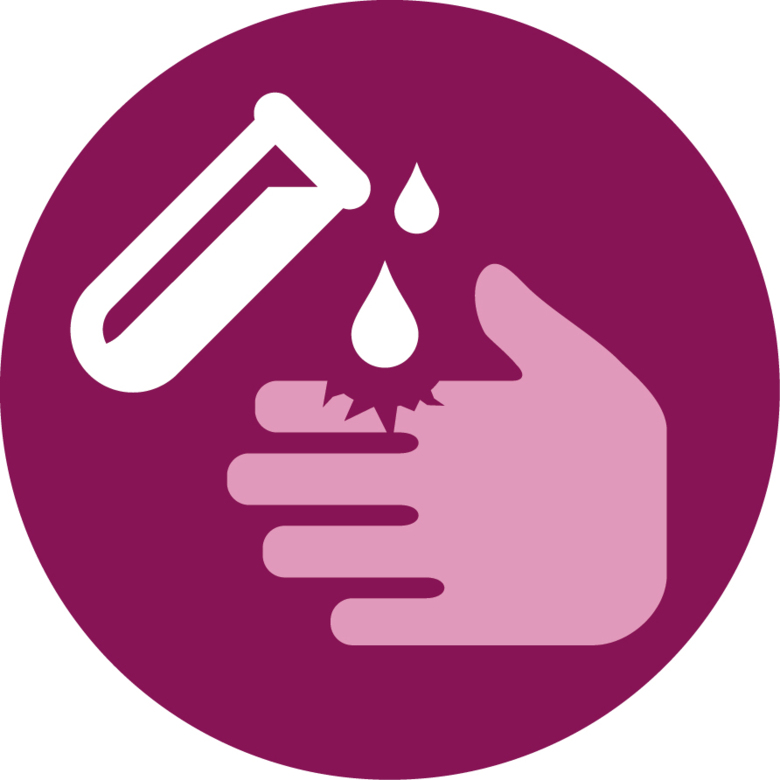 An illustration symbolizing a work accident. Photo: N/A
Illustrations
Illustrations are a good complement to text and photos when you need to clarify facts or visualize a topic that is difficult to interpret. Illustrations can describe processes, make instructions clearer and create interest in a simple, neat and appealing way.
User rights and copyrights
Usage rights and copyright
In general, images are copyright protected by law and cannot be used without the permission of the copyright holder, but there are exceptions. Collections of images with licenses are available and can be used without requiring permission from the copyright holder.
Always remember to check which user rights that apply to the image you are using, since the rights can vary depending on the licence. In general, in nearly all cases you must clearly state the copyright holder of the image (photographer or source) when you use the image.
May I use this image?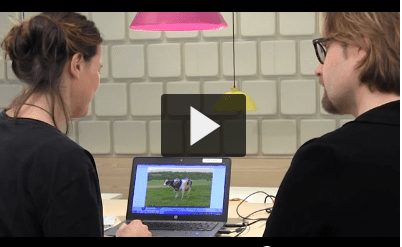 May I use this image?
Learn more about copyright and Creative Commons licenses. KI's University Library explains how to find and use images with free licences, in three instructive films.
Permission from the people portrayed in the image
You need to have a written statement of consent when you photograph people. All images where a person can be identified, even though no names are mentioned, counts as personal data according to The General Data Protection Regulation (GDPR).
If you want to publish an image of students or staff it is necessary to obtain a written statement of consent. 
The Legal Office is responsible for GDPR at KI.
More about GDPR
Finding images
Free images with free licence
KI:s mediabank
The mediabank is accessible by all KI employees and contains images that you can use free of charge. The photographer's name can be found together with the image. You can also share photographic material from your department in the mediabank.
Wikimedia commons
Search for images that are found in the Wikipedia encyclopaedia, which are often free and do not require the permission of the copyright holder. Always double-check the user right that applies to use of the image outside Wikimedia.
Google's advanced image search
When you search using Google's search engine, you can filter the results to find free-to-use images.
Flickr
Flickr is a social network where users can upload their pictures. When you search for images you can filter using a variety of user rights (Creative Commons licenses).
Buy images with a free licence
Getty Images
Getty Images has a vast number of images at good prices, and is very useful when you need a genre image or illustration. You must set up your own account in the Getty Images library to buy images.
Science Photo Library
Image bank focussing on images and illustrations in research and healthcare; here too you must set up an account to buy images.
Common image file formats
Common image file formats

| Format | Suitable for | About the format |
| --- | --- | --- |
| JPEG | Photographs | Joint Photographic Experts Group (JPEG). Used primarily for photos and images used on the Internet. The format compresses the files very effectively, but with a loss of quality. |
| PNG | Icons, illustrations and graphics | Portable Network Graphics (PNG) is a format for digital images. Can be used for graphics. A PNG file can have a transparent background, which makes it particularly appropriate for use on the Internet. |
| GIF | Graphics | Graphics Interchange Format (GIF) are used for images and since they can contain a maximum of 256 colours they are suitable for simple graphics, but not photos. |
| TIFF | Photographs | Tagged Image File Format (TIFF) graphic format for pixel graphics and photographic images. An advantage of the format is that the colour, contract and brightness can be changed in the layout program. |
| EPS | Vector graphics | Encapsulated PostScript (EPS) is a general image format that is used for vector graphics as well aspixel graphics. EPS images are not affected when they are imported into a layout program. |
More information for logged in staff
There is more information for those of you working in the following groups