Performance management dialogues
Performance management dialogues are a part of KI´s process for retaining and developing employees in the short and long term. It is a dialogue based process that extends over the year.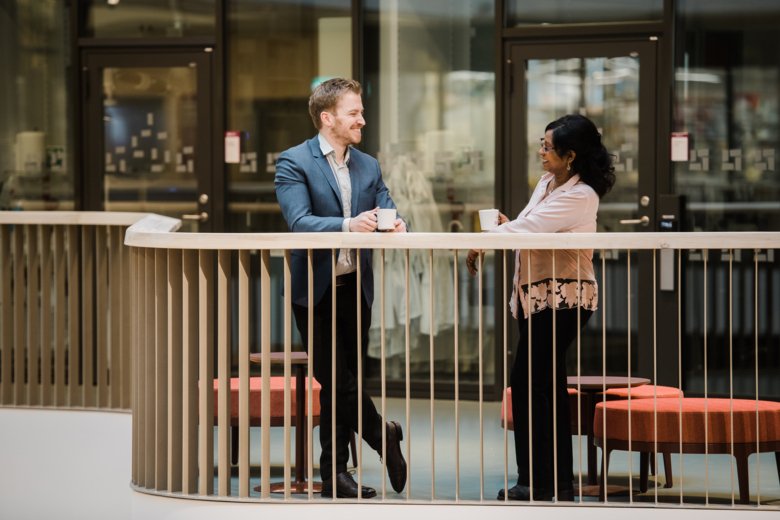 Photo: Campusfotograf
What is a performance management dialogue?
It is a structured dialogue between line managers and employees that focuses on clarifying goals and expected performance. It also aims to follow up on the work, adjust the direction when needed, manage changes and ambitions as well as setting salary. In the dialogue, you have an opportunity to discuss what a sustainable career development means and how to create an optimal work environment.
Please, note that PhDs do not follow the process described here. Instead, they have a dialogue with their closest manager regarding for example work environment. 
Why do we have the dialogues at KI?
Committed, competent and healthy employees are the cornerstone in order for KI to continue to develop and retain its place as a leading medical university. Therefore, creating optimal work environment conditions and ensuring good results on an individual level is crucial for the quality of the organisation.
By discussing how each employee can achieve both their own and the organisation´s overall strategies and ambitions, the dialogues contribute to a trustful platform for development.
They also lay the foundation for the employees to understand their roles in the greater context as well as the link between performance, outcomes and salary. You also talk about how the employee can build a sustainable work life with a good balance between work and recovery.
What does the process look like? 
The dialogues should normally be conducted twice a year, subject to the timing of operational planning, budget and salary review.
The first dialogue is usually conducted in the beginning of the year. You discuss what should be done during the year. Ambitions, goals and expected results are identified and you agree on what is required from both sides in order for the employee to achieve the goals.
The second dialogue is conducted in connection to the salary review. You will jointly evaluate the results and discuss how the outcomes correspond to the goals as agreed during the first dialogue. The evaluation is linked to the salary setting and is based on the salary criteria. Read more about this in "salary as a policy instrument" which you find in the link "salary revision" below. 
Performance management dialogues are mandatory for managers and employees and the manager is responsible for ensuring they are held.
Documentation 
Below, you can find more information about the performance management dialogues. You also find templates that provide additional support in the form of suggested questions to ask during the performance management dialogue 1. The questions are linked to the salary criteria for each occupational category. 
Documents